On test: Gary Fisher Procaliber, June 12, 2008
New legs for Gary Fisher's lightest full-suspension platform
The new HiFi XC platform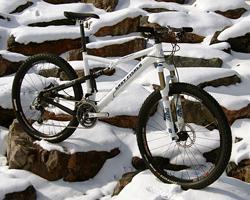 Gary Fisher Bicycles had the right goal in mind with its Race Day short-travel suspension platform but something got lost in translation and the end result didn't quite hit the mark. The company takes another shot with its new HiFi Race chassis and comes far closer to the bull's-eye this time around as Cyclingnews technical editor James Huang finds out.
Gary Fisher expanded its HiFi line this year to include a lighter and shorter-travel variant better suited to the needs of its Subaru-Gary Fisher cross-country racing team. As compared to the Race Day design that it replaces, the new HiFi XC platform is 50g lighter with a claimed frame weight of just 2350g (5.2lb) with shock and hardware but also far more capable.
The new frame is built with a hydroformed and double-butted 6066 aluminum front triangle mated to a co-molded aluminum-and-OCLV carbon fiber rear end. According to Gary Fisher (the company, not the man), overall chassis rigidity improves a much-needed 15 percent which includes substantial 37 percent and 29 percent increases in bottom bracket stiffness and rear end rigidity, respectively. Rear wheel travel has also grown to a more useful 90mm through the new cartridge bearing-equipped modified four-bar linkage.
The Fox Racing Shox F100 RLC fork

…but the Gary Fisher-specific G2 offset crown

The rear end is effectively a single-pivot design

Stoutly proportioned tubes help keep the back end

The seat tube-mounted linkage

The main pivot and bottom bracket shell

The ProPedal platform lever on the Fox Racing Shox RP23

As on the longer travel HiFi Trail, the new HiFi XC design is also fitted with Gary Fisher's new G2 geometry. This configuration uses an increased-offset fork to reduce trail in an aim to improve low-speed handling without adversely impacting the high-speed stability of the original Genesis front end.
Our top-end Procaliber tester came equipped with a panoply of race-ready parts including a Shimano XTR and SRAM X.0 drivetrain, Avid Juicy Ultimate brakes and a smattering of lightweight Bontrager bits. Fox Racing Shox handled the suspension duties at both ends with its F100 RLC fork and RP23 rear shock. Total weight without pedals is an encouraging 10.6kg (23.36lb) for a medium frame.
3… 2… 1… go!
The Procaliber definitely lives up to its race bike billing out on the trail with quick reflexes and a fast and light feel. Pedaling response is particularly snappy either seated or standing and the rear end displays almost none of the rear end wag that plagued the old Race Day. As compared to the 5"-travel HiFi Trail, the Procaliber's rear suspension is noticeably firmer (but not overly harsh) and also tends to sit up a tad higher in its travel with a more stiffly-tuned mid- and end stroke. When combined with the more aggressive rider positioning, the end result is a get-up-and-go personality that simply begs you to pedal a little harder.
The new G2 geometry incorporates just a few millimeters of extra offset in the crown (and a slightly shorter top tube) but the difference in feel relative to Genesis 1.0 is surprisingly obvious. The low-speed wheel flop and sluggish handling that characterized the old design has now been replaced by simply brilliant handling in tight singletrack. There's no longer any excessive body English required and no muscling around the front end; just steer and snake through where you want to go and the front end pretty much gets you there. Yes, we said it: a Gary Fisher bike that handles brilliantly in the twisties! In fact, we're now so thoroughly smitten that we even wonder what adding a G2 fork to a standard frame from another manufacturer would do.
Almost there
Much as we love the new G2 geometry and carbon rear end, what joins them in the middle turned out to be a little disappointing. In an effort to save weight, Gary Fisher frame designers equipped the Procaliber with a massive down tube but a surprisingly wimpy top tube joined to a necked-down seat tube that accepts a standard 27.2mm seatpost. As a result, the impressive 37 percent and 29 percent improvements in bottom bracket deflection and rear end stiffness are matched with just a moderate 14 percent improvement in front triangle torsional rigidity over the Race Day. If we call that old design 'soggy', the Procaliber front triangle is now somewhere on the less-cooked end of al dente.
This doesn't create much of a problem on smoother terrain but the front and rear ends become increasingly disconnected as conditions get more technical or cornering forces increase. We're generally always fans of dropping weight but in this case we'd be more than willing to add a few grams to gain some extra beef up front (perhaps there's a full-carbon version on the way?).
Bontrager this, Bontrager that
We've gone on an on about Shimano XTR, SRAM X.O, Avid Juicy Ultimate and Fox suspension bits in the past so we won't bother rehashing things short of saying that all of the above provided exquisite and dependable performance over our six-month test period. Our only minor gripe involves the included XTR cassette: the 32T cog saves a few grams over a more standard 34T (and offers tighter spacing through the rest of the range) but required dropping into the granny a little more than usual. Fit racers or consumers riding in flatter terrain might not care, though.
Likewise, the aluminum-cored Race X Lite ACC seatpost, forged aluminum Race X Lite stem, all-carbon Race X Lite flat bar and carbon-shelled Race X Lite saddle all performed without issue. In particular, the Bontrager Race X Lite wheels were notably admirable performers and required no truing in spite of being repeatedly bashed into Colorado rocks.
We had more of a mixed experience with the associated Bontrager Jones Dry X tires, though. Their plentiful array of short, well-supported knobs and true 2.1" casing width (equal to many other company's so-called 2.3" tires) provide excellent grip on hardpack and are lightning-quick in transition. However, they're much more unpredictable on looser terrain given the tight knob spacing and the ultra-round cross-section provides almost no shoulder to catch you once you start to slide.
Our other only major component complaint is aimed squarely at the Bontrager Race X Lite grips. Their high-density foam construction is unarguably lightweight but they're also unreassuringly slippery, noticeably shorter than most other grips and too large in diameter for a firm hold. Even worse, they absorb water, too.
Don't blame the bike
Gary Fisher has truly made a quantum leap forward with the Procaliber as compared to the Race Day, offering a truly race-ready chassis that now also provides a more refined and useful rear suspension, a more confident feel and far more precise handling. While there are still a few things we'd like to see improved, the production package still gets its job done with tenacious efficiency and most racers would be hard pressed to find something much faster. Slap on your favorite grips and reserve the included Dry X tires for hardpack and you'll be good to go.
Price: US$5499.99
Weight: 10.6kg (23.36lb)
Pros: Snappy rear suspension design, stiff rear triangle, brilliant handling traits, lightweight and race-ready straight out of the box
Cons: Soft front triangle, awful foam grips, firm ride might not suit everyone's tastes
Cyclingnews rating:


More information: www.fisherbikes.com
Photography
For a thumbnail gallery of these images, click here
Images by James Huang/Cyclingnews.com
Frame: Gary Fisher Procaliber, 6066 hydroformed butted aluminum main frame with OCLV chain stays and seat stays
Available sizes: S/16", M/17.5" (tested), L (19"), XL (21")
Rear shock: Fox Racing Shox RP23
Fork: Fox Racing Shox F100 RLC with G2 offset
Headset: Cane Creek ZS-6
Stem: Bontrager Race X Lite
Handlebars: Bontrager Race X Lite OS Carbon Flat
Tape/grips: Bontrager Race X Lite
Front brake: Avid Juicy Ultimate w/160mm rotor
Rear brake: Avid Juicy Ultimate w/160mm rotor
Brake levers: Avid Juicy Ultimate


Front derailleur: Shimano XTR FD-M971
Rear derailleur: SRAM X.0
Shift levers: SRAM X.0 trigger
Cassette: Shimano XTR CS-M970, 11-32T
Chain: Shimano Dura-Ace CN-7701
Crankset: Shimano XTR FC-M970, 44/32/22T
Bottom bracket: Shimano XTR FC-M970
Pedals: n/a
Wheelset: Bontrager Race X Lite Disc
Front tire: Bontrager Jones Dry X TL, 26x2.1"
Rear tire: Bontrager Jones Dry X TL, 26x2.1"
Saddle: Bontrager Race X Lite
Seat post: Bontrager Race X Lite ACC Carbon, 27.2mm