On Test: 2009 Avanti Quantum Team, November 14, 2008
Ticks in all the right boxes
The Avanti Quantum Team
Photo ©: John Stevenson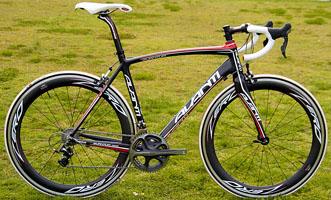 Avanti's Quantum Team is a classic modern road racing bike, combining eager, positive response with laser-guided handling thanks to its torsionally stiff carbon fibre frame. Shimano's stunning new Dura-Ace ices the cake. Bikeradar's international editor John Stevenson was fortunate enough to enjoy a slice.
Avanti is New Zealand's biggest bike company. It's one of the landmarks on the Australian scene and its bikes just might be more widely available elsewhere in the world if recent hints from the Avanti folks become reality. The Quantum Team is its top model road race bike, the result of an intense development effort.
Ride & handling: float like a butterfly sting like a bee
The best road bikes enthusiastically assist maximal efforts, but don't bug you with strange handling quirks when you just want to cruise peacefully along. The Quantum team achieves that perfect balance of eagerness-on-demand and just-riding-along placidity. It's most striking attributes are its phenomenal cornering accuracy; the ease with which it floats along on the flat; and its sheer rampant willingness to encourage and join in as you explore the upper reaches of your aerobic range on climbs.
Avanti has beefed up the Quantum Team
Photo ©: John Stevenson

Point the Quantum Team into a curve and it banks smoothly and precisely into the turn without fuss or hesitancy. That's a boon when you're shoulder-to-shoulder in a group and you need to be certain you can rely on the bike, but it also makes for some major thrills on the open road. Find a set of downhill twisties and the temptation to see just how fast and hard you can go to the bottom is irresistible.
Something about the Quantum Team makes it easy to keep up the pace on the flat, too. The daily dash to the office has been consistently faster. The culprit is almost certainly the Zero aero wheels; the 58mm-deep carbon-faired rims slice the air more efficiently than low-profile rims and it certainly seems to be a difference you can feel. Some people claim to be able to detect differences between wheels that are so small it's hard to believe they're not lost in the noise. We're therefore a bit reluctant to get too excited about this sort of difference, but the clock doesn't lie: I've been about five percent faster on the Quantum Team compared to my usual commute bike. Not all of that is the wheels - the rest of the package is in there urging and assisting too, although the wheels sure don't hurt.
A light bike is an asset on climbs, but the Quantum Team isn't insanely light. At 7.36kg without pedals it's almost a middleweight in this era of bike that easily hits the UCI's 6.8kg weight limit. Nevertheless, it's hardly lardy, but there seems to be more to the Quantum Team's climbing prowess than just the gram count.
That outer chainring is hollow
Photo ©: John Stevenson

Its low-speed handling is perfectly steady, which lets you focus on stepping out on the razor's edge where you go up as fast as possible but your breakfast stays down. There's a powerful feeling of connectedness between your effort and the road, thanks to the simply huge amount of carbon around the bottom bracket. You just can't feel the back end flexing under effort. Instead you put the power down and you go forward and up. Pretty soon you're digging into reserves you didn't know you had because the Quantum Team has gone from coaxing you upward to demanding, with menaces, that you get the hell up that hill as fast as you can right now.
It's like a cross between a sergeant major and a standover man.
This eagerness is about feel and response, though, not handling. The Quantum Team's cornering manners and amiable willingness to stroll along make it a fine companion for long days in the saddle too. You don't necessarily have to hammer it, but it'll always tempt you.
Frame: carbon for beef and a quiet life
The 1.5" lower headset bearing
Photo ©: John Stevenson

Much of the Quantum Team's character comes from a handful of major features of its frame. There's a lot of bike here. The bottom bracket shell is 86mm wide, with pressed-in bearings to carry the new Shimano Dura-Ace cranks. The down tube is almost as wide for much of its length, topping out at over 70mm wide just in front of the bottom bracket, while the seat tube and chainstays are similarly beefy. The right hand stay is 43mm tall, the left 37mm to take into account the differing forces on the two sides.
Up front, the steerer tube tapers from 1 1/8" at the top to 1 1/2" at the bottom. This stiffens for fork against fore-aft flex and lets Avanti enlarge the top of the down tube too. All this material down the bike's main axis of flex is what makes the Quantum feel so torsionally rigid and gives it its resistance to maximal efforts.
Super-stiff bikes are nothing new; they have been around since the oversized aluminium Cannondales and Kleins of the 1980s. What sets apart well-dialled carbon fibre frames like the Quantum is that their stiffness comes without perceived harshness. A stiff aluminium frame rings like a bell with every bump. The resulting tactile and auditory assault is fatiguing.
Carbon, on the other hand, can be configured to damp out some of this buzz. It's not as simple as it being more or less stiff vertically, because bike frames are all pretty stiff vertically. It's more that a carbon frame spreads out the bumps a tiny bit, and takes the edge off them. They're still there, but they don't sting in quite the same way, leading to a perception of a softer feel, a gentle clunk over a bump rather than a jarring clang.
Equipment: New Dura-Ace supports a great gear selection
Dura-Ace brakes
Photo ©: John Stevenson

The heart of the Quantum Team's fit-out is the 2009 version of Shimano's Dura-Ace group. Shimano has shed grams from Dura-Ace, which was starting to look a bit overweight compared to SRAM Red and Campagnolo Record, with tricks such as carbon fibre brake levers and derailleur parts hollow outer chainring and lighter brakes. Visually, perhaps the biggest change is that the new Dura-Ace routes its gear cables under the tape.
The old style never bothered me, but apparently lots of people wanted Campagnolo-style hidden cabling. Cramming the shifter mechanism into the lever body does mean that its shape has changed. The new levers are a bit broader where your hand sits. It's disconcerting at first - change always is - but you soon get used to it.
What's not changed is the sheer quality of Dura-Ace's shifting and stopping. Changing gears is quick and positive, with a more pronounced 'clunk' than before. Dura-Ace brakes are the one component I really miss when I ride an Ultegra-equipped bike. Their powerful, controllable stopping power is worth the money. Their already-good wet-weather performance has been further improved in this incarnation. This isn't the place for an in-depth exploration of the new Dura-Ace, though that's coming. In short, though, Shimano has put itself back in the top rank with this revamp of its pro-level road group.
Selle Italia's gel Flite
Photo ©: John Stevenson

To our eyes at least Shimano has excelled itself in the styling department, too. Dura-Ace's mix of dark grey anodizing and polished bare aluminium is as up-to-the-minute as next month's hit song. Dura-Ace's look and feel are a perfect complement to the Quantum Team's frame.
It turns out that the wheels account for the Quantum Team's slight lardiness. At 1799g with rim strips they're in the ballpark for deep-rim wheels, but that's still several hundred grams heavier than typical high quality wheels. The Specialized Mondo tyres are also surprisingly heavy at 280g each, but they're grippy and predictable and look a million dollars in Team Quick-Step red and white. Or at least they do when they're new. Like the white bar tape and saddle, they get grubby quickly. The bike-proud will see keeping them pristine as a challenge; lazy buggers like me will just replace them with something black when they wear out.
Contact points are taken care of by a Selle Italia Flite Gel Flow saddle and FSA F-Force Compact Carbon handlebar, neither of which happened to suit me: I'd prefer a deeper drop bar with more forward throw, and the saddle just doesn't fit my bum. Saddles and handlebars are personal, but the short-drop compact handlebar is a strange spec on a road race bike. When you want to get into the drops, you want to get down. The 145mm drop of FSA's new ergo shape would be a better choice. The saddle sits on FSA's two-bolt K-Force Light seatpost, which makes it easy to get your saddle angle exactly right.
Price: AUD$7,999.99/NZ$9,999.90
Weight: 7.36kg (16.19lb)
Pros: Go-fast race appeal and good looks.
Cons: Don't expect a placid, laid-back ride.
Cyclingnews rating:


More info: www.avantibikes.com
Photography
For a thumbnail gallery of these images, click here
Images by John Stevenson/Bikeradar.com
Frame: Avanti Quantum Team (ADT CRR5 Carbon)
Available sizes: 54, 56, 58cm (tested)
Fork: ADT R5 Carbon Integrated w/ 1.5-1 1/8" steerer
Headset: FSA integrated
Stem: FSA OS99 31.8mm
Handlebars: FSA K-Force Compact Carbon 31.8mm
Tape/grips: Zero Micro Tape
Front brake: New Shimano Dura Ace BR-7900
Rear brake: New Shimano Dura Ace BR-7900
Brake levers: New Shimano Dura-Ace STI Dual Control ST-7901
Front derailleur: New Shimano Dura-Ace FD-7900-B
Rear derailleur: New Shimano Dura-Ace RD-7900-SS

Shift levers: New Shimano Dura-Ace STI Dual Control ST-7901
Cassette: New Shimano Dura-Ace CS-7900, 11-23T
Chain: New Shimano Dura-Ace CN-7900
Crankset: New Shimano Dura-Ace Hollowtech II FC-7900, 53/39T
Bottom bracket: New Shimano Dura-Ace Press Fit
Pedals: N/A
Wheelset: Zero 580 carbon clincher
Front tire: Specialized S-Works Mondo (Quick Step team edition), 700x23c
Rear tire: Specialized S-Works Mondo (Quick Step team edition), 700x23c
Saddle: Selle Italia Flite Gel Flow
Seat post: FSA K-Force Light Carbon 27.2mm
Bottle cages: N/A