On Test: Avanti Quantum Team, March 20, 2008
Silver fern's high end challenger
The Avanti Quantum Team, a stylish and understated machine.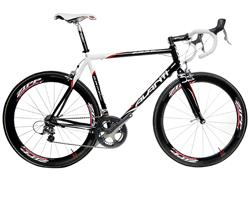 Avanti has been around for a number of years in the Australasia market, producing bikes targeted to the demands of the local conditions. Cyclingnews' Paul Verkuylen gauges the performance of the flagship Quantum Team through the early Australian summer.
Meet the Avanti Quantum Team
A few years ago, a frame that weighed under a kilo was impressive, but now there are many options on the market to suit all tastes. The Avanti Quantum Team fits into this category, weighing in at a claimed weight of 950g for the 54cm model. A reasonable estimate for our 58cm tester would probably be closer to a kilogram, which is not super light by today's standards but easily capable of being built into a lightweight racing machine, which is exactly what Avanti set out to achieve here.
Avanti uses the increasingly popular tube-to-tube construction method for its all-carbon Quantum Team frame. Separately-made frame sections are cut and mitered, then bonded before a final outer layer of carbon is wrapped over each joint. Unlike other similarly made frames, the final product still bears the look of its mitered roots with almost the same appearance as that of a finely crafted aluminum machine with neatly sanded welds. Alloy is used for the two-piece dropouts and also for the tips of the accompanying Dedacciai Blackwave fork.
Like most frame manufacturers these days, Avanti pays particular attention to developing each junction of the frame to achieve the desired result, whether it be stiffness, compliance or comfort. Material choice is not the only consideration here, however, as how the fibres are laid up and how the frame is processed can have just as great an impact on the ride characteristics of the frame as the materials used. This can all be a lot to comprehend, but the proof is really in the pudding.
Top-shelf spec
Unlike many carbon bikes these days

The monobox-type chainstay assembly

The barrel-shaped head tube

Frame design is surprisingly conventional overall

Seatstays take a curvy path

The chainstays are similarly curved.

Avanti equips the Quantum Team

…which are fitted with custom decals.

The race-ready spec includes a set of Avanti "Special Edition' Zipp 404 carbon tubular wheels wrapped in Specialized S-Works Mondo rubber as well as a full Shimano Dura-Ace gruppo. Oval takes care of the contact points with its oversized R900 Carbon handlebar mated to an R700 aluminium stem while the M801 Carbon seatpost is capped with a Selle Italia Flite Gel Flow saddle.
The racy look and feel naturally continues through to the geometry as well: our 58cm test rig came with a very short 170mm head tube and a 120mm stem, which coupled with a 58cm virtual top tube length, makes for the typical stretched-out racing position. Total weight without pedals is just 6.73kg (14.8lb).
On the road
Simply put, the Quantum Team's real forte is going quickly, yet it still felt stable and sure in most situations even when swapping off turns at over 50km/h on one of Sydney's faster paced Saturday morning bunch rides. The bike was also comfortable and precise at speed, reacting to the little accelerations during the course of the ride with little trouble.
Avanti's top-end machine also handled aggressive maneuvers well during a local criterium race. The Pinarello-ish looking Dedacciai fork didn't chatter under hard braking and the bike held its line well. Changing lines mid-turn was also no problem, which provided sufficient confidence to try to go quicker and harder through the corner next time around.
Unfortunately the confident feel eventually succumbed to the laws of physics: the rear wheel ultimately lost traction, most likely due to the slippery road from the drizzling rain and the high tyre pressure. Normally losing the rear wheel would spell disaster (even more so with the front), but the characteristics of the Avanti helped me regain control of the bike and not only hold the bike up, but not lose too much time either.
In spite of the aggressive positioning, longer climbs were still amply comfortable and the bike's light weight and rigidity offered plenty of responsiveness. The Quantum Team was thankfully just as capable coming down the other side with predictable and stable handling as well as good bump absorption (although the carbon tubular wheels likely deserve much credit here).
We've generally found the Zipp 404 wheels to be light and fast as promised but as you'd expect, stability in crosswinds can be a problem. A lower profile wheelset would be better suited to those conditions, and training of course, but that goes without saying. Most people contemplating this bike would no doubt have a second set of wheels for training and having the Zipps as standard fare only makes this bike a more attractive option when considering an upgrade.
As for the other equipment, the general shape and cutout of the Flite saddle was a little difficult to get used to having come off of a longer and flatter saddle (can you guess which?) but this is more of a personal thing and most bike shops would happily exchange this saddle to your favourite flavour. The accompanying two-bolt Oval Concepts post held on tight and offered ample adjustment.
Up front, the relatively traditionally shaped Oval carbon handlebar effectively damped the not-so-smooth Sydney roads yet had little flex to speak of which only added to stable feel of this rig. A shallower drop would have been welcomed, but again this is more a personal preference than a criticism. The reverse-mounted face plate bolts on the Oval stem provided a clean look but can be difficult to access depending on your tool availability.
As usual, the Dura-Ace componentry was virtually flawless.
The final word
The Avanti Quantum Team isn't necessarily a standout in the highly crowded arena of high-end 'stiff-yet-reasonably light and comfortable' carbon race machines, although that's hardly a bad thing considering the esteemed company. What it does offer, though, is a fairly unique option that offers a geometry, feel and equipment that are well thought for its intended competitive purpose as well as the security that comes with a label that has actually been around for a reasonably long time.
Ultimately nothing will substitute for a firsthand test ride but our experience suggests that the Quantum Team's overall performance and reasonably decent value for the money is well worth a closer inspection by those considering one of its more expensive competitors.
Price: AUD$7,999.99
Weight: 6.73kg (14.8lb)
Pros: Race-ready package that wants for little
Cons: Will need a second set of training wheels, racing position not for everyone.
Cyclingnews rating:


More info: www.avantibikes.com
Photography
For a thumbnail gallery of these images, click here
Images by Cyclingnews.com
Frame: Avanti Quantum Team
Available sizes: 54, 56, 58 (tested), 59.5cm
Fork: Dedaccicai Blackwave monocoque carbon w/ 1-1/8" steerer
Headset: FSA integrated
Stem: Oval R700 31.8mm
Handlebars: Oval R900 Carbon 31.8mm
Tape/grips: Zero Micro Tape
Front brake: Shimano Dura-Ace BR-7800
Rear brake: Shimano Dura-Ace BR-7800
Brake levers: Shimano Dura-Ace STI Dual Control ST-7801
Front derailleur: Shimano Dura-Ace FD-7800-B
Rear derailleur: Shimano Dura-Ace RD-7800-SS

Shift levers: Shimano Dura-Ace STI Dual Control ST-7801
Cassette: Shimano Dura-Ace CS-7800, 11-23T
Chain: Shimano Dura-Ace CN-7800
Crankset: Shimano Dura-Ace Hollowtech II FC-7800, 53/39T
Bottom bracket: Shimano Dura-Ace SM-FC7800
Pedals: N/A
Wheelset: Zipp 404 Tubular
Front tire: Specialized S-Works Mondo Tubular, 700x23c
Rear tire: Specialized S-Works Mondo Tubular, 700x23c
Saddle: Selle Italia Flite Gel Flow
Seat post: Oval M801 Carbon 31.6mm
Bottle cages: N/A