*Special* Test: Jacobsen Carbon Wrap-It System, April 1, 2008**
Carbon fiber performance for everyone?
A little extra wrapping at the bottom bracket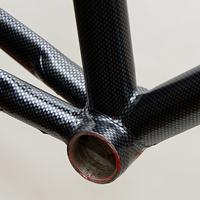 Carbon-wrapped aluminum seems to be the next frontier of materials technology and at least one company thinks the benefits may be easier to come by than previously thought. Cyclingnews technical editor James Huang pulls up his sleeves to see if there's any truth to the company hype.
We're reasonably firm believers in the advantages of carbon-wrapped aluminum parts over their non-wrapped counterparts. When properly executed (purely cosmetic samples are obviously excluded from this group), the resultant components do seem to be nearly as stiff as full carbon parts but the aluminum cores retain the ductile failure mechanisms associated with most metals.
However, when Colorado retailer Chris Jacobsen first informed us of his intriguing Jacobsen Carbon Wrap-It system, we were rightfully skeptical. Jacobsen proposed that consumers could wrap their own frames and parts and achieve nearly the same results as far more expensive factory jobs. As such, his rather inexpensive do-it-yourself kit could transform relatively mundane aluminum frames, forks, stems, bars, or nearly any other bit into a stronger and stiffer equivalent, all at a surprisingly reasonable cost as well.
The goods
The kit is rather straightforward, consisting of a roll of pre-preg carbon fiber sheet complete with an easy-to-apply adhesive backing. Frame kits include enough to treat most typical aluminum frames, large diameter ones included, while componentry kits contain enough material to treat about four or five small parts, depending on what they are.
The Jacobsen Carbon Wrap-It System

The system promises to transform tired old frames and components
According to Jacobsen

Our guinea pig frame

…but was transformed into a top-riding carbon beast

The luxurious 1K carbon weave

Items to be wrapped must first be carefully cleaned using the included non-toxic solvent. After approximating the amount and shape of material required, users then simply cut the pre-preg carbon fiber sheet to size with standard household shears then wrap the material tightly around the substrate. After a 24-hour waiting period to cure the adhesive, the treated bits are ready to go. An optional kit adds a heat-activated compressive layer to the assembly to reduce cure time while also improving bond strength and reducing voids.
We decided to go straight for the gusto and wrapped an entire frame, in this case an old bonded aluminum job that had been laying fallow in storage for several years after being unceremoniously retired. Total time required was roughly an hour, although more complicated frames could easily take twice that time. The installation process was a bit messy so we'd recommend wearing gloves and laying down a tarp to protect flooring but otherwise was pleasantly straightforward.
The ride
Call us skeptics no longer as we were simply amazed at the results. Just as Jacobsen promised, ride quality transformed from somewhat dull and lifeless to sprightly and responsive: accelerations from a standing start were lightning-quick and our tired old frame suddenly made molehills out of mountains with its newfound climbing ability. We didn't use the optional overwrap kit but suspect that it would only have enhanced our experience here.
The added lateral rigidity was also accompanied by an unexpected helping of vertical compliance. Our new creation offered a magic carpet-like ride over even the roughest of pavement yet never relinquished road feel.
Even more unexpected, however, was the decreased weight of our guinea pig. Actual weight of our frame actually dropped about 100g; Jacobsen says other frames should yield similar results while most components should drop about 20g or so depending on what they are.
Last but not least, the added visual appeal of the fine 1K weave shouldn't be discounted. Sadly, the kit will obviously obscure any original decals but replacements shouldn't be too hard to come by and the end result can be finished and clearcoated by most competent painters for a truly custom look.
Jacobsen noted that more technically inclined users can also fine tune the Carbon Wrap-It system's reinforcing characteristics to suit their needs. Just as with almost any carbon fiber fabrication procedure, the number of plies added and the direction of those plies can yield dramatically different results. The peel-and-stick nature of the kit also means that users are free to experiment until they get the desired effect.
Go figure!
The Jacobsen Carbon Wrap-It kit has proved to us once again that things that seem too good to be true can sometimes actually be everything they say they are. Our reinvigorated frame has already supplanted a full-carbon model as our everyday tester and we're already in the process of wrapping whatever other componentry we can find.
In short, the Jacobsen Carbon Wrap-It kit offers plenty of positives with virtually no drawbacks. With such an attainable asking price, it's an easy performance addition and well worth the time invested. Now where can we get more of this stuff?
Price: US$99.99 (frame kit); US$49.99 (componentry kit)
Weight: -100g (frame kit, on average); -20g (componentry kit, on average)
Pros: Provides nearly all of the benefits of factory-built carbon fiber but in a do-it-yourself form that can be custom tailored to the application at hand.
Cons: Installation is time consuming and a bit messy, end results are directly dependent on skill of installer
Cyclingnews rating:

** [Ed note - this special tech review is purely fictional and in the spirit of fun for April Fools day.]
Photography
For a thumbnail gallery of these images, click here
Images by James Huang/Cyclingnews.com