Tech feature: Truvativ HammerSchmidt, August 19, 2008
Truvativ drops the hammer on traditional two-chainring setups
Truvativ's new HammerSchmidt drive system
Photo ©: SRAM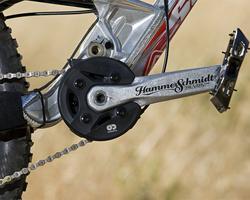 After months of online teasers, rumours and speculation, Truvativ finally shows its hand and unveils its radical new all-mountain and freeride drivetrain system which just might change the future of front gear shifting forever. BikeRadar contributor Callum Jelley's summer residence of Whistler, British Columbia, proved particularly convenient as Truvativ rolled into town with the Crankworx freeride mountain bike festival to introduce its latest creation.
SRAM's Advanced Design Group was presented with a challenging idea over two and a half years ago: to create a front chainset with the security of a single ring system along with the versatility of a dual ring setup all in a neat little package fit for everyone from the all-mountain warrior to the downhill racer.
The new Truvativ HammerSchmidt is the end product of that intensive work and based on initial test rides, it seems that goal was fulfilled in spectacular fashion.
Based around either a 22 or 24-tooth single ring, the 'magic mechanics'system can be ridden in either a 1:1 ratio or a 1:1.6 'overdrive' gear that essentially provides a 14-tooth jump in chain ring size. The result is an effective 22/36T or 24/38T setup that wholly eliminates the traditional front derailleur and provides the bulletproof reliability of a single-ring chain guide configuration, all encased in a sleek and well protected package.
The single-ring setup will also hold other benefits. The straighter chainline will afford full access to the rear cassette without fear crossing up your gears; the downhill-style setup (i.e. shorter chain and short-cage rear derailleur) reduces chain noise and derailleur exposure to roots, rocks and other trail objects; and the relatively tiny single ring significantly improves ground clearance.
The detail
The single-ring setup
Photo ©: SRAM

HammerSchmidt will require ISCG 03 or 05 tabs
Photo ©: SRAM

In spite of its complicated description
Photo ©: SRAM

Lying at the heart of HammerSchmidt
Photo ©: SRAM

How much impact with HammerSchmidt have in the long run?
Photo ©: SRAM

Central to the HammerSchmidt is a selectable set of internal planetary gears similar to those found in a typical multispeed rear hub, though in practice the guts are far simpler than one might imagine. In the 1:1 setting, the entire system is locked together; engaging the planetary gears kicks in the overdrive setting.
The Hammerschmidt will be available for both all-mountain and freeride-specific use. The all mountain version is based on the Truvativ Stylo with 170mm and 175mm crank lengths. The freeride version is inspired by the Truvativ Holzfeller, coming in 165, 170 and 175mm size options.
HammerSchmidt bottom brackets will be proprietary and model-specific but all are based on Truvativ's proven Howitzer system. Versions will be available for use on 68/73mm and 83mm-wide shells. Matching shifters are analogous to the current X.9 and X.0 triggers but will incorporate just two shift position and will operate opposite of conventional drivetrains (push on the paddle for the lower gear; release the trigger for the higher gear).
The complete assembly mounts on to ISCG 03 and ISCG 05-equipped frames but Truvativ has specified that they must be up to a certain strength and in the correct position which will push frame builders to stop welding them on as somewhat of an afterthought. This ultimately means that the HammerSchmidt will start as a piece of original equipment rather than an after market product.
The ride
The ride is a testament to the years of work that have gone into this product. Shifts are instant and solid whether under full load or even freewheeling (HammerSchmidt doesn't require you to pedal in order to swap gear ratios). There is no grinding or any hesitation, and the system's right-now response completely eliminates any forethought or planning related to front shifting, thus leaving you to concentrate on what you are riding instead of what gear you need to be in for the next technical ascent.
Are you a poor technical climber that often grinds to a halt at the bottom of a climb because you shifted too late? With HammerSchmidt, you simply dump the gear no matter the situation and up you go.
The rear cassette also becomes far more usable and most riders will probably regularly ride in 1:1 as the shift into overdrive is a big one and can feel sluggish on undulating trails. Ground clearance is supreme and takes some time to get used to as the places you are used to getting caught up on the trail are now easily clearable and even when you do manage to smash it off something - which takes some effort - it shrugs it off just as a regular bash guarded system would.
It is going to be interesting to see how companies and frame builders respond to the HammerSchmidt. After years of designing frames and suspension systems around a double or triple ring system, they now have a new challenge to incorporate this new technology, hopefully for all our benefits.
And what about the weight and cost? Truvativ says the complete all-mountain version will weigh 1623g (3.56lb) and the stronger freeride edition will add another 162g (0.36lb). While both figures sound imposing, they're supposedly only 172g and 11g heavier than their comparable Stylo and Holzfeller setups when all of the requisite hardware is accounted for. Moreover, pedal stance width is nearly identical, too.
Projected retail cost for the main HammerSchmidt assembly will be US$650 and US$595 for the freeride and all-mountain versions, respectively. The X.0 and X.9-level shifters will add another US$114 or US$57, and all bottom brackets will command a reasonable US$55 asking price. HammerSchmidt should begin showing up in shops around December.
Photography
For a thumbnail gallery of these images, click here
Images by SRAM