Tech feature: Specialized 2009 MTB introduction, July 7, 2008
Specialized cross-country gear grows faster and sharper for 2009
By James Huang in Camp Tamarancho, California
The new Epic: an even-faster cross-country race bike but now also so much more
Specialized's new 2009 S-Works Epic
Photo ©: James Huang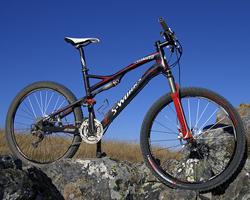 The 2009 Specialized Epic has finally been treated to the full-blown revamp that the company gave its longer-travel Stumpjumper and Enduro brethren over the past couple of years and it's been well worth our wait. As expected, this new version is substantially lighter and faster-feeling than its predecessor but after three days of thrashing this latest iteration around Camp Tamarancho in Marin County, California, it also seems far more capable, too.
Lying at the heart of this newfound ability is an all-new carbon frame and shock that Specialized says is 330g (0.73lb) lighter than the '08 model. The new seat stays and asymmetrical chain stays are now carbon fiber as well and while the upper link has reverted back to forged aluminum construction, its newly minimal dimensions drop its weight to a scant 40g. Claimed weight is now just 2.04kg (4.5lb) for a medium frame and rear shock; other componentry upgrades means a complete medium-sized bike in top-end trim now posts a truly feathery 9.65kg (21.27lb) figure without pedals. Yowsa.
The rear end retains a familiar four-bar layout but the new 'mini Brain' rear shock has been moved to a more centralized location beneath the top tube. According to Specialized, this supposedly eliminates the occasional off-center loading the old 'sidewinder' layout occasionally suffered on harder impacts. The compression damping circuit has been shifted completely to the axle-located remote unit, too, leaving a far smaller bit up front that still leaves enough room for a large-sized water bottle in the main triangle.
As with the Enduro and Stumpjumper, the front derailleur mounts directly to the swingarm via Specialized's DMD (Direct Mount Derailleur) setup.
More integration for 2009
The new 'mini Brain' rear shock arrangement
Photo ©: James Huang

Not surprisingly, Specialized has fitted the new Epic with its own FutureShock E100 fork which comes complete with a tapered-and-oversized 1 1/8"-to-1 1/2" steerer tube. As on the Stumpjumper, the one-piece carbon fiber crown and steerer are claimed to be both lighter and more rigid than an equivalent 1 1/8" setup while the thinned-out aluminum stanchions still measure a healthy 32mm in diameter.
As on the Stumpjumper's S120 fork, the E100's cast magnesium lower legs feature oversized dropouts designed to mate with optional 28mm-diameter end caps on Specialized's Roval wheelsets. Interestingly, Specialized insists this setup is both lighter and stiffer than the new 15mm thru-axle setups. Either way, the fork can accommodate wheels with standard-sized end caps, too.
The new frames sheds approximately 220g
Photo ©: James Huang

Naturally, Specialized has included another Brain unit in the E100 for a balanced feel front-to-rear. So-called 'Buddy System' packaging stuffs both the damper and air spring chamber into the driveside leg while the other leg is essentially left empty. Claimed weight is just 1.41kg (3.11lb).
Specialized team riders have long been riding the company's integrated carbon crankset but now consumers will definitely have that option for 2009 for themselves. Somewhat surprisingly, the new FACT MTB crankset does not adhere to BB30 standards like the road-going version. Instead, Specialized has opted for a wider 84.5mm shell that provides more real estate for the similarly broad down tube yet still makes for a tidier-than-usual 48.5mm chainline.
The hollow 'D'-shaped carbon arms also use a mountain bike-specific lay-up schedule and the shape has been revised slightly to deal with the extra stresses of trail abuse. Interchangeable spiders will accommodate either a standard four-arm, three-chainring setup or a five-arm, two-ring configuration. Optional press-fit bearing cups will also allow the use of standard external-type cranks although at just 684 complete for the Specialized crank, there might be little reason to do so.
Faster, lighter… and better
A neat riveted-on mount secures the rear Brain unit
Photo ©: James Huang

We weren't entirely sure what to expect from such a seemingly fragile rig but always returned from our test loop thoroughly impressed with just how solid the new Epic feels underfoot. Indeed, Specialized claims a 14.4 percent increase in front-end rigidity (including the fork) and a 23.4 percent jump in drivetrain rigidity over the old model and while we obviously can't confirm the figures, the end result is noticeably snappier than its forebear in every way.
A new hardtail for the hardcore racers
Pure racers have a new Specialized carbon hardtail
Photo ©: James Huang

Specialized has also added many of the new Epic's frame features to the revamped S-Works Stumpjumper hardtail. The new frame is down about 100g (claimed weight is 1070g for a medium-sized sample) yet it's supposedly just as stiff as before but a little more comfortable. Complete bikes without pedals are claimed to be well under 9kg (20lb).
There's yet another tapered-and-oversized 1 1/8"-to-1 1/2" front end (this time housing a Brain-equipped FutureShock S90 fork with 90mm of travel) as well as the same 84.5mm-wide oversized bottom bracket shell and integrated carbon crankset as on the Epic. The new chain stays are now asymmetrical (the non-driveside stay is substantially bigger) and the driveside dropout on S-Works models has swapped the old aluminum driveside dropout for a carbon bit.
As on the new Epic, both the head tube and bottom bracket can be adapted for use with standard parts and bare framesets will be available, meaning that consumers will have the freedom to build with their own spec as desired.
In fact, the entire chassis feels decidedly cohesive from end-to-end, even in rockier technical sections, with none of the whippiness or handling vagueness that is often associated with bikes of this weight class. The more we rode it, the more we got over the fear of breaking it; in the end, we pushed this new Epic harder than any other one before it and felt more comfortable in the process, too.
Racers obviously have much to gain here as the low weight, surprising level of overall stiffness and Brain inertia valve technology at both ends yield the expected response when you mash on the pedals: lay down the watts and this thing absolutely likes to run whether that means heading up a steep and technical climb or just opening it up on a descent.
Though clearly sharper-edged, the new Epic also has far more appeal for general trail riders than before, too. The moderately aggressive head tube angle yields the usual race bike-like handling reflexes but isn't so steep that it's twitchy. Likewise, the suspension feels more usable than before even though it boasts the same amount of travel on paper. The race-tuned Brain means you can still feel a bit more harshness on first impacts than the trail-tuned Stumpjumper (even at the lightest end of its surprisingly wide adjustment range) but it's far from objectionable and fitter riders might appreciate the extra dose of efficiency.
The non-driveside dropout is a bonded-on aluminum
Photo ©: James Huang

Save for the sketchy Fast Trak LK tires that come stock (we quickly swapped out the front for a grippier Captain), we wouldn't hesitate much to use this as an all-day rig as long as you shy away from truly hairy terrain.
One of best parts about the new Epic is that women finally get a top-end model of their own as last year's aluminum Era model has been upgraded to the same carbon frame and component spec as the men's version. Specialized includes the usual women's-specific geometry, tube shapes and diameters, carbon lay-up schedules, suspension tuning and componentry but there's no sacrifice in performance whatsoever. Female racers, step right up; your chariot has arrived and there isn't a single swatch of pink to be found.
You can feel free to accuse us of blowing smoke up Specialized's rear end if you like and many will balk at the increased helping of integration. However, Specialized (and Cannondale, for that matter) have clearly demonstrated that this is what it takes to push the weight and performance limits beyond what we previously thought possible. While do-it-yourself weight weenies will undoubtedly be able to build bikes lighter than this with 'standard' componentry, it's unlikely that they will feel as well put-together.
Specialized doesn't leave female riders out in the cold, either;
Photo ©: James Huang

Either way, the new Epic has redefined our expectations of how light a production bike can (or should) be and how much capability we can expect to come with it. Provided Specialized can keep the front and rear suspension reliability where it needs to be (not to mention the frame), the 2009 Epic may be the 100mm-travel race bike to have come next season. We'll get our hands on a proper production tester as soon as possible and see how well it holds up over the long run.
All of the new Epics and Eras will be carbon-only; there are no aluminum models for 2009 although a slightly less expensive Marathon version will use aluminum chain stays. Pricing is yet to be announced but we're guessing 'expensive' would be a good bet. Production models are slated to arrive in limited numbers before the end of the calendar year.
Photography
For a thumbnail gallery of these images, click here
Images by James Huang/Cyclingnews.com