Project Bike: Scott Spark ultralight XC racer, September 5, 2008
Light makes right
The Scott Spark Team Edition served as the basis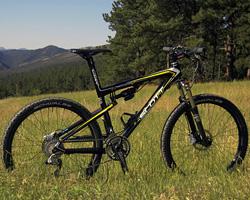 We decided to head off-road for our second Project Bike feature, an ultralight cross-country full-suspension racer. How light can we go without going too far? Cyclingnews technical editor James Huang finds out for himself.
The target requirements for our second Project Bike were simple: make it as light and fast as possible but retain enough overall capability such that it would still be usable (and reliable) in our abusive Rocky Mountain testing grounds. In addition, all of the components had to be full-production commercial items readily available to general consumers.
Much as the Cervélo SLC-SL struck us as an obvious frame choice for Project Bike number one (an all-around road machine), the candidate pool this time around quickly boiled down to one: the silly-light 100mm-travel Scott Spark.
The backbone
In many ways, the Spark is the full-suspension off-road equivalent of Scott's road-going Addict. The frame uses a mix of the company's IMP (Integrated Molding Process) and CR1 tube-to-tube construction and nearly every bit is carbon save for the suspension hard points, rear disc mount and bottom bracket shell. Heck, even most of the cable guides are carbon.
In keeping with the lightweight theme, Scott opts for a single-pivot suspension layout but fits the associated Nude TC rear shock with a unique three-position Traction Control system that affords either 110mm or 70mm of rear wheel travel or a fully locked-out rear end. For our purposes, we decided to go with the Spark Team Edition with its slightly lighter, though less convenient, integrated seatmast.
Scott achieved an insanely light 1.89kg (4.17lb) frame weight

The integrated seatmast design saves a few grams

We used a 160mm rotor up front for sufficient braking power…

…and a 140mm rear rotor to save a few grams

SRAM's twist shifters aren't seen much on consumer bikes

Shimano's XTR front derailleur is a lightweight choice

Crankbrothers' Eggbeater 4ti pedals

Easton's EA90 stem is one of the lightest around

The Ritchey one-bolt 'Stubby' seatmast head

True, carbon cages are light

Things were looking good this early in the game: actual frame weight for our medium-sized sample was just 1996g (4.4lb) including the rear shock, Ritchey 'stubby' seatpost head, all associated hardware (derailleur hanger, bottle cage bolts, etc.) and an uncut mast. While this figure is already impressive on its own, it's even more so when you consider the Stubby head is a relatively stocky 130g.
The build
We chose each component in order to shave the maximum amount of weight while sacrificing as little as possible. While Scott's own Spark LTD already comes in at a claimed 9.20kg (20.26lb)… well, we thought we might be able to do a little better.
We decided on a 100mm-travel Manitou R7 MRD Absolute to handle the bumps up front with its svelte 1390g (3.07lb) figure (uncut), easy-to-use Noble Air spring system and Absolute damper with built-in platform. Though its 30mm-chassis dimensions weren't expected to yield the same level of steering precision as a 32mm-equipped model such as a Fox F100 or RockShox SID, both of those models were deemed too heavy for our purposes. Yes, we know. Neither of those is 'heavy' by any stretch but when you're talking grams here, every bit counts and this single-minded focus paid off in the end.
Wheels were a no-brainer. At just over 1200g per pair, Stan's NoTubes ZTR Race blows nearly all of its competitors out of the water in terms of weight yet they're comparatively inexpensive. Stretched around them were a set of Schwalbe Racing Ralph and Furious Fred tires, both in the top-tier Evolution casing and generous 2.25" width and converted to tubeless with Stan's The Solution latex sealant. We tapped DT Swiss for a pair of RWS Titan MTB skewers with their unique ratcheting clamp action.
Drivetrain components consisted of Race Face's new Next XC carbon crankset upgraded with Enduro ZERØ ceramic bearings, a KMC X9SL chain, and a Shimano XTR M970 11-34T cassette, all driven by Crankbrothers' featherweight Egg Beater 4ti pedals.
Similarly, the cockpit was a decidedly mixed bag: SRAM X.0 twist shifters controlled the X.0 mid-cage rear derailleur and Shimano XTR front derailleur while braking duties were handled by a pair of Avid Juicy Ultimate hydraulics with minimal 160/140mm front/rear stainless steel rotors. All of this was clamped to a rangy 635mm-wide Easton EC90 Monkeylite SL carbon riser bar and EA90 forged aluminum stem.
Finishing things off were a pair of ESI silicone foam rubber grips, WTB's Silverado SLT saddle and a single Arundel OtherSideloader carbon bottle cage.
Total weight including all of the above was a mouth-watering 9.06kg (19.98lb).
Total cost? If you have to ask…
The ride
Holy crap.
If the idea of a 9kg bike sounds appealing on paper, that's because it is. With many higher-end full-suspension racers coming in around the ten-kilo mark or more, heading out on our Scott Spark Project Bike is like gaining instant fitness; we knew we hadn't trained any more overnight but were going faster with less effort nonetheless. The low mass has obvious benefits for climbing but also lends an amazingly nimble feel which is assisted by the relatively low bottom bracket. With less weight (particularly in the wheels) comes less inertia so accelerating, braking and turning all become markedly easier. Think good form-in-a-bottle but not the kind that gets you sacked from your team, heckled in the local press and ostracized from society (and you can brag about it, too).
While the performance gains from the light weight were wholly expected, the overall chassis rigidity was not. In much the same way as Scott's road-going Addict, the well-engineered Spark frame doesn't feel at all whippy as its weight would suggest; in fact, it's downright solid under power with neither end giving up much ground under pressure. Aided with the somewhat more relaxed 70 degree head tube angle, we even pressed the bike into more general trail bike duty around the high country surrounding Nederland, Colorado, and the Spark still felt reassuringly robust, at least under a 72kg (160lb) rider.
Just as with that Addict though, the light-but-stiff formula carries with it frighteningly thin tube walls. When the front wheel launched a healthy-sized rock right into the bottom of the down tube on one ride, we quickly pulled over for a cursory visual inspection and 'tap test'. Thankfully, the precaution turned out to be unnecessary but the seemingly delicate construction gave us pause in rocky conditions nonetheless.
Suspension action is reasonably well balanced in spite of the differing internal architectures but we wouldn't characterize either the Nude TC shock or Manitou fork as particularly supple, especially on smaller hits or right off the top of the travel range given the moderate breakaway thresholds. The overall feel is appropriately race bike firm and efficient though, and rather effective overall at keeping the wheels on the ground when needed. The Manitou fork's 30mm chassis clearly isn't as burly as its more well-endowed competition but it's still pretty good and certainly adequate for the task at hand.
We got -expected pedaling performance from the single-pivot rear end with excellent response in the middle ring, a little bit of stinkbugging in the granny and a slightly soft feel in the big ring. Though we generally prefer shock systems that don't require manual lockouts, we made surprisingly liberal use of Scott's Traction Control system during testing. We grew particularly fond of the 70mm setting which made for an even-faster feel on climbs and smoother sections while still maintaining excellent traction and limiting excess motion. For '09, Scott has also upgraded our flimsy plastic Tracloc lever with a far more durable alloy model though it still isn't a great fit with twist shifters.
The parts
Nearly everything on our Project Bike build was hand-picked for its combination of proven durability and light weight so we weren't all that surprised with the generally excellent performance of the parts spec. Even so, there were still a few standouts.
Second only to the frame, the NoTubes ZTR Race wheels are easily the biggest contributor to our Project Bike's overall sprightly feel. They spin up quickly, offer surprisingly decent overall rigidity and the excellent hand-built quality held up well throughout testing. As we've noticed in the past, they also inflate with converted tires far easier than just about anything out there. The corresponding American Classic hubs are light (and pleasantly quiet) but we could do without their archaic two-nut bearing adjustment method. Come on, guys, how about at least a single threaded collar with a pinch bolt a la Campagnolo?
Likewise, the converted Schwalbe tires are scary-light (especially given their nearly-true 2.2" casing measurement) and scary-fast, likely thanks to the company's Evolution casing and unique triple compound tread (which uses softer rubbers molded over a high-rebound base). Overall traction is surprisingly decent in most conditions given the minimal front and rear tread but it's still best to pay attention as the tires can easily be pushed too far in the corners. Loose-over-hardpack is definitely their Achilles' heel.
Unfortunately, the scary-light and scary-fast performance also comes with scary-low durability. Our Racing Ralph front tire held up ok for the most part but we racked up two Furious Fred sidewall cuts in just four rides (each of them fatal) on what we would consider to be mostly non-rocky terrain.
Considering how expensive these babies are, it's probably best to reserve them for race day or less demanding trail conditions. We eventually swapped to a pair of converted WTB Wolverine 2.2 tires and gained improved traction and more forgiving breakaway characteristics. They added about 300g per pair but were at least only marginally slower-rolling.
Speaking of going slower, the Avid Juicy Ultimate brakes provided their usual good feel and modulation but now that we've accumulated a healthy number of miles, we'd probably have to recommend against the 140mm rear rotor unless your local terrain is rather flat or you're a particularly light rider. While we didn't experience any issues with fluid vaporization ourselves (a known issue with smaller rotors), we constantly wished for a bit more power out back and shudder to think about how it would have been with alloy rotors instead. To be fair, we could have beefed things up with sintered pads but would still recommend 160mm rotors front and rear to most users.
Race Face's Next carbon crank was a suitable match for our Scott Spark with its burly dimensions and carbon construction. Though they offer rigid arms, reasonably durable chainrings and a newly improved spline interface that is far less likely to come loose, they're barely lighter than Shimano XTR at 756g complete and don't shift quite as well (then again, what does?), plus they're more expensive. On the plus side, the Enduro ZERØ ceramic bearing upgrade makes for an ultra-silky smooth spin that XTR simply can't match but they unfortunately add to the cost even further.
As for the rest of the transmission, we'd honestly forgotten how much we liked twist shifters! True, they can succumb to accidental shifts on rare occasions but they're also unmatched for the ability to dump multiple gears in one motion. The relatively unproven KMC chain held up well and was reasonably quiet though it doesn't mesh quite as smoothly as a Shimano Hyperglide model. Still though, it's a capable substitute and shaves nearly 30g off of its competitors… and did we mention that it comes in gold?
The first taste is free
Now that we've sampled the glory of ultralight XC machines, it'll honestly be hard to go back to 'normal' as just about anything else feels heavy in comparison. Moreover, our careful build yielded a true lightweight that still held up to some good Rocky Mountain abuse without blowing up. While we'd likely leave the Schwalbe tires and 140mm rear rotor for special occasions, the rest of the spec is hard to fault. As is almost always the case, lighter is better but not if it comes at the expense of performance or durability. Do things right though, and you just might be able to get all three. Just be prepared to pay for it.
Price: US$3359.99 (frame only with rear shock and seatpost head); your firstborn child (complete bike, as tested)
Weight: 1996g (4.4lb) (medium frame with rear shock, uncut mast, seatpost head and associated hardware); 9.06kg (19.98lb) (complete bike, as tested)
Pros: Intoxicatingly light-yet-rigid total package, careful mix of light weight and durability, versatile handling, cross-country race-appropriate suspension
Cons: Prohibitively expensive, fragile Schwalbe tires, paper-thin tube walls don't lend much confidence for crashes
Cyclingnews rating:

Photography
For a thumbnail gallery of these images, click here
Images by James Huang/Cyclingnews.com
Frame: Scot Spark Team Edition
Available sizes: S, M (tested), L, XL
Rear shock: Scott Nude TC by DT Swiss
Fork: Manitou R7 MRD w/carbon-wrapped lower legs, 100mm-travel
Headset: Ritchey WCS Carbon
Stem: Easton EA90
Handlebars: Easton Monkeylite SL
Tape/grips: ESI Silicone Chunky
Front brake: Avid Juicy Ultimate, 160mm rotor
Rear brake: Avid Juicy Ultimate, 140mm rotor
Brake levers: Avid Juicy Ultimate
Front derailleur: Shimano XTR FD-M971
Rear derailleur: SRAM X.0
Shift levers: SRAM X.0 twist shifters


Cassette: Shimano XTR CS-M970, 11-34T
Chain: KMC X9SL
Crankset: Race Face Next XC
Bottom bracket: Race Face X-Type w/Enduro ZERØ hybrid ceramic bearings
Pedals: Crankbrothers Eggbeater 4ti
Rims: Stan's NoTubes ZTR Race
Front hub: American Classic Disc 130
Rear hub: American Classic Disc 225
Spokes: DT Swiss Revolution with alloy nipples
Front tire: Schwalbe Racing Ralph, 26x2.25" Evolution
Rear tire: Schwalbe Furious Fred, 26x2.25" Evolution
Saddle: WTB Silverado SLT
Seat post: n/a
Other: DT Swiss RWS MTB Titan skewers, Stan's NoTubes The Solution latex sealant