Recently on Cyclingnews.com
On Test: Trek Lime, November 23, 2007
Living the Lime life
The Trek Lime
Photo ©: James Huang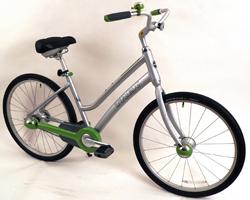 The 'automatic' Trek Lime looks like a modern version of a townie bike for riding to the bakery or post office. It's clearly not for racing, training or off-road use, and it's nothing like that retired race bike you converted to a commuter. So why should you care? Cyclingnews' Sue George took the Trek Lime to the streets of Harrisonburg, Virginia to answer the question.
The cycling industry churns out exciting new products year after year, but its most daunting and important challenge remains getting more people to actually ride bikes. Through an extensive research project spearheaded by Shimano and design firm IDEO, it turns out that some of the biggest obstacles to cycling for the general public are the same whiz-bang techno-bits that most of us crave: bazillion-speed drivetrains, aggressive riding positions, skinny flat-prone tires, and (relatively) complicated controls. The Trek Lime directly applies the results of that research and is actually just one of several such machines that hope to lower that barrier of entry and grow the cycling 'pie' for all of us.
"The idea was to convey simplicity. We took our lead from Apple - you look at the thing and it doesn't look complicated," said Trek's Eric Bjorling of the three-speed Lime. "On the inside, it is complex. On the outside it looks simple… you want to touch and play around with it."
Trek is marketing the Lime to a decidedly wide audience, from 25 year-old hip city dwellers to rural 65 year-old residents. "We wanted to go back to the essence of why biking is fun. We hope to break down the barriers to entry in cycling. People perceive cycling as something difficult that takes a high level of fitness and expensive equipment. In a bike shop, now they see a lot of gears and wires and spandex and things that don't mesh with their image of riding down to the coffee shop or with their kids."
The Lime's green 'peels' and shiny endcaps
Photo ©: James Huang

The Lime's long head tube
Photo ©: James Huang

The top and down tubes are steeply sloped and parallel to provide more step-through clearance.
Photo ©: James Huang

The Bontrager Cruiser 26x1.9 HardCase tires
Photo ©: James Huang

Shimano's Coasting technology
Photo ©: James Huang

On the Lime, life is simple. Pedal forward to go and backward to stop. There are three gears, but the shifting is automatic thanks to Shimano's "Coasting" technology. From a user perspective, it operates like a car's automatic transmission - all you have to do is pedal and steer.
So how does this automatic shifting work?
The Lime uses a standard Shimano three-speed Nexus internally geared rear hub equipped with a coaster brake but unlike the version you used as a kid, the electronic Coasting 'brain' handles the gear shifts for you via a small motor-driven arm that tightens or loosens a short cable that controls the hub's internals. Power is supplied by a rechargeable battery in Coasting's CPU (located underneath the bottom bracket shell), which is charged by a small dynamo in the front hub.
That front hub also houses a sensor to detect speed, and the computer uses that speed data as the primary input in the decision-making algorithm. As set up from the factory, the bike shifts up from its lowest gear to the intermediate gear at 11km/h (7mph); the next jump comes at 18km/h (11 mph). Those thresholds can be adjusted by turning a screw on the CPU's exterior, and the system can also be disabled entirely by turning the threshold setting screw fully clockwise, converting the Lime into an even-simpler singlespeed.
It's all about style
Lime is more about elegant design and easy livability than lightweight materials and exhaustive features. As such, most of its features are specifically aimed at enhancing the bike's aesthetics and utility. The Lime comes in neutral grays (blue and "other colors" will be available in 2008 - Ed.) dressed up with colorful 'peels' that are available in dark blue, smoke gray, pink, crème, orange, baby blue, and of course, lime (tested). Just like some cell phone faceplates, the peels are replaceable and can be easily swapped for a customized look at feel. Unfortunately, at least one of my peels usually didn't sit properly in its place and another fell off during normal use which gave the bike a shoddier than intended look.
One particularly clever convenience item is the seat trunk: a push of a button flips the seat open, revealing a small compartment that addresses the common "I don't have anywhere to put my essentials" barrier to riding. The trunk isn't as spacious as its name would indicate, but it is perfect for stashing keys, a cell phone, an iPod, and small wallet - convenient for those with no pockets or separate bag. Almost more importantly, however, was how much its flip-top design delighted cyclists and passersby of all ages.
The Lime's geometry is purely aimed at comfort and convenience with an upright, casual position with an adjustable stem (wrench required) and quick-release seat collar. A steeply sloping top tube on the "low step" (women's) model makes for exceptionally easy mounts and dismounts, and also eases riding with snug pants or a skirt along with the built-in chainguard. Grippy-surfaced, flat pedals are flip-flop friendly and reasonably slip-proof, M-shaped bars and ergonomic grips provide a comfortable perch for your hands, a bar-mounted bell lets bystanders know you're coming, and a kickstand makes for any-time any-where parking.
There are still a few key barriers not addressed by the flagship 2007 Lime, though: riding wet roads (no fenders), carrying more than just the essentials (no racks) and riding after dark (no lights). To its credit, the Lime is rack and fender mountable, so both can be added aftermarket by motivated consumers. Trek has partially addressed those issues with a "Shopping Lime" for 2008 that comes with basket and fenders as standard equipment. Lights are still left up to the end user, though, and it seems to us that a dynamo-powered unit would be an ideal addition here.
The ride
It was hard to ride the Lime without smiling and feeling like a kid again. It was nothing like other commuter bikes I've owned, yet was ideally suited to my daily 1km (<0.5mi) commute to my yoga studio, running short errands, or just casually rolling a few blocks around town. The only thing that was the least bit challenging about the Lime was re-programming my brain so I'd initiate braking with my feet on the coaster brake instead reaching for non-existent hand levers (admittedly something that most casual or new riders won't have to work through).
Coasting's automatic transmission also forced me to let go of my inner control freak somewhat. The threshold adjustment still provided some flexibility in tweaking its performance, though, which was appreciated given my local hilly terrain. My testing followed a few months off the bike due to a broken shoulder, so I dialed down the threshold to spin more in those early days. As I got stronger, I got on top of the gears more easily and adjusted the threshold upward.
One other mental hurdle was the coaster brake. It provided an acceptable amount of power (enough to skid in front of friends when the situation demanded it) but the lack of modulation discouraged me from letting it roll full speed, especially down steep hills. Let's get real here, though: it's a coaster brake, and the intended Lime user probably isn't going to be hitting warp speed flying down the Galibier. The coaster brake's most obvious advantage, of course, is its brutal simplicity both in terms of use and maintenance.
What the bike did not provide, however, was a sense of efficiency - no surprise since even Shimano's coasting.com website uses the words "meander" and "lollygag". For errands run under time constraints, over long distances, or requiring carrying significant cargo, the Lime isn't exactly the ideal tool for the job.
The wheels and their decorative axle covers also come without quick releases and require specific tools for removal. This was enough of a hassle that I never took the Lime by car to ride elsewhere and the handful of hardware that comes off with each wheel could be intimidating to the target user group in the event of a flat. On a positive note, the extra complexity is could be considered a theft deterrent and the reinforced tires required only occasional topping off of pressure (through casual consumer-friendly Schrader valves) during the test period.
Conclusion
The Lime is a fun, reliable, generally low maintenance around-town bike with a high gee-whiz factor. True to its objectives, it is well suited for riding casually about town, the neighborhood, or on bike paths for short-distance commuting or recreation. It is user friendly and simple to ride, but it's less simple for wheel removal or maintenance. Control freaks or those in a hurry need not apply, but neither of those are Trek's intended audience here. For those cycling newbies that Trek and Shimano are trying to draw into the fray, though, the Lime is an awfully appealing little machine.
Price: US$589.99 (tested Lime); $499.99 (Lime Lite - no seat trunk or adjustable stem)
Sizes: Low-step/women's: Small (13.5") and Medium (17.5"); High-step/men's: Small (15"), Medium (18.5") and Large (21.5")
Pros: Innovative automatic shifting technology, seat trunk, adjustable stem, ergonomic bar and grips, built-in chainguard, low maintenance, kickstand (you're not likely to see this 'pro' again anytime soon!)
Cons: No racks or fenders included, easily lost peels, tools required for flat changes
Cyclingnews rating:


More info: www.trekbikes.com
Photography
For a thumbnail gallery of these images, click here
Images by James Huang / Cyclingnews
Full specification: Trek Lime
Frame: Trek Alpha White Series Aluminum
Available sizes: Low-step/women's: Small (13.5") and Medium (17.5" - tested);
High-step/men's: Small (15"), Medium (18.5") and Large (21.5")
Fork: High tensile steel with internal routing
Headset: VP threaded, semi-integrated
Stem: Lee Chi alloy with adjustable extension
Handlebars: Lee Chi high-tensile steel
Tape/grips: Velo VLG-761D2 and… who cares, they're green!
Front brake: N/A
Rear brake: See 'Rear Hub' (coaster brake)
Brake levers: N/A
Front derailleur: N/A
Rear derailleur: N/A
Shift levers: Shimano Coasting automatic 3-speed


Cassette:Shimano 20T, 3/32"
Chain: 3/32" Rustbuster
Crankset: Bontrager Satellite 33T 3/32"
Bottom bracket: SR cartridge type
Pedals: Wellgo nylon platform with grey kraton
Rims: 26x1.5" alloy
Front hub: Shimano Coasting dynamo hub
Rear hub: Shimano Coasting 3-speed hub
Spokes: 14g stainless steel
Front tire: Bontrager Cruiser, 26x1.90" with HardCase
Rear tire: Bontrager Cruiser, 26x1.90" with HardCase
Saddle: Bontrager Satellite Elite "Lime" with storage
Seat post: Lee Chi alloy, micro-adjustable steel head
Other: Quick-release seat binder, Lime handlebar bell