On test: Tacx Fortius VR Trainer, January 18, 2007
Re-energising the trainer
Chasing opponents through the countryside in the VR race
Photo ©: Tacx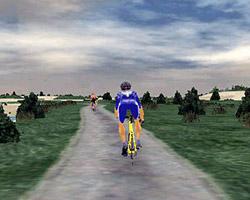 Another year has come and gone, and Cyclingnews UK Editor Ben Atkins brings in the Tacx Fortius trainer to help him stick to this round of resolutions. Could technology succeed where his willpower has so spectacularly failed in the past?
If one of your New Year's resolutions is worth keeping, it's the one that says: "I will train this year". Most regimes conceived during this optimistic time involve committing yourself to at least an hour a night - every night - on the torture rack that is your home trainer. Sadly, if you're anything like me, this resolve generally lasts, oh, about fifteen minutes into the first session. At which point I remember why I didn't train much last year, and the trainer gets returned to its usual place - gathering dust in the spare room waiting to go through the same routine next year.
This has always been my problem - I just can't train indoors. I've tried everything: new playlists on my iPod; watching videos of my favourite classics; having my wife spray me with muddy water and hitting me with wing mirrors so I can pretend that I'm really outside on the Great British roads; everything... or so I thought.
Tacx sends the Fortius VR Trainer to the rescue
Tacx goes to great lengths to enhance the realism of the indoor training experience with its high-tech Fortius VR Trainer, both in terms of how the bike pedals 'on the road' and by providing a detailed computer-generated virtual reality 'world' in which to ride.
The Fortius resistance unit features a computer-controlled motor brake - rather than the conventional air, liquid or magnetic resistance - which, in addition making things difficult for you on the uphills, also drives the wheel as you come down the other side. In addition, Tacx claims the motor brake is more precise than its less sophisticated counterparts, and so is better able to replicate real climbing and its minute variances of gradient.
The Tacx Trainer Mat
Photo ©: Ben Atkins

The Tacx Sweat Set
Photo ©: Ben Atkins

Somehow I have to figure out how to put this together!
Photo ©: Ben Atkins

More assembly: the Steerer Frame in its raw form.
Photo ©: Ben Atkins

After a few hours of toil,
Photo ©: Ben Atkins

The business end of the Fortius trainer.
Photo ©: Ben Atkins

The Fortius motor brake
Photo ©: Ben Atkins

The PowerBack unit
Photo ©: Ben Atkins

Clamped in and ready to ride.
Photo ©: Ben Atkins

As with most trainers, the Fortius uses an aluminum roller
Photo ©: Ben Atkins

The front fork is clamped into the Steerer Frame
Photo ©: Ben Atkins

Tacx's dedicated Trainer Tyre is longer wearing
Photo ©: Ben Atkins

The rear skewer is securely held
Photo ©: Ben Atkins

The Sweat Set's frame protector in situ,
Photo ©: Ben Atkins

The rider's point-of-view while riding.
Photo ©: Ben Atkins

Reaching the bottom of the Cauberg at the end of Amstel Gold.
Photo ©: Ben Atkins

Incredibly, Tacx also steals a conceptual page from modern hybrid automobiles and their regenerative braking systems which capture otherwise wasted energy to charge the batteries. In similar fashion, the Fortius VR trainer features a "PowerBack System" that actually feeds consumed current back into the system, meaning that the trainer uses relatively little juice.
The Fortius resistance unit is attached to a sturdy, but non-folding, steel frame. Attached to the front of this frame is the accompanying Steering Rack which is designed to add another dimension to the experience. When secured to the user's fork via the included quick release attachment, 'riders' are actually able to steer around on a virtual reality course.
Topping off our test kit is an assortment of Tacx accessories, including a Trainer Mat designed to deaden sound and protect the underlying floor from marks and sweat (eurgh!), a Sweat Set to protect the bike and yourself, a bright blue Trainer Tyre, as well as a collection of VR DVDs.
Assembly and set up
The combined trainer and steering frame of the Fortius VR presented an interesting 'Meccano meets Ikea' challenge that almost seemed to be a training session in itself, but a couple of hours of grunting and groaning - and several squinted referrals to the multilingual instruction sheet - were sufficient to get things bolted together.
Unlike conventional trainers, however, the setup process didn't end with the assembly of the unit. The Fortius VR must also be connected to a compatible computer via a multitude of wires and the included software loaded and configured. The initial setup is straightforward; first you create your 'team', then enter your name, weight, gender and date of birth, and heart rate details, followed by your height, email address and country, as well as any remarks you may think worth including. The system software uses this data to calculate parameters such as wattage and calories burned so there's no point in lying here. You even get a choice of jersey - for me there was only one choice: Quick.Step!
Where do you want to go today?
The Fortius trainer can be used in one of three different modes: Catalyst, a basic variable resistance program; one of three different Virtual Reality terrains; and Real Life Video. Catalyst is a really good program for doing fixed time sessions of variable resistance, a bit like what you'd get on a machine at a gym. But given the other two choices, it's unlikely that Fortius owners would ever choose this relatively mind numbing option unless they were looking to do a particularly structured workout.

The included Virtual Reality terrains vary in distance from a few flat kilometers to a lot of hilly ones, depending on what kind of session you have in mind. You can also select the weather conditions; wind directions play a role and choosing rain makes the corners slippery! In addition to the included scenarios, there are also two optional environments offered, including Velodrome and Extreme MTB.
After selecting my first course - I thought I'd try a short simple one to start with - the first thing I did was to veer towards the left hand curb, then steered the other way and promptly hit the right hand one! My first thought was that I'd somehow forgotten how to ride a bike as I didn't seem to be able to point it in the right direction. This of course was not the case (honest!), but it was my first experience of steering by turning the handlebars alone since I last rode my tricycle. In reality, turning while on the road is achieved more by leaning rather than turning (you knew that, right?), but this would be rather difficult to achieve in your spare room without falling off, so this really is the next best thing.
The overly artificial nature of the steering doesn't matter though - once you get used to it that is (which thankfully doesn't take all that long!). It adds to the whole interactive virtual reality of the experience, meaning you're more involved with the whole thing and indoor training actually manages become interesting. In fact, just about everything you do on the bike in real-life is reflected on the screen: when you turn the pedals - so does the man on the screen, when you turn the bars - so does the man on screen, and when you slow down/speed up - so does the man on screen.
Once I was competent enough riding the courses on my own I added a bit of spice and selected a few opponents that Tacx had kindly provided. These are set up with different abilities (based, I think, on the staff at Tacx) and will give you a good race. Some turned out to be faster than me, and others were slower which was about perfect as it gave me something to chase, and also gave me warning that I was going too slowly when a weaker rider caught up.
Building on the VR concept is the Real Life Video mode of the Fortius trainer. The guys at Tacx have filmed the courses of a number of elite races - by putting a car at the front of the race convoy - and got together with computer game programmers to replicate the terrain into the software. When the camera goes uphill the resistance goes up, when it goes down, the resistance goes down, when you speed up, the DVD speeds up, and when you slow down, it slows down - just like it does with the computer generated pictures of the Virtual Reality terrains. Included in the package is a selection of demo courses around Majorca, Spain, but Tacx has also produced a number of optional DVDs from races, from classics like Amstel Gold to mountain stages of the Tour de France.
Because the car doing the filming was placed at the front of the race convoy, you also get all of the associated benefits of being at the head of the peloton, including a motorcycle outrider and everything! It's just like being a lone breakaway rider with the bunch breathing down your neck! (although, because it was filmed ahead of the race rather than in it, the crowd do tend to look past you a bit, waiting for their heroes to arrive...)
The first thing I noticed in the Real Life Video environment was that the steerer function doesn't work. This is hardly surprising, as in order to allow for steering off course, they would have had to film the sides of the course in addition to any deviations you might take However, as with the VR software, you can choose all or part of the course, or even just one hill to climb. One of particular interest to me was Col de Peyresourde from the Pyrenean Stage DVD - the last climb of this year's Etape du Tour - as this is something I shall be working on quite concertedly over the coming months. By the time l'Etape comes around, I shall know this col like the back of my hand! More significantly, though, the climbs proved to have been replicated incredibly accurately as I can testify from firsthand experience.
Accessories
Simply put, the Sweat Set proved invaluable and included a sweat cover for the bike and a towel, headband, and wristband for yourself. We all know how hot it can get when you're outside, but stuck in the spare room with no breeze it can get pretty sweaty. Normally I wouldn't be seen dead in a John McEnroe headband, but with the sweat running into my eyes I just had to put it on from time to time. The Sweat Cover has the appearance of a sports thong for a sumo wrestler but fits over the bars nicely and hangs between them and the seat post to protect your paintjob and bearings from the drips. All in all, the pieces did an admirable job and are highly recommended.
Likewise, the Training Mat also came in very handy. We have solid floors - being in a basement flat - so noise isn't a problem, but it does quiet things down somewhat which can be important for those of you on upper levels. In addition, the mat works in concert with the Sweat Set to capture any drips that miss their mark, keeping the underlying carpet perspiration-free.
Lastly, indoor trainers ruin tyres like nobody's business, but after a couple of months of use, the Tacx Trainer Tyre is still looking like new! As compared to a standard tire, it not only wears much longer but is also noticeably quieter.
Conclusion
The Tacx Fortius trainer is an excellent trainer in an of its own right with an impressively realistic-feeling resistance unit, but the software and Steering Frame are what really makes this unit special as the combination provides you with the next best thing to riding on the roads.
Instead of mindlessly churning about on a standard trainer, Tacx has managed to practically turn the experience into a video game, and this is where they've really scored a winner. Computer game designers certainly know how addictive their creations can be, and in fact, I have never allowed myself any kind of games console after borrowing a Gameboy in 1993 and not being able to put it down after half an hour of Tetris. As with any good game, the Tacx software also stores all your stats including speeds, heart rate, power output etc. and you can keep coming back to beat your score.
Most importantly for me, it seems to have cured me of my inability to train indoors! My mind is kept active - concerned with what I'm doing, not someone else in a race or the music I'm listening to. The software also provides a great record of progress without additional work from me; I can just ride and it records it all on its own.
All in all, if you're the sort of person who can regularly do two hour sessions staring at your heart rate monitor and a stopwatch (and enjoy it), then you probably don't need one of these. If however, you're like me and lose concentration while you're warming up, than this just might be the product for you.
Price: €689.95 (Tacx Fortius VR Trainer); €134.95 (Steering Frame); €58 (Training Mat); €32 (Sweat Set); €27 (Trainer Tyre); €39.90 (Velodrome Disc); €29.90 (Fortius 'Real Life Video' DVDs)
Pros: A realistic ride that keeps you interested, making it easier to train more.
Cons: Steerer not realistic (but fun!), expensive, requires a PC, not Mac-compatible.
Cyclingnews rating:


More information: www.tacx.com
Photography
For a thumbnail gallery of these images, click here
Images by Ben Atkins/Cyclingnews.com
Images by Tacx