Recently on Cyclingnews.com
On Test: Shimano 105 - 5600 10-speed groupset, January 30, 2007
Joining the 10-speed revolution
The perfect 10.
Photo ©: Paul Henderson-Kelly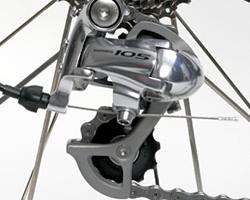 Since Shimano added that extra sprocket to its signature Dura-Ace groupset back in 2003, 10-speed technology has gradually filtered down to the more affordable Ultegra and 105 ranges. Cyclingnews' Ben Abrahams gave Osaka's latest 10-speed offering a thorough workout and found surprisingly few differences between 105 and its more illustrious big brother.
Now a true giant in the professional peloton, Shimano will be supplying half of all ProTour teams with componentry for the 2007 season. However, for us mortals who don't get lavished with a shiny new groupset each January (this lot will go back to the manufacturer - eventually), Shimano's mid-range 105 could be just the ticket.
Aimed at recreational racers or those with "fine champagne tastes but more of a beer budget," according to Shimano's PR Officer Devin Walton, the 105 range is designed to be equally at home thrashing around the local criterium circuit as it is touring the back roads on a quiet Sunday afternoon. Indeed, 105 boasts all the trademark features of Dura-Ace and Ultegra: a two-piece crankset with outboard bearings, curvaceous STI (Shimano Total Integration) shift/brake levers and, of course, that much needed tenth sprocket at the back.
There's the usual array of combinations and sizes to choose from when it comes to cranks, chainsets and sprockets - some of these being helpfully disguised behind Shimano's mind-boggling part numbers. Crank lengths go from a weensy 165mm up to the standard 170, 172.5 and 175mm, all of which are offered with either a double or triple chainset. Interestingly, Shimano claims that the same model of STI lever will work for both double and triple chainring combinations, making for an easier switch when you head for more mountainous terrain. Available permutations are 50/39T, 52/39T, and 53/39T, plus a single 50/39/30T option for the triple. At the back, the nickel coated steel cassette comes in the following ranges: 11-23T, 11-25T, 12-25T and 12-27T.
Our test rig, a Titus Modena
Photo ©: Paul Henderson-Kelly

That infamous retro crank design
Photo ©: Paul Henderson-Kelly

Great stopping power
Photo ©: Paul Henderson-Kelly

Nice and shiny:
Photo ©: Paul Henderson-Kelly

If it's good enough for Lance...
Photo ©: Paul Henderson-Kelly

Still not sure about that crankset?
Photo ©: Paul Henderson-Kelly

Sifting through the marketing speak on Shimano's website, there's little doubt that weight, or rather super light weight, was not a major factor in 105's design brief. Having said that, the group is still anything but excessive in the grams department. For example, a set of 105 STI levers tips the scales at 502g compared to 419g for Dura-Ace and the rear derailleur is just 22g heavier than its top-end equivalent. Still, a handful of grams here and there obviously add up, but it's a reasonable compromise for the dramatically lower price.
Looks to die for?
Now obviously there's little point in parting with a wad of hard earned cash if you can't sit out at the cafe on a summer's day, latte in hand, admiring your bike's beautiful lines and seductive curves. Well, maybe not that last bit, but you get the idea... With a design based around the concepts of "smooth, round and natural" (whatever that means), does 105 cut it in the looks department? By and large, the answer would have to be yes.
Up front, the chunky STI levers borrow much of their styling from Dura-Ace and are undoubtedly a vast improvement over the previous edition with a real look of quality to the anodized aluminium finish. There are a couple of small style differences however, such as the larger and more pointed tops to the levers (perhaps to accommodate a bulkier gear shifting mechanism inside) and the corrugated finish to the plastic inside shifters. The latter certainly don't look as nice as the polished aluminum levers on Dura-Ace, but the textured surface does lend a little more grip.
As for Shimano's now infamous crankset design philosophy, it's safe to say that if you aren't a massive fan of the Dura-Ace aesthetics, then don't get your hopes up because this one certainly doesn't look much different. Regardless of whether you like the filled-in chainrings though, they still possess that overall solidity and quality feel to them which was lacking in the previous 105 group.
Brake calipers and derailleurs continue the smooth, round and natural theme. The dual pivot brakes boast a more compact profile than on previous generations and now offer angular adjustment on the brake pads courtesy of convex washers on the fixing bolts mated to concave surfaces on the pad holders. Moreover, Shimano also claims a 100% improvement in brake shoe durability - a little hard to verify without serious long term testing.
It can also be reported that the test rig did manage a few "nice bike, mate," comments from Sydney's hard-nosed cycling fraternity - no mean feat these days when your average punter's bike is a Colnago C50. To be brutally honest, though, the admiration may have been more to do with the somewhat unusual aluminum and carbon fiber frame on which the componentry was mounted (it's a Titus Modena if you're interested) rather than the mid-range groupset itself.
Enough drooling, time to ride
Once out riding it's immediately apparent that the hand position on the hoods is similar to the super-comfy Dura-Ace design, although the 105 hoods are ever so slightly wider which may not suit such a wide variety of hand sizes. As previously mentioned, the new levers have a somewhat pointed look about them, making it a little unnatural to rest your thumbs over the top - sometimes a favourite position in those desperate moments spent clinging to the wheel in front - but otherwise they feel spot on.
Flick the right-hand lever inwards and the narrower 10-speed chain clicks up the cassette in that crisp, precise manner that's become a trademark of Shimano's high-end groupsets. And while the shifting isn't quite on the same effortless, fingertip level of Dura-Ace, it's pretty damn close. Just like big bro, 105 can shift up as many as three sprockets in one fell swoop by pushing the lever inwards almost 90 degrees. Unfortunately, when moving down the cassette, you still have to click down each individual sprocket one at a time with the secondary inner shifter. It'd be nice to see Shimano take a leaf out of Campagnolo's book (or from its own given the most recent changes to its XTR trigger shifters) and allow several cogs to be ticked off with one big whack - perhaps this will be included in the next revision of Dura-Ace.
Moving from the small to big chainring (our test group has a 50/39 double chainset) is equally precise. This is where Shimano seems to have the edge on its Italian arch-rival. There's no ratcheting up of the front derailleur; just one push inwards on the main left hand lever makes the chain glide up to the big ring even at low cadences. Going back the other way isn't quite as smooth, though, as sometimes the inside lever required a big shove before the chain crunched back into the small ring. This is not a major issue but one that has been noted previously in reviews of the Dura-Ace group and still rears its head 105.
Braking is another area where the 105 group proves superb. The dual-pivot brakes combined with those beefy STI levers make for very assured and powerful stopping power in all but the most extreme wet conditions. And while it didn't seem worth flinging oneself to the tarmac for the sake of a tech review (maybe I'm just not dedicated enough), several emergency-style stops were carried off without serious injury.
Conclusions
Shimano's retail prices vary greatly from country to country but the basic 105 group (excluding wheels, hubs etc.) still comes in considerably less than Campagnolo's Centaur and slightly above their next group down, Veloce - both of which are ten speed. Although most prospective buyers will likely purchase 105 as part of a complete bike, making it hard to put a finger on the actual value, the bottom line is if you're looking for a reliable, easy to maintain groupset that works consistently without too much tweaking, it's hard to look past 105. Sure, Dura-Ace and Ultegra may save you some grams but they'll also burn a much bigger hole in your pocket.
As for 105's durability and longevity, it would be unfair to pass judgment after a couple of months riding through an Australian summer - Shimano's PR man Mr. Walton acknowledged that customers won't get the same mileage from 105 that they will from Dura-Ace but that's to be expected. Having said that, past experiences with Shimano equipment suggest that it's at least as durable, if not more so, than its rivals, especially when comparing the lower to mid-range groupsets (queue the flood of hate-mail from Campagnolo fanatics).
Weight: See table below
Price: US$309.99/set (ST-5600 dual control shifters);US$54.99 each (BR-5600 brakes f/r); US$189.99 (FC-5600 double crankset); US$204.99 (FC-5603 triple crankset); US$39.99 (SM-FC5600 bottom bracket); US$64.99 (RD-5600 short cage rear derailleur); US$69.99 (RD-5600 long cage rear derailleur); US$39.99 (CN-5600 10sp chain); US$64.99 (CS-5600 cassette); US$64.99 (FH-5600 rear hub); US$39.99 (HB-5600 front hub); US$89.99 (PD-5600 SPD SL pedal)
Pros: All the modern features of Dura-Ace at roughly half the price; crisp shifting; reliable braking; great quality finish to the components
Cons: STI levers could be slightly more comfy; those cranks may still offend some; moving to small chainring can be a little crunchy
Cyclingnews rating:

Photography
For a thumbnail gallery of these images, click here
Images by Paul Henderson-Kelly/Cyclingnews.com
How does 105 weigh in against Dura-Ace?

Component

weight (g) 105 5600 10spd

weight (g), Dura-Ace 7800 10spd

Rear derailleur (double)
Front derailleur (braze-on, double)
Rear hub (32h, without skewer)
Rear skewer
Front hub (32h, without skewer)
Front skewer
Rear brake caliper (w/nut)
Front brake caliper (w/nut)
Cassette (11-23T, w/lockring)
BB (English threads)
Crankset (172.5mm arms)
Chain
Shifters/brake levers (pair, without cables)

222
88
352
62
148
58
176
178
226
100
766
278
502

181
72
257
65
125
55
160
154
176
99
639
275
420

Total

3156

2678