Recently on Cyclingnews.com
On Test: Craft cold weather clothing, April 6, 2007
Cold-weather performance and three-season versatility from Craft
All dressed up and ready to go outside!
Photo ©: James Huang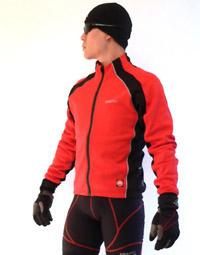 Former Phonak team clothing provider Craft hasn't let the downfall of the once-mighty ProTour team get it down. While best known for its cold-weather gear, Cyclingnews Tech Editor James Huang finds that the Swedish apparel maker does 'cool' just as well.
Spring has finally arrived for the northern hemisphere... at least that's what it says on the calendar, anyway. After a rather odd winter, wildly variable weather patterns continue to play with our heads in terms of what cycling clothing we should wear (shouldn't it be warmer than this for April?).
In spite of what Dilbert says on your desk calendar, early spring still holds plenty of cold days and brisk mornings. Being based in Sweden, the folks at Craft know how to do 'cold' quite well, and its impressive array of dedicated gear would put many other company's offerings to shame if only in terms of sheer numbers.
We put a variety of Craft kit through the ringer over the course of a long, hard, Colorado winter to see for ourselves just how well suited it was to bitter cold and wind. How'd it all do? Read on...
Pro Race winter bib shorts, knee warmers, and leg warmers
Craft expands the useful range of knee and leg warmers to full-on winter conditions with its Pro Race winter bib shorts. Like some other premium shorts, the Pro Race winter bibs offer a carefully sewn cycling-specific cut, flat-lock stitching, and a mesh-backed bib section, along with a superb multi-density Elastic Interface Pro F-7 chamois made by CyTech in Italy. What makes these shorts special, however, is Craft's winter-weight Thermo Sense fabric.
Yes, they're shorts, and yes, they're thermal.
Photo ©: James Huang

Thermo Sense is similar to what you'd find in a lot of dedicated winter cycling kit with a brushed inner surface to trap body heat and provide a cozy feel. Craft uses the material for the entire body of the Pro Race as well as the front half of the bib section (the rear of the straps and upper back are open mesh). It may seem odd to use such a fabric for a pair of shorts, but things begin to make much more sense when you consider the Pro Race winter bibs as part of a modular system on which to build your cool weather wardrobe. Craft also offers winter knee warmers and leg warmers built from the same Thermo Sense fabric, and the combinations can produce the same functionality as a pair of winter knickers or winter tights, but without having to purchase each of those items separately.
Accessories to fill out the wardrobe
Craft's Gore WS skull hat is extremely thin
Photo ©: James Huang

Naturally, winter gear would be of little use if your head and hands are still freezing. To that end, Craft also offers a number of dedicated accessories, including the Gore WS 'skull hat' and Siberian gloves.
Craft uses its excellent proZERO fabric for the body of the cap and, in a truly brilliant move, adds an extra panel of Gore Windstopper right up front. The cap is easily thin enough to wear under even the snuggest of helmets and provides full forehead and ear coverage.
Add one part Gore Windstopper to Craft's proZERO material
Photo ©: James Huang

In spite of its lack of thickness, the Gore WS skull hat was truly a godsend on colder days when an otherwise uncovered head would have sucked the life right out of us. The single Windstopper panel proved to be extraordinarily effective at retaining essential warmth, and the proZERO fabric delivered a comfortable, itch-free fit.
Craft calls the Siberian glove its "warmest glove to date", and equips it with high-loft insulation beneath a windproof shell, a terry cloth thumb, a neoprene hook-and-loop wrist closure, and synthetic leather hand surfaces covered with extra-grippy silicone rubber dots.
Craft's Siberian gloves deliver amazing warmth
Photo ©: James Huang

The Siberian certainly doesn't offer the same trim fit as the Gore WS cap, but it may very be the warmest cycling glove we've ridden to date, too. Sub-freezing temperatures were simply no match for the aptly-named gloves, and they even managed to provide decent road feel and grip, in spite of its heavy insulation.
Unfortunately, the comfort range of the Siberian gloves doesn't extend much past 8°C (46°F) or so, but that's a price we're willing to pay for toasty fingers. The gloves held up reasonably well during our test period, but based on previous experiences with this fabric, we'd still refrain from using these things for off-road use.
Price: US$29.99 (Gore WS skull hat); US$59.99 (Siberian glove)
Pros: Gore WS skull hat: super thin, excellent warmth and protection from wind. Siberian glove: outstanding insulative ability without unnecessary bulk
Cons: Gore WS skull hat: none. Siberian glove: ideally should be limited to road use only, almost too warm
Cyclingnews rating: Gore WS skull hat:

; Siberian glove:


More info: www.craft-usa.com
We received our test kit right as winter struck, so the Pro Race winter bibs were paired with the winter leg warmers right off the bat. Craft's leg warmers are generously cut in length (but are pleasantly snug in girth) and are sewn in the same contrast flat-lock stitching as on the shorts for a unified look. Silicone grippers help keep the warmers from falling down up top, and the non-zipped ankles are left bare (when was the last time you had a pair of leg warmers ride up, eh?).
As promised, the combination offered up at least as much warmth as most winter weight tights we've tried; if anything, it was almost warmer thanks to the overlapping fabric around the thigh. Still, though, the lack of any windproofing material limited its use to above-freezing temps.
Added stitching on the thermal knee warmers
Photo ©: James Huang

We swapped to the knee warmers as the temperatures rose, and similarly, found the combination to offer essentially the same utility as winter knickers. Craft uses contrast flat-lock stitching here as well, but in this application that relatively inelastic stitching drastically limits the flexibility of the Thermo Sense material in a critical area. No matter how we rotated/tugged/tucked/pulled on the warmers, they just never felt quite right. The tops of the warmers are also cut far too abruptly, leaving insufficient overlap with the bottom of the shorts.
By itself, Craft's Pro Race winter bib shorts proved to be an excellent base garment on those days when summer shorts are just a bit too cool, but you'd rather go without the restriction of knee warmers. The Thermo Sense fabric offered up adequate warmth, but was still comfortable even as the thermometer approached 15°C (60°F) and provided excellent breathability.
CyTech's four-way stretch Elastic Interface designs continue to impress us as the hours and pavement roll by, as the Pro F-7 chamois offered up seamless performance and outstanding comfort throughout the test period with no downsides to speak of whatsoever.
Gore WS thermal bike jacket
Up top, Craft offers its Gore WS thermal bike jacket made of its brushed Flex Fleece fabric cut in a winter-appropriate fit complete with raised collar, extended tail, and storm flap. Although the company claims Flex Fleece to be wind resistant up to nearly 50 km/h (30mph), Craft supplements the chest area with proven Gore Windstopper fabric. Three rear pockets adorn the rear (plus a fourth zippered pocket) and heaps of reflective piping are scattered throughout. The lower hem is finished with silicone grippers to help things stay put, and the cuffs are finished in a wide band of elastic.
A zipper garage keeps the cold zipper pull away
Photo ©: James Huang

The Gore WS thermal bike jacket can't quite match the Pro Race winter bibs for versatility out on the road, but proved to be far better equipped for extreme temperatures thanks to the extra armoring of the Gore Windstopper panels. The Flex Fleece material provided plenty of insulation and was cozy even well below freezing, especially when paired with Craft's astoundingly warm proZERO long sleeved base layer.
That being said, we likely would have traded a bit of that warmth for a bit more breathability on harder days in the saddle, which was another factor limiting the upper temperature range of the garment. Opening up the zipper obviously helped in this regard, but perhaps some auxiliary vents or a lighter weight material out back would be useful. Finally, the elastic cuffs and silicone-enhanced tail did an excellent job at stopping up drafts, but we'd prefer a higher cut to the front of the collar.
What'd that groundhog say again?
Craft doesn't seem to get as much notoriety in the cycling clothing world as some of its compatriots, but based on our experience here we're not entirely sure why. Save for some easily remedied faults in its knee warmers, the Pro Race winter bib shorts and warmers offer a superb lower body system for cooler weather, and the Gore WS thermal bike jacket can easily mingle with the best winter jackets we've tested. If Craft's warm weather gear proves as thought-laden as its winter stuff, sign us up.
Price: US$169.99 (Pro Race winter bib shorts); US$49.99 (winter knee warmer); US$54.99 (winter leg warmer); US$189.99 (Gore WS thermal bike jacket); US$49.99 (proZERO long sleeve crew)
Pros: Pro Race winter bib shorts and winter leg warmers: excellent fit, high quality construction, good balance of warmth and breathability, superb chamois. Gore WS thermal bike jacket: outstanding insulative ability, full complement of rear pockets, suitably snug cut
Cons: Pro Race winter bib shorts and winter leg warmers: none. Winter knee warmers: insufficient coverage, overly restrictive stitching. Gore WS thermal bike jacket: front of collar should be cut higher or tighter to seal off drafts, could be more breathable
Cyclingnews rating: Pro Race winter bib shorts and winter leg warmers:

; winter knee warmers:
; Gore WS thermal bike jacket:


More info: www.craft-usa.com
Photography
For a thumbnail gallery of these images, click here
Images by James Huang/Cyclingnews.com