Tech Feature: 2008 Shimano Deore XT M770, May 25, 2007
Shimano's 25th anniversary Deore XT group receives XTR upgrades along with its own identity
By James Huang
Shimano's 25th annivesary Deore XT M770 group
Photo ©: James Huang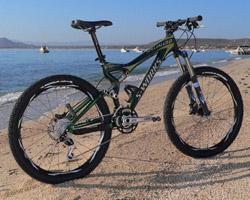 Shimano has really had to rethink its mountain bike componentry offerings over the past few years in light of increasingly stiff competition from its friends in Chicago, and the result has been some fantastic new product. While last year's XTR M970 introduction hasn't had quite the monumental impact of the M950 generation (no companies have gone under as a result this time around, at least as far as we are aware), its stellar performance has certainly reaffirmed the notion that Shimano can belly up to the bar (so to speak) and meet the challenge presented to it when it has its collective head screwed on straight.
This year, Shimano has turned its attention to XTR's older Deore XT sibling, the group which arguably put the company on the mountain bike componentry map 25 years ago. The revamped M770 generation spawns a slew of new technical features, a broad range of options, two all-new wheelsets, plus a level of refinement borne out of a quarter-century of experience. As expected, M770 borrows several plays from M970's book: trickle-down benefits are most evident in the new trigger shifters and Dual Control levers, the carbon-reinforced middle chainring, the faster-engaging freehub body internals, and even some of the overall appearance.
Still, even with its apparent similarities, M770 is not intended to be an 'XTR Jr.' package. While M970 is billed as the ultimate cross-country group that can still hold its own in more demanding situations (reflected in its larger rotor and 20mm thru-axle options), it can be reasoned that M770 is targeted at fully relishing in those more grueling environments but still fit to attack the starting line on any given weekend.
A fixed B-position will keep the Shadow rear derailleur body
Photo ©: James Huang

Shimano will continue to use a sealed cartridge bearing
Photo ©: James Huang

The new outer ring gains a bit of thickness
Photo ©: James Huang

Deore XT will retain the proven Hollowtech II
Photo ©: James Huang

Separate brake lever and trigger shifter pods
Photo ©: James Huang

New one-piece brake caliper bodies
Photo ©: James Huang

Center Lock rotors will be the standard offering again
Photo ©: James Huang

Two new wheelsets will join the Deore XT group this year
Photo ©: James Huang

Shimano's new pre-built wheels boast impressive performance
Photo ©: James Huang

The Deore XT WH-M775 wheelset uses many of the same
Photo ©: James Huang
The complete Deore XT group
Photo ©: Shimano

Ah, a seaside lunch awaits on the Sea of Cortez.
Photo ©: James Huang

The southern tip of Baja, Mexico
Photo ©: James Huang
Shimano has said that the new Deore XT was created with the "spirit of adventure and romance of exploration" in mind, and thus has put less emphasis on decreasing the group's weight and more importance on increased functionality and durability. As such, the complete M770 package doesn't really lose any weight as compared to last year, but does gain a bunch of new features that even XTR won't have until later on (if at all). That same level of consistency can't be said of the complete group's cost, however, which will increase by approximately 9% (although Shimano is quick to point out that the new Dual Control levers will actually be cheaper as compared to last year).
Details? You want details? Ok, here we go, keep your hands and feet in the vehicle at all times...
Move me
The big news here in derailleur-land is the addition of a new Shadow rear derailleur variant intended for rougher environments or situations that are generally more likely to induce impact damage. The unique configuration boasts a much more direct cable path and a particularly low profile that protrudes roughly 15mm less than standard derailleur designs, putting it about even with a quick-release nut.
Even more interesting from a technological standpoint, though, are the geometric deviations from what has historically been Shimano's set-in-stone slant parallelogram design. The Shadow rear derailleur uses a fixed (but adjustable) B position, meaning that there are now just two springs in the system: one in the main body and one in the pulley cage. This also means that there is now no chance for the derailleur to swing up and whack the chainstay as in other versions. In addition, the upper pulley is now concentric with the pulley cage pivot to provide a more consistent chain gap.
After reading that, you might now be thinking to yourself that the Shadow rear derailleur sounds rather SRAM-like. Yup, it does to us, too, and while Shimano officials wouldn't readily admit as such, they didn't overtly refute the notion, either.
Otherwise, Shimano will continue to offer standard derailleurs in both Top Normal and Low Normal configurations along with long- and mid-cage options for all three variants.
Up front, even Shimano is now making some concessions to the big-wheeled crowd. The M770 front derailleur cage profile has been trimmed down and the Top Swing pivot mechanism is now more compact to provide more tire clearance. The cut-down cage obviously helps with wider tires across the board, but the tidier pivot section is a boon for geared 29er riders with short chainstays that often have little room in between the tire and seat tube.
As with XTR, limit adjustment screws are now angled out for easier access, and Shimano continues to utilize its adaptable clamp and dual cable pull design for enhanced compatibility. Top Swing, conventional, and E-type style mounts will all be offered.
Drive me
The new Deore XT crankset carries on with Shimano's standard Hollowtech II configuration instead of the modified system found in M970. Shimano does, however, borrow the carbon-reinforced middle chainring construction for XT but now uses steel instead of titanium for the gear teeth. As with XTR, the carbon fiber increases rigidity for more precise shifts, but the steel teeth should boast "at least double" the longevity of an aluminum ring, and should outlast XTR's titanium teeth as well.
At just 55g, the beefier new middle ring is also only about 11g heavier than the all-aluminum M760 version, and should be worlds less expensive than the XTR ring. That combination of performance and durability attributes will likely make it the aftermarket middle ring of choice. The new outer chainring gains a bit of thickness for improved durability as well, and the standard 104/64mm chainring spider BCD is thankfully retained.
A new XT-branded SPD pedal will also join the lineup for the first time. Shimano didn't provide many specifics on it, but all indications are that it's a near carbon-copy of the existing PD-M540 but with a chromed spindle and different body finish (even the quoted weights are identical to the gram).
Not much has changed with the new cassette, but the addition of small pins on the backside of the largest cog helps to prevent misguided chains from gouging outbound spokes.
Shift me
M770 will continue to offer both Dual Control and RapidFire shifter options, and both are now decidedly XTR-like, at least as far as gear shifting and cosmetics are concerned. Trigger shifters now incorporate 2-Way Release for thumb or index finger actuation along with Instant Release for more immediate cable movement, and a customized fit is provided by a discrete two-position clamp instead of XTR's sliding mount. Upshifts are still knocked off one gear at a time, but some users might even prefer that, based on our feedback.
Unique to XT, though, is a trick new removable Optical Gear Display. A detachable coverplate provides the OGD with access to the shifter's innards, but that coverplate then safely and securely snaps into the back of the display for safekeeping. Bingo, no more wondering what happened to the little guy if you ever decide to go back to a display-free lifestyle.
The tidier new Dual Control will also include the Instant Release feature, along with Multi-Release which will allow for multiple gear changes in either direction.
Brake me
XT gains a notable leg up on XTR in the braking department with a new, more rigid, one-piece disc brake caliper as well as the reintroduction of Shimano's Servo Wave technology now adapted for a hydraulic application. As it did initially for rim brakes, Servo Wave moves the brake pads a greater distance during the initial part of the lever stroke for faster pad engagement, then less through the rest of the travel for better modulation. The side benefit to this is that the brake caliper can be designed to provide more pad clearance to reduce rotor rub (woo hoo!).
In addition, hydraulic levers will also incorporate a tool-free reach adjustment and even an adjustable lever throw similar to what Avid provides on its higher-end Juicy models. Dual Control and separate levers will both be offered in mechanical and hydraulic versions which now use a tidier radial master cylinder arrangement. All levers also boast a revised lever bend that now has more of a 'hook' at the end to better accommodate one-finger braking.
Shimano claims a whopping 20% boost in stopping power when the Servo Wave levers are used in combination with the new one-piece caliper. As a result, Shimano is outfitting the Deore XT calipers with resin pads from the factory instead of metallic ones for better modulation and quieter running. Rotors will be offered in 160mm, 180mm, and 203mm diameters in both six-bolt and Center Lock interfaces.
Rim brakes are still on hand for the so-dedicated, but gone is the clever Parallel Push mechanism in favor of a simpler and more robust single-pivot design.
Spin me
Shimano will launch not one, but two complete XT wheelsets. The WH-M775 is the more XC-oriented of the two with similar dimensions and nearly identical overall layout to the XTR WH-M975 wheelset. The Deore XT version doesn't use a scandium-enhanced rim, though, and makes do with 14/15g butted spokes and a steel freehub body. However, much of the rest of XTR's benefits apply, including the 24-hole spoke count, full UST tubeless compatibility, and faster-engaging rear hub internals.
Alternatively, the new WH-M776 addresses the all-mountain/enduro crowd with its 20mm thru-axle front hub, wider UST-compatible rim, and straight 14g spokes. Light weight is still a priority, though, as evidenced by the alloy nipples and oversized 7075-T6 aluminum axles.
Individual hubs designed for conventional spokes will be offered in both disc-specific and rim brake versions and will incorporate the same features as their factory wheelset-bound compatriots, including oversized aluminum axles and the faster-engaging freehub body. As with the latest generation XTR, Deore XT will offer a front 20mm thru-axle hub for the first time.
Not surprisingly, all of the disc-compatible wheels and hubs will only be offered with Center Lock brake rotor compatibility (20mm versions will also use the standard CL format, not the oversized one of Saint). However, as has always been the case nearly since Center Lock's introduction, third-party aftermarket adapters are available for six-bolt rotors. Predictably, Shimano retains use of serviceable and adjustable angular contact cup and cone-style bearings throughout the line.
Rolling through Baja on the new Deore XT
Shimano's chosen launching pad for its new group was certainly a rather unconventional one, just slightly shy of the southernmost tip of Baja, Mexico. That region isn't exactly known for its legendary mountain biking, but some well-informed direction from our very capable NaturAdventure guides led us to some great trails bordering the Sea of Cortex so maybe it should be. Let's just say the view was rather spectacular and we'll leave it at that.
To be fair, we weren't able to put all that much time into the new Deore XT during our stay, but subsequent forays upon our return have reinforced our overwhelmingly positive first impressions. Just as we experienced with M970, the new M770 trigger shifters are superb, offering much improved ergonomics, feedback, and feel (we'd expect similar improvements to Dual Control although we haven't laid hands on it just yet).
Shift quality is sublime as is typical for Shimano's high-end offerings, but rear shift effort is noticeably higher than in previous generations. Some of this is attributable to the new Shadow rear derailleur which incorporates a tighter cage spring, but we kind of like it that way, anyway (Low Normal derailleurs designed to work with Dual Control retain Shimano's signature light action).
Braking is arguably the new group's most impressive feature, with distinctly more power than XTR, superb modulation, and a particularly snappy and responsive lever feel. The adjustable lever throw and tool-free reach adjuster are also welcome additions for a more personalized fit. So far, our test 180/160mm front/rear rotor setup has provided more than ample bite, and the 203mm rotor configuration will most likely be reserved only for the most demanding conditions.
Although marginally heavier than the XTR version, the WH-M775 wheelset offers up the same snappy responsiveness and easy UST inflation. The new freehub body, in particular, is a most welcome feature, particularly in technical situations where a few extra degrees of lag can mean the difference between making it through and falling over in shame. Shimano didn't have test samples of the WH-M776 version available at the time of the introduction, so we'll report on those in the near future.
Obviously, we can't tell you much about the durability of the new running gear just yet, but shift quality on both ends is definitely impressively smooth, even under intentional abuse.
I gotta wear shades
The future of the new Deore XT group is looking bright, indeed. Some will be disappointed with the stagnant weight status of M770, but only the ardent few would call the existing group heavy. If anything, Shimano's ability to add in so many additional features without adding mass is admirable in and of itself.
Long-term durability will still need to be played out over the next weeks and months, but given Shimano's typically stringent quality-control and engineering standards, it looks like Deore XT's 25th birthday will be a good one.
Photography
For a thumbnail gallery of these images, click here
Images by James Huang/Cyclingnews.com
Images by Shimano
Images by James Huang/Cyclingnews.com
| | | |
| --- | --- | --- |
| Component | Claimed weight | Cost (USD) |
| RD-M772 Shadow rear derailleur | 235g (long cage) | $109.99 |
| RD-M770/M771 rear derailleur | 239g (long cage) | $109.99 |
| FD-M770 Top Swing front derailleur | 152g | $49.99 |
| FD-M771 conventional front derailleur | 155g | $49.99 |
| FD-M770-E E-type front derailleur | 166g | $49.99 |
| FC-M770 crankset | 850g (including BB) | $269.99 |
| CS-M770 cassette | 297g | $99.99 |
| PD-M770 pedal | 352g | $119.99 |
| SL-M770 RapidFire shift lever | 260g (pair) | $149.99 |
| ST-M775 Dual Control lever (hydraulic) | 515g (pair) | $349.99 |
| ST-M770 Dual Control lever (mechanical) | n/a | $249.99 |
| BL-M775 hydraulic brake lever | 256g (pair) | $179.99 |
| BR-M775 hydraulic disc brake | 224g (pair, calipers only), 316g (per wheel, inc. caliper, adapter, hose, and 160mm rotor) | $109.99 (caliper only) |
| WH-M775 disc brake XC wheelset | 1660g (pair, w/o skewers or valves) | $549.99 |
| WH-M776 all-mountain/enduro wheelset | 2050g (pair, w/o skewer or valves) | $599.99 |
| HB-M775 QR front hub | n/a | $59.99 |
| HB-M776 20mm thru-axle front hub | n/a | $79.99 |
| FH-M775 rear freehub | n/a | $84.99 |