Tech feature: Giant 2008 global media mountain bike launch, July 16, 2007
Giant goes lighter and deeper with 2008 line of trail bikes
The 2008 Trance X0
Photo ©: Giant Bicycles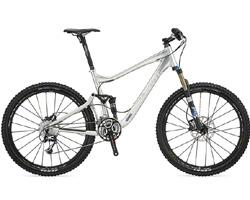 Giant is putting its mountain bikes front and center for the 2008 model year. Cyclingnews' Mark Zalewski heads to Lake Tahoe, CA to ride the newly reopened resort trails, and came back (mostly) unscathed and grinning from ear-to-ear with this report on Giant's latest trail offerings.
Giant Bicycles successfully launched its multi-link Maestro suspension system just two model years ago and has rapidly expanded the design into a wide-ranging line of mountain bikes that cover the gamut from short-travel cross-country race machines all the way to full-on downhill and freeride rigs. For 2008, Giant has focused on shedding weight from its existing offerings and filling in a noticeable hole in its travel range.
Lighten up already
The new frame design
Photo ©: Chris Milliman

The most obvious target for Giant's gram-cleaving campaign was the Trance trail bike. While its 107mm (4.2") Maestro suspension offered enviable pedaling and bump absorption capabilities, few could ignore its less-than-ideal performance at the scale: aluminum frames hovered near the 3.2kg (7lb) mark, nearly half a kilo heavier than much of its competition.
That blemish on an otherwise clean record certainly didn't go unnoticed by the Giant development team when it began work on the bike's replacement. According to Dennis Lane, Director of Product Development, "The Maestro suspension continues to work exceptionally well for us, but at the same time we are dedicated to make the frame design lighter and faster. There is a little bit of movement but it really is the best balance of pedaling efficiency and rear end compliance that still puts it at the leading edge. Now we have our most complete line-up in mountain bikes with the Maestro system. There are other bikes whose suspension is not as good but when their frame is a pound or two lighter you can have a pretty awesome riding experience. So when we looked at our Trance, we had internal frustration just wishing it was lighter."
The presentation
Photo ©: Chris Milliman

The pierced down tube configuration of last year's frame has been replaced with a simpler and more elegant design with a conventional bent tube layout and nary a superfluous bit of metal in sight. In combination with new hydroformed aluminum tube shapes, the 2008 version sheds a substantial 250g (0.55lb) yet, according to Giant, is actually 10.5% stiffer in torsion thanks to careful shaping of the head tube area. The new frame architecture also leaves more realistic room for a water bottle, and cables are now routed along the down tube to reduce ghost-shifting.
Ted Renwick, senior industrial designer, said that increased use of hydroforming played a critical role in the frame's redesign. "The frame used to be more forged but by using hydroforming we were able to reduce the weight and increase the strength. Also, the angle cut of the dropouts means we have a larger surface to weld which means increased strength."
Similar attention was paid to the longer-travel Reign. In this case, however, the changes are even more dramatic: Giant dropped 738g (1.6lb) from the 153mm (6")-travel frame and increased torsional rigidity by 23%.
Filling in the gaps
Team Giant rider Ameil Cavalier
Photo ©: Chris Milliman

A brand-new 127mm (5")-travel Trance X splits the difference between the Trance and Reign to occupy just about the only hole in Giant's 2007 lineup. The new ALUXX SL aluminum Trance X frame is based on the updated Trance design, but is designed to handle a little more abuse than its slightly more XC-oriented cousin.
Not surprisingly, Giant uses its Maestro design for the new Trance X and stressed that no changes were made to the system other than slightly raising the pivot locations to accommodate the travel increase. Refinements to the ancillary bits, however, include a lightweight 'co-pivot' design that uses a single shaft for both the lower linkage and the lower shock mount.
Even with the additional travel, the Trance X is still reportedly 244g (0.54lb) lighter than the 2007 Trance, and only a whopping 6g heavier than the standard 2008 version. Similarly to the new Trance and Reign, careful hydroformed tube shaping is also said to produce a 13.75% stiffness increase.
According to Product Development Manager Jeff Menown, the 2008 Trance line essentially takes the best aspects of its Anthem XC-race line and translates them into a top, all-around trail bike that is able to handle just about any up-and-down challenge while still remaining light and quick. "We are breaking into multiple flavours with the Maestro suspension," he said. "The Trance perfected the Anthem's positive aspects - and the Trance X is the next reasonable step up."
The beauty of vertical integration
Lane also said that Giant's development is much different than the competition, who he sees as generally putting a band-aid on shortcomings of their designs in lieu of taking the time to fix them. "When I look to our designs we talk about continual improvement. If next year Trance X needs tweaking I am going to tweak it again. Many companies will only introduce one new model at a time, whereas we have many new ones this year."
"There are definitely some strong players - Giant, Specialized and Trek have 80% market share. We are very competitive with each other, but when I look at something like composite technology I will continue to say ours is far more significant and progressive. And we have a top secret that is very exciting for us - something that I can't talk about!"
Lane also dispelled assumptions of Giant as a company. Although it is a Taiwanese company that manufactures a lot of bikes every year, Lane says the development, particularly of the high-end products, is still rather intimate. "Everyone seems to perceive that Giant is the General Motors of the bike industry and that there must be 18,000 employees, but when all is said and done there are ten people in our product development side and six of us that do everything globally."
Giant's development and manufacturing systems are also unique within the industry thanks to its corporate structure. "Giant is really the only company that is vertically integrated," said Lane. "We have our own facility called Giant Light Metal which actually draws and makes the tubes. Those tubes then are sent to our factory where the hydroforming takes place. Giant really takes advantage of controlling our products literally from the tubes being drawn until it is sold in a bicycle shop."
In this way the developers have a reliable resource for mocking-up their ideas and evaluating them in its in-house Technocenter test facility. "Once the development is done we have a staff of about twenty engineers who work to find out how to turn the design into something in a real world environment. At the same time this is where they perform the fatigue testing."
"Our new designs have gone through fatigue testing hell!" Lane continued. "The Technocenter has met the goals of the designers - and it shows our design really has legs and isn't just us trying to catch-up to other products."
Giant will also offer the new Trance X platform in a women's-specific version dubbed the Cypher. Changes include a shorter top tube and longer head tube for a better fit, as well as women's-specific componentry and colorways.
The finishing touch
Putting the Trance X0 through the turns.
Photo ©: Chris Milliman

Giant expands the reach of the understated finishes first introduced on some of its carbon fiber 'Advanced' models into much of the rest of the line. According to Product Development Manager Kevin Dana, the new aesthetic "is a philosophy of honesty with the materials." Unlike some of the more garish hues Giant used in the early 1990s (yellow must have been on sale back then), the new look is more in keeping with the newly minimalist design of the latest generation of frames.
Giant will make liberal use of brushed aluminum, tinted clearcoats, and hand-masked heat decals for 2008. Dana claims that both of these techniques can double or triple the time spent on a more conventional paint job (depending on the amount of hand masking), as well as increase manufacturing costs. For example, the Trance X goes through four distinct steps: brushing, bead blasting, anodizing, and finally decal application.
In spite of the additional expense (which apparently will not be passed to consumers) Giant feels that the look of the bike is an important and often underdeveloped part of the whole. In some cases you actually have to look rather carefully to even see the applied labels, but that might be what Giant wants you to do. As Dana puts it, "A bushed finish can't hide any imperfections."
EnTrance me
The Maestro linkage
Photo ©: Chris Milliman

The Trance X was easily the highlight and showpiece of Giant's global media launch this year, and the varied terrain at the recently revamped Northstar at Tahoe resort made for an ideal testing ground. Our top-of-the-line US$3500Trance X0 loaner was well-equipped with Fox suspension front and rear, Shimano XT/XTR transmission, Race Face Deus XC crankset, Avid Juicy 7 brakes, and Mavic Crossmax wheelset.
Although not stunningly featherweight at approximately 12.2kg (27lbs) for a medium frame, it was still light enough to raise a few concerns on the numerous drop-offs that litter the Northstar grounds. Actually, the inner conversation during the maiden ride went a little something like this:
"Having a lighter bike sure makes a difference going uphill!"

"The handling is good descending along this wide-open fire road."

"Hmmmm, that looks like a big drop coming up. Does this bike feel lighter all of a sudden?"

"Yep, definitely a big drop ahead. Is 27 pounds going to be enough?"

(off the drop) "Must have been enough because I'm still here, and that five inches sure came in handy because I hardly felt that."
The Trance platform
Photo ©: Giant Bicycles

After getting over the initial 'weight shock' of the Trance X0 the riding was superior. Day two was saved for the epic ride - a 3.5 hour march at 2650m (8700ft) around the singletrack rim of Tahoe, overlooking both the Lake and Carson City, Nevada, that was well-stocked with table tops, steep drops, gnarly switchbacks and tracks as narrow as road tyres.
Overall, the Trance X0 took everything in stride, with the ample travel generally leaving room to spare. The minimalist frame nevertheless delivered a solid and responsive ride quality and handling was spot-on. Naturally, two days of riding doesn't prove much in the way of long-term durability, but the frame's solid feel and some decidedly abusive riding by Team Giant riders Jarod Rango and Ameil Cavalier at least bodes well.
Final thoughts
Giant already had the brackets of its suspension bell curve well-covered with the Anthem and Glory but what it has done now is fill in the gaps in the middle as well as improve on what was already there.
According to Lane, "We have great bookends and are now focusing on the core market and making those bikes the best they can be."
Photography
For a thumbnail gallery of these images, click here
Images by Chris Milliman
Images by Giant Bicycles