On test: Vittoria Premium Carbon shoes, June 9, 2006
V for Vittoria
Vittoria Premium Carbon shoes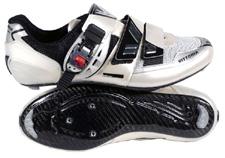 Italian shoe producer Vittoria has revamped its range; the Premium is Vittoria's top-of-the-range shoe, with one aim in mind: racing. Les Clarke finds that sometimes a niche is a good place to be.
At age 16 I received my first pair of Italian shoes as a birthday present, and I've never looked back - I still own those shoes and even today they continue to impress me. Italians have a reputation for designing and producing some of the best-looking, functional and simply sexy shoes in the world, and you don't have to be Imelda Marcos to appreciate this.
So with the wife of former Philippine President Ferdinand Marcos firmly in my mind I received a pair of Vittoria's latest top-line racing shoes, the Premium, from their Australian importer Excelpro and, like my teenage experience with Italian footwear, they instantly brought a smile to my face.
Traditional, but not as old as some
Two straps and a buckle

The buckle

The buckle is removable

A bit of grip

Plenty of mesh

The inevitable heel cup

Look, Look or Look

Following his retirement, Italian pro Celestino Vercelli founded Vittoria in 1978, and the company quickly established itself as a producer of quality shoes for the more discerning rider. It has never enjoyed the mass popularity in a wide range of countries like other brands, but that's obviously the way the company likes it as their more 'niche' status remains in place today.
In the past, greats such as Pantani, Cipollini, Argentin and Fondriest have used Vittoria shoes and the company now sponsors the Colombia-Selle Italia squad and KTM International MTB outfit, among others. Vittoria produces road shoes, MTB shoes and indoor cycling or training shoes, with price ranges to suit most budgets and riding styles. The road range includes the Elite, Premium 3V and Premium, with the latter at the top of the tree.
Vittoria may lack the hype and glam of some of its fellow Italian marques, but simplicity is the strongest point of Vittoria's shoes, and that's fine by me. The design, construction and finish of the Premiums are flawless and the straightforward styling means that in several years time you won't be riding with a pair of shoes that are sooo last season. That's a good thing, especially if you've got to look your best for the cute serving staff at your local cafe - albeit that you're covered in dried sweat.
The fit
Slipping these shoes on was like putting on a pair of track running shoes. When I was into running, I used to love wearing my spikes because they were light and fitted perfectly; for racing there was nothing else I'd rather wear. It was the same for the Premiums - they wrapped around my foot snugly, were light and felt totally secure with two substantial straps and the CRS ratchet mechanism, which is a solid little unit that has plenty of adjustability. The mechanism uses a release button that peeps out of the tightening lever, and this can be a little fiddly initially, but when you work out which finger pushes and which one pulls, everything's hunky dory.
The upper material of the Premiums is a conditioned synthetic leather that surrounds abundant ventilating mesh on the top of the shoe. As with all well-ventilated shoes, this makes for fantastic cooling in summer but it's a little chilly in winter - but that's what booties are for. The finish of the upper contributes to the comfort factor. It's not as stiff as some synthetic leather uppers, which makes it more comfortable,and it should also be durable.
As you would expect at this price point, the sole is fully carbon, and compared to the supple upper is very stiff - no losing power from any of your pedal strokes with these babies. The carbon sole also contributes to the low overall weight; at 620g/pr in a roomy size 43, these are among the lightest bluckle-closure shoes we've seen.
On the road
Being of Italian heritage I'm a fan of white riding shoes, so getting out on the road with these flashy numbers made me a happy camper; add to this the stiffness of the sole and the snug fit, and I took to the Premiums pretty quickly. They felt very secure with the CRS buckle system; so much so that I was a little over enthusiastic on the tightening, and soon realised that your feet hurt if riding shoes are strapped to the max.
Once I'd calmed down on the straps, it really was a pleasure riding in these shoes. I noticed the soft uppers a lot during longer rides as the snug fit kept things comfortable and the heel cup provides adequate support without feeling like the stiff carbon sole wraps a little too far up the shoe. When climbing things felt solid and when sprinting, secure - along with the comfort factor I couldn't ask for much more, really.
One point to note, however - during the first criterium I used the Premiums we were hit with a downpour and I was forced to test their wet weather performance. I found out that these shoes don't like the wet weather very much. No shoes are going to be at their best in the wet, but the Premiums became particularly waterlogged, more so than other shoes I've used. This was the only negative of the shoe, though at over A$400 a pair you'd hope there wouldn't be too many negatives.
The verdict
The name of Vittoria's numero uno shoe certainly fits the price, but if you want riding footwear that will provide years of service and continue to look good, you could do a lot worse than getting into the niche that is Vittoria - and finding out that maybe there's a little Imelda in all of us!
Weight: 620g (size 43)
Price: A$425
Pros: Styling, fit, light and stiff
Cons: They don't like the rain too much
Cyclingnews rating:


More information: www.vittoria-shoes.com; In Australia - www.excelpro.com.au