Recently on Cyclingnews.com
On Test: Thule T2 bicycle carrier, November 6, 2006
Even with bikes mounted, it's still quite easy to get to the rear of the vehicle.
Photo ©: James Huang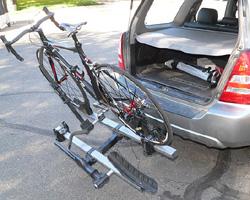 Supreme versatility and ease of use
Roof rack giant Thule acquired the passenger car division of Sportworks back in 2004 and has wasted little time in integrating its excellent Quick-Load features into a line of receiver hitch-mounted rear racks. The T2 is Thule's top Sportsworks-based unit, and Cyclingnews Tech Editor James Huang loads it up with loaner test bikes to see if he can't get one to fall off!
I'll admit that I have a love-hate relationship with roof racks. Without a doubt, they offer unmatched levels of versatility and stability coupled with a nearly endless array of available attachments, and locking fork mounts are arguably among the most solid and secure means out there for transporting your prized machines.
On the other hand, they also produce a lot of wind noise and reduce gas mileage, the bikes are instantly transformed into expensive carbon fiber bug zappers, and there is the ever-present risk of the dreaded 'rackcident', where the garage, drive-thru, or parking lot overhang always wins, and generally in a not-so-sporting fashion. Not the tallest or biggest rider out there? Good luck heaving that 30+ lb all-mountain or freeride bike up on top of your SUV. Oh, and hopefully your buddies are patient while they wait for you to undo that 20mm thru-axle. What, me, bitter? Never. Let's just say that I haven't been able to open my Subaru's gloriously enormous moonroof on the highway in two years for fear of permanent hearing loss and we'll leave it at that.
The main linkage of the T2 allows the unit to fold up tightly against the car
Photo ©: James Huang

As an alternative, rear-mounted units generally offer easier loading and unloading and don't suffer from the same wind noise and mileage woes as their top-mounted counterparts. Unfortunately, though, strap-based ones don't offer nearly the same level of stability and security, and the contact points invariably end up marring the car's finish over time. Hitch-mounted mounts, however, are bolted securely on to your vehicle's frame with no body contact. Now we're on to something here…
Thule T2 to the rescue
Thule's T2 is a receiver hitch-based rack that incorporates Sportworks' outstanding Quick-Load mounting system. If you think you've seen it before, it's because you almost certainly have. Sportworks' mass-transit racks have gained an enormous following on city buses for their fast and easy loading, and the telescoping arm can accommodate virtually any size or configuration of bicycle, provided it has a front wheel ranging from about 20" to 29" in diameter. Unlike its more industrial compatriot, the consumer version is decidedly more upscale and refined-looking, but still promises the same level of convenience.
Straight out of the box, the T2 is a rather intimidating beast. Prodigious use of square-sectioned steel tubing ensures a solid platform, and everything is powdercoated to prevent corrosion. That same durable construction, though, also comes as a price: once fully assembled, the complete unit (with two bike mounts) weighs roughly 18kg (40lbs). Those of you with 2" receivers can also opt for an additional two-bike add-on that brings the total to a hefty 33kg (72lbs). Hope you've been doing your core exercises since you're going to have to lift this thing eventually.
A single ratcheting strap is all that's required
Photo ©: James Huang

Installation is brutally straightforward: assuming you already have a receiver hitch installed on your vehicle, simply insert the rack into the receiver, install and tighten the locking pin, and you're off and running.
When did putting bikes on car racks become fun?
Loading and unloading bikes on to the T2 could not be easier unless someone else were doing it for you. Simply flip up and extend the arm, drop the complete bike in to the tray (no wheel removal is required), push the ratcheting arm down on to the front wheel, and secure the rear wheel strap. Done. Once accustomed to the procedure, getting bikes on and off takes ten seconds at most, and that's only if your arthritis is acting up. The trays themselves are adjustable left and right, and fore and aft, thus virtually eliminating any bike-to-bike contact when multiple units are loaded.
Out on the road (with the roof open, thank you very much), the bikes are impressively stable with minimal rocking or swaying. Wind noise is completely unnoticeable and you can check on the bikes while in transit just by looking at the rear view mirror. Being able to pull up to any drive-thru window with impunity to pick up your Wendy's Fix n' Mix Frosty after a ride is a fairly minor perk, but still worth mentioning nonetheless.
Thule's One-Key system is integrated into the main arm
Photo ©: James Huang

The flip of a single lever and the removal of a single pin tilt the T2 down to offer access to the rear of the vehicle, even when bikes are loaded. When not in use, that same lever allows you to fold the T2 up tightly against the back of the car.
So what's not to like?
Even with the flip-down feature, it's still a bit of a tight squeeze between the car and rack when you need to get something out of the boot. Canine friends that typically ride in the back of your vehicle may also have a hard time getting in there with the trays in the way.
Security is a bit of an issue as well. Thule wisely incorporates its One-Key system into the T2, which allows you to lock the ratcheting arms in place, but it's hardly a foolproof system. Bikes are still removable with a bit of disassembly, but to be fair, the same could be said of most roof-mounted racks as well. And let's face it; if some dirty thief really wants to steal your bike, there isn't much you can do. That being said, a supplemental cable would still be a good idea for those who are seeking a bit more security.
The ratcheting arm of the Thule T2 will accommodate
Photo ©: James Huang

Lastly, although Thule says that the rack will accommodate 29" mountain bike wheels, the 29x2.2" tires on one of our test bikes were a tight fit.
Roof rack for sale!
In spite of its relatively minor shortcomings, the Thule T2 is still, far and away, the most pain-free method of transporting bikes we've used. True, it's not quite perfect, but it's darned close. And yes, it does require a receiver hitch, but do-it-yourself bolt-on ones that require no drilling are now available for many makes and models of vehicles for surprisingly little money. I'll probably keep my roof rack in storage for when bigger jobs call it up for duty, but otherwise, you'll likely never see me transporting my bikes any other way ever again. Anyone want to buy a slightly used roof rack?
Photography
For a thumbnail gallery of these images, click here
Images by James Huang/Cyclingnews.com
Pros: Very stable in use, superb Quick-load mounting system is both exceptionally fast and easy to use as well as surprisingly accommodating of a wide variety of bikes, zero bike-to-bike contact if set up properly, eliminates garage/drive-thru mishaps
Cons: Square steel tubed construction is heavy, tailgate still a bit more difficult to access, especially if you have dogs that ride in back, not quite as secure as we'd like, requires a 1 ¼" or 2" receiver hitch
Price: US$360 (T2 2-bike for either 1 ¼" or 2" receiver hitch); US$260 (2-bike add-on)
Cyclingnews rating: