Recently on Cyclingnews.com
On Test: Shimano Dura-Ace WH-7801-SL wheelset, December 28, 2006
Shimano's best clinchers yet
The new Dura-Ace WH-7801-SL wheelset from Shimano
Photo ©: James Huang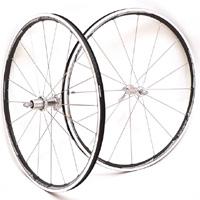 After several years of good (but often not great) wheel offerings, Shimano takes a giant leap forward and ends up with what is, far and away, the best road clincher wheelset to come out of Osaka, according to Cyclingnews Tech Editor James Huang.
Shimano has had a rather uncharacteristically bumpy ride on its journey into the high-end pre-built wheelset market. Its first Dura-Ace model (WH-7700) definitely took the road less traveled, with an unusual, but visually striking, "lateral crossover" lacing pattern where the spokes crisscrossed each other over the centerline of the wheel on their way to being anchored into the opposite side of the rim. Some said it was high-tech; others found it just plain goofy. While Shimano claimed it made for a stiffer and lighter wheel, the sad reality was that they were heavy, unreliable, and difficult to true.
With the advent of Shimano's 10-speed Dura-Ace group came a decidedly more conventional set of wheels to go along with the company's premier component group, the WH-7800/7801. These used a comparatively normal lacing pattern and centrally drilled medium-section rims along with Dura-Ace-derived hubs. All in all, they were reasonably light and worked well, but there was still something missing that kept them out of the spotlight.
'Hello, scandium, my name is Shimano. How are you?'
Shimano is among the last to still use cup-and-cone bearings,
Photo ©: James Huang

The rear hub features standard Dura-Ace 10spd hub internals
Photo ©: James Huang

Shimano runs radial spoke lacing on the driveside
Photo ©: James Huang

A star-shaped non-driveside flange offers more direct torque transfer
Photo ©: James Huang

Both front and rear hubs use a combination of both contact and labyrinth seals
Photo ©: James Huang

An offset rear spoke bed helps to equalize spoke tension
Photo ©: James Huang

The solid outer wall of the new scandium-enhanced rim
Photo ©: James Huang

Shimano uses unique braze-on reinforcements
Photo ©: James Huang

At first glance, it would appear that Shimano's newest Dura-Ace WH-7801-SL aluminum clinchers are very similar to the previous WH-7801 model save for a couple of letters and a black-anodized rim, and you would be largely justified in that assessment. Indeed, the WH-7801-SL (say that three times fast…) uses the same set of modified Dura-Ace hubs, including the faster-engaging 10spd-specific aluminum freehub body, lightweight oversized aluminum axles, buttery smooth cup-and-cone bearings, and a plethora of seals.
Also like the WH-7801, those hubs are joined to 24mm-deep clincher rims with bladed straight-pull stainless steel spokes, in a radial 16h front and 20h radial/two-cross rear pattern, and the proprietary aluminum spoke nipples are located at the hub flange to reduce rotating mass. However, the method by which those spokes attach to the rim, and the rim itself, are a significant departure from the previous iteration.
The new WH-7801-SL now gets a new 24mm-deep scandium-enhanced aluminum rim that is both stronger and lighter than the previous iteration. The rear rim now also includes an offset spoke bed for more even spoke tension, as well as pinned-and-welded seams and fully machined sidewalls.
Like Mavic's higher-end Ksyriums, the outer wall of the rim is completely devoid of holes (save for the one for the valve, of course), adding considerable rigidity. More importantly, Shimano takes advantage of that solid outer wall's airtight nature and further tweaks the shape of the rim to make the WH-7801-SL the only wheelset currently on the market that is fully compatible with Hutchinson's new Road Tubeless system. In fact, Shimano even included tubeless valve stems with these wheels right from their introduction, well before Hutchinson's tires were available to consumers.
Shimano employs a novel system to secure the spokes to the rim since there are no outer holes through which to either insert them or a nipple. In yet another solution to this unique problem, Shimano brazes on small threaded reinforcements at each point of attachment. The jury is out as to which of the various methods is technically superior, but Shimano's system does allow the rim extrusion itself to be a little thinner and requires no machining to reduce unnecessary weight.
Total weight for our test set was a competitively light, but not class-leading, 1610g (700g front, 910g rear), and a pair of Shimano's technically superlative skewers adds 123g.
Mount 'em up!
As with most wheels, tire and cassette installation was a rather trivial process, and since the wheels were true and round out of the box, we were ready to pound the pavement in no time. On the whole, top-end wheels have gotten awfully good and rarely does one immediately rise up and stand out among the categorically excellent bunch. However, Shimano's WH-7801-SL is clearly one of those rare exceptions.
We have applied the "responsive" descriptor to several wheelsets in the past, but as the boys in Spinal Tap would say, these clearly "go to 11"… or maybe even 12. Simply put, the WH-7801-SL displays an amazing level of responsiveness both under power and in hard cornering that I have yet to experience in another aluminum clincher. Much of this sensation is likely due to the stiff rim, which is probably a bit heavier than other top-end hoops given the wheelset's heavier-than-average total weight. Other credit probably falls on the high-tension stainless steel spokes and unique lacing pattern on the rear wheel that offers more direct power transfer.
Whatever the cause, these things simply get up and go when asked, and seem to hold speed reasonably well, too. While we would obviously prefer that they be a bit lighter (other aluminum clinchers shave as much as 200g in comparison), we're willing to deal with a little extra mass in exchange for the reassuring handling and solid feel. That solidity does sacrifice a bit in terms of ride compliance, but that's more of an observation than a criticism.
Other stuff
Our test wheels held up quite well during testing, even on rough pavement and dirt roads with an abundance of washboard. They did require a bit of truing, though, and it should be mentioned that straightening these things out is not a task that ranks high on my list of "fun things to do". Two proprietary spoke wrenches are required (which are thankfully included): one to turn the alloy nipple, and the other to keep the bladed spoke from rotating. Since the nipples are located at the hub, it can be a tight squeeze to get your hands in there, and those with less-than-stellar manual dexterity may want to leave the job up to their local mechanic.
Speaking of spokes, Shimano's use of proprietary spokes with integrated nipples at the rim end means that replacements may be significantly more difficult to source. And as with virtually any low spoke count/high tension design, breaking a spoke during a ride will invariably result in a severe wobble.
Shimano continues to buck the industry trend and soldiers on with conventional cup-and-cone bearings. While not as appealing from a marketing perspective, the bearings on our test wheels were undeniably smooth and their ease of serviceability was certainly welcome. Shimano also claims that they are better able to handle lateral loads than standard cartridge units. Regardless, we eventually upgraded the hubs even further with the addition of a set of loose ceramic ball bearings and special low-friction grease from CeramicSpeed, the same Danish outfit that has supplied innumerable ProTour contenders over the years. Fitting the bearings was a snap thanks to the standard hub design, and the bag of loose balls, while still expensive, was noticeably cheaper than the six cartridge bearings that most other hubs would require.
I'll take two, please
Shimano's newest WH-7801-SL aluminum clinchers aren't the lightest in their category, but they're not too far off and their overwhelmingly positive responsiveness more than makes up for it. They've also proven to be admirably durable, and their tubeless compatibility ensures that they won't be obsolete within the next few seasons. Riders that are after the absolute lightest hoops out there will likely look elsewhere when choosing their race wheels, but for just about everyone else, including larger or heavier riders that are seeking top-end wheels that are a little more substantial, these should rank very highly on your list.
Weight: 1610g/pair w/o skewers (700g front, 910g rear), 123g/pair of skewers
Price: US$979
Pros: Superior pedaling response, solid handling, tubeless compatibility
Cons: proprietary spokes, heavier than competition
Cyclingnews rating:

Photography
For a thumbnail gallery of these images, click here
Images by James Huang/Cyclingnews.com