Recently on Cyclingnews.com
On test: Scott CR1 Plasma Pro, May 4, 2006
Plasma: plęzm?, (physics), n., a highly ionized phase of matter distinct from solids, liquids and gases
Steve Beletich transforms into a highly ionized phase of matter aboard the Scott CR1 Plasma Pro
Scott Plasma Pro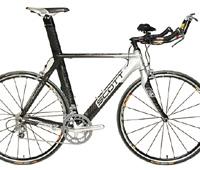 Scott has been making ski poles since 1958, when company founder Ed Scott pioneered the use of aluminium to replace the bamboo and steel poles of the time. Subsequently, the company added motocross goggles and accessories, ski boots and ski goggles to its production capability. In 1986 Scott moved into mountain bikes, and in 1989 pioneered the now famous aerodynamic handlebar used by Greg Lemond in his Tour de France victory. Today Scott's range includes snowboards, skis, road bikes and all the related bits and bobs. In 2003 Scott set a record for the weight of a production frame, with the CR1 carbon frame weighing in at a staggering 895 grams.
The time trial / triathlon derivative of the CR1 road bike is the Plasma. Its frame is made with the CR1 'welded carbon fibre' technology of the road version, and is likewise available in a higher modulus carbon version, known as the Plasma Ltd; the Plasma pro is not especially heavy for a time trial bike, but Scott claims a very impressive 16.1lb for the Plasma Ltd.
All sizes of all the Plasma frames have a consistent 76 seat tube, which is the kind of steepish angle you would expect in a triathlon / time trial machine, compared to 72-74 for a mid to largish sized road frame. The other big differences are the aero profile of most of the Plasma's tubes, along with a distinct faring which shields the rear wheel from the wind. The down tube is the most staggeringly aerodynamic of all, with exceptionally thin carbon walls that can be visibly depressed with a thumb at the centre of the tube's length.
Scott's CR1 fork

The frame fairs the rear wheel

The 'seat cluster'
The saddle clamp

The Profile Design bar

From the top

The front view

Profile brake levers

Shimano bar-end gear levers

Shimano Ultegra transmission

Continental GP4000 tyres

Fizik Airone Tri saddle

The Plasma's seat post is integral to the rest of the frame, with seat tube and post forming one long aero moulding. This of course means that you have to cut the seat tube to suit your measurements. I decided, bravely, to perform this feat myself. I've never cut into a high end carbon frameset before (especially one that I did not own), thus I opted to employ the time-honoured tradesman's principle of "measure twice, cut once". Actually I measured about a thousand times, using every different approach I could think of, then grabbed a face mask to keep carbon and resin dust out of my lungs; you do not want to breath this stuff. I found the carbon fibre surprisingly easy to cut, and fortunately my cut turned out to be spot on. Once cut and cleaned up, the seat post clamp simply slid over the seat tube and was tightened with two Allen head bolts at its rear.
Riding
For a time trial / triathlon bike, the Plasma is surprisingly light. I reached this conclusion even before the bike was weighed at 8.4kg without pedals and bottle cages. The frameset weighs a claimed 980g, which is mighty impressive for a unit with such outrageous aero tubing.
I have to admit that this was my first foray on a dedicated aero frame. I have bolted aero bars to a road bike for the odd time trial in the past, but I've never ridden a machine with aero tubing, steep seat tube angle, dedicated aero handlebars, bar-end gear shifters, etc, etc.
My first impression on riding the Plasma Pro was that it had an inescapable feeling of top end speed. It was no slouch off the mark either, but the effort to get it from 35 to 40km/h was pleasingly minimal. The steep seat post angle made me feel very high up, which made sense given that I rotated my exact road bike setup forward by 4 (the difference in seat tube angles), thus increasing my saddle height by 15mm.
The high centre of gravity and short wheelbase combined to give the Plasma quite touchy handling in comparison to a road frame, although this is not a big issue when you are time trialling, save for any hot-dog u-turns you might encounter. I must say however that hitting speed humps and potholes at high speed was not something that I enjoyed on this bike.
The Plasma's rear wheel sits very close to the seat post fairing and chain stays, and I did manage to get the tyre to rub on the chain stay under heavy load, although of course power sprinting is not something you ordinarily associate with time trials or triathlons.
Other components
As far as the component spec goes, I managed to puncture a brand new Conti GP 4000 in the first 2km of riding, which was probably an anomaly given that they did not puncture for the rest of the two month test period. Interestingly, as I was down on the aero bars and cruising on Sydney's baby's-bum-smooth M2 motorway at the time, I did not notice the rear wheel puncture for a good kilometre. Something felt a little strange, but I did not twig it was a full blown puncture for a couple of minutes. This is because the rear wheel carries much less of your body weight when you are hunched forward on the aero bars, so a deflated rear tyre is much less obvious.
The Ultegra brake callipers and Profile QS2 brake levers provided awesome stopping power. The levers provided an enormous amount of leverage (hence the name, no doubt). I've never ridden a bike with this much braking force on tap, which made rear wheel lockups and over-the-handlebar acrobatics a distinct possibility.
I must say that I did not like the upturned ends of the outer bars, which made my wrists quite sore. Straight bars would suit me better. The Dura-Ace bar-end shifters were a lot of fun to use, and every time I changed gear I had visions of Lance Armstrong downshifting after winning a time trial at the Tour. The Fizik Arione Triathlon saddle was an absolute sensation, and I was glad for the extra padding on the nose when compared to a conventional Arione, especially when down on the aero bars.
This was my first ride of an Ultegra ten speed group, but it could have been DuraAce for all I knew - perfect crisps shifts, great brakes and a nice looking, stiff crankset. The Mavic Ksyrium Elite 2 wheels added to the top end performance. The only significant differences between these and the higher priced SL2 variants are their stainless bladed spokes compared to the SL2's ultra-light Zircal aluminium, and the lack of rim machining to save weight.
Conclusions
As a dedicated roadie, I am forced to admit that the Scott Plasma Pro time trial / triathlon bike was a real buzz to ride. Incredible top end speed, with a good degree of stiffness off the mark. The somewhat touchy handling is not my preference, but high speed descending and cornering is not what this bike is designed for. All components performed flawlessly, and although the group and wheels are one rung down from their high end cousins, I would defy anyone to pick the difference when blindfolded. All in all an excellent package for your speed-craving triathlete or time trial jockey.
Photography
For a thumbnail gallery of these images, click here
Images by Paul Henderson-Kelly/Cyclingnews
Retail price: US$4,299.99
Measured weight: 8.4 kg (for complete bike, size L/56cm without pedals & bottle cages
Frame: CR1 TrueAero carbon tubing with integrated head tube.
More information: www.scottusa.com
Cyclingnews Rating:

Full specification: Scott CR1 Plasma Pro

Frame: Scott CR1 Carbon, TrueAero Tubing, Integrated Headtube

Fork: Scott carbon CR 1 Pro with 1-1/8in carbon steerer.
Colour:
Frame sizes (effective top tube): XS=505mm, S=520mm, M=535mm, L=552mm, XL=572mm.
Seat Angle: 76deg

Cranks: Shimano Ultegra
Bottom bracket: Shimano Ultegra
Front derailleur: Shimano Ultegra
Rear derailleur: Shimano Ultegra
Rear cassette: Shimano Ultegra

Levers: Profile QS2
Brakes: Shimano Ultegra

MSRP: US$4,299.99

Wheels: Mavic Ksyrium Elite 2
Tyres: Continental Grand Prix 4000, 700 x 23

Stem: Profile Hammer OS 1-1/8" 80°/100°.
Bars: Profile T2 alloy wing with Stryke carbon aero bars
Tape: Scott
Headset: FSA integrated alloy cup with cartridge bearings

Saddle: Fizik Arione Triathlon
Seat post: Integral, TrueAero tubing


More information: www.scottusa.com