On test: Reynolds Ouzo Pro Cross cyclocross fork, May 11, 2006
A (carbon) fork in the trail
Reynolds Ouzo Pro Cross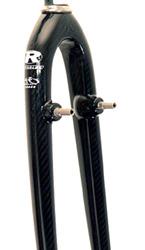 While known more for its carbon Ouzo Pro road forks, Reynolds Composites also applies the same level of technology to its carbon cyclocross fork. James Huang flogs the Ouzo Pro Cross cyclocross fork through fall cross season and then some.
No one is safe from the march of carbon fiber!
Carbon fiber forks clearly dominate the road market, offering lighter weight, more precise handling, and increased comfort over most of their metallic competition. Naturally, the harsh conditions of cyclocross can also benefit from these attributes but a cross fork also needs durability in tougher conditions than a road fork, increased mud clearance and the ability to run cantilevers. Given the additional engineering required to meet these requirements, carbon cyclocross forks were a bit slower to develop but a there are now a number of high-quality options, including carbon powerhouse Reynolds Composites' Ouzo Pro Cross cyclocross fork.
Reynolds' cross fork is a true monocoque with continuous carbon fibers running from the 1 1/8in diameter steerer tube down through the crown into the legs to enhance the strength and feel of the fork in a way that would be difficult to match with bonded construction. In simple terms, the Ouzo Pro Cross uses similar construction techniques to the company's venerable Ouzo Pro road fork but with a significantly wider stance and taller axle-to-crown height (395mm) and beefier overall construction.
The crown itself is clearly a rather robust affair, with a large and bulbous outward appearance as well as significant internal reinforcement stemming from a healthy application of extra carbon. A layer of woven carbon is also added on top of the entire structure to add a bit of surface durability.
Cutaway of an Ouzo Pro road fork

The wide crown

Bonded-in aluminum dropouts

Thread-in cantilever studs

Reynolds incorporates a precision machined

Forged aluminum dropouts (with noticeably mild 'lawyer tabs', thank you very much) are bonded in to the ends of the legs and a pair of nicely machined titanium cantilever studs is threaded in to cleanly integrated mounts.
The Ouzo Pro Cross is only available with a 1 1/8in threadless steerer, but is offered in three offsets (45, 50, and 55mm). Total weight for our test fork was a very competitive 470g with a 200mm long steerer, plus 49g for the included compression plug.
Details, details
Installation of our test unit was straightforward and the fork has a couple of features that make it even easier. Reynolds adds a nifty machined aluminum ring at the base of the steerer tube to provide a very precise seat for the headset crown race. The provided compression plug is one of the best around, with no fiddly little bits to lose or orient incorrectly and truly foolproof operation. As with most plugs, it also reinforces the walls of the steerer tube against crimping if you get over-enthusiastic when tightening the stem clamp.
Dirt + rain = lots of dirty laundry
Swapping to the Ouzo Pro Cross from my existing aluminum unicrown model dropped a very noticeable 300g off the front end. More importantly, the change in ride quality was like night and day. The Ouzo Pro Cross provides a reassuringly solid feel and precise handling, but also comes with very effective vibration damping that is absent with my old aluminum fork. Trail buzz is nicely muted without totally filtering out trail texture.
The solid feel also carries over during braking. Not surprisingly, brake post flex was virtually nonexistent, but in contrast to some other lightweight 'cross forks, the Ouzo Pro Cross produces nary a bit of chatter when the stoppers are clamped hard.
Unfortunately, this fork arrived a bit too late to give it a proper flogging through a whole season of cyclocross, but I did still manage to squeeze in a race and the abundant dirt roads and trails around my home provided plenty of additional testing opportunities. Given my Midwestern location at the time, rain was available in abundance and offered ample opportunity to test the mud clearance firsthand. The Ouzo Pro Cross' wide-set crown certainly helps here, but less obvious is the crown's smooth contours which provide no rough surfaces or recesses for mud to adhere.
Survey says…
Reynolds Composites manages to score another perfect ten with the Ouzo Pro Cross. As with its now-ubiquitous Ouzo Pro road brethren, the cyclocross version offers up an impressive combination of positive attributes. It's not the lightest 'cross fork out there (although it's damn close), but it provides superlative ride quality along with reassuring durability. What would I improve? Short of a free bag of gummy bears tossed in to the box, I can't think of a single thing.
Price: US$560
Weight: 470g (w/200mm steerer tube) plus 49g for compression plug
Pros: Competitively light weight combined with precise handling, reassuring durability, excellent trail feel, and solid braking performance.
Cons: None.
More information: www.reynoldscomposites.com
Cyclingnews rating: