Recently on Cyclingnews.com
On test: Orbea Alma 29er, November 2, 2006
The Orbea Alma 29er
Photo ©: James Huang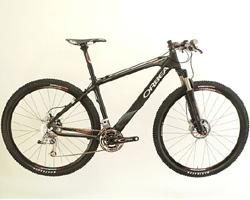 Fast and flowy
Orbea's Alma 29er is a big-wheeled offshoot of the company's race-ready Alma carbon fiber hardtail, currently piloted by the Luna professional team. With all of the hype surrounding its introduction, James Huang finds out if the Alma 29er lives up to its high expectations.
Orbea made a big splash earlier this year with the announcement that it would be making a 29er version of its high-zoot Alma carbon fiber hardtail. Sure, there were lots of lightweight XC-specific 29" hardtails already available (including Orbea's own aluminum version), but the Alma 29er was to be, and still is, the first one crafted from carbon fiber.
If its aluminum 29er was the proverbial toe in the water, this new model is, by comparison, a veritable cannonball. Unlike aluminum which can easily be cut, mitered, and welded in whichever way necessary, the Alma 29er's true monocoque construction requires a major commitment involving expensive molds and associated tooling. Two-niner advocates are undoubtedly thrilled with the Alma 29er's 1300g final production weight (for a medium frame), but will Orbea's gamble pay off in what is still a relatively nascent segment of the mountain bike market?
Unusual Four Point rear triangle geometry
Photo ©: James Huang

Orbea frame designer Xabi Nabiera
Photo ©: James Huang

Wonder where
Photo ©: James Huang

More carbon fiber
Photo ©: James Huang

If you're going to use all that carbon,
Photo ©: James Huang

FSA's K-Force Lite carbon fiber handlebar
Photo ©: James Huang

Heavily reinforced
Photo ©: James Huang

Two piece rear disc mount
Photo ©: James Huang

Rock Shox's Reba Race 29er
Photo ©: James Huang

Selle Italia's Signo saddle
Photo ©: James Huang

More SRAM stuff
Photo ©: James Huang

Organic styling
Photo ©: James Huang
All business… well, mostly business
Orbea offers no disguises as to the Alma 29er's intentions with its purposeful lines, decidedly serious-looking bare clearcoat finish, and silver graphics. The front triangle is particularly brutish-looking, with a rather enormous downtube (that also doubles as a light duty fender) and heavily reinforced head tube area. With a similarly reinforced bottom bracket area, the Alma 29er's front end looks like it would sink the Titanic (again). Short of that, the word 'rigid' certainly comes to mind which bodes well for handling precision. Orbea follows a rather different approach out back with its Four Point rear triangle. According to frame designer Xabier Narbaiza, the additional 'pivot' point and slightly more horizontally-situated seatstays increases the frame's vertical compliance without negatively affecting lateral rigidity.
In addition to the Four Point geometry, the Alma 29er rear end also incorporates some rather interesting dropouts and a trick disc brake mount. Each dropout is simultaneously bonded to both the inner and outer surfaces of the stays, which run uninterrupted from seat stay into chainstay. The lowermost tab for the IS disc brake mount is integrated into the non-drive dropout itself; the upper tab is made up of a separate aluminum chunk which is riveted and bonded into place. Logic would dictate that this setup is lighter than a full one-piece job, but regardless, it looks ultra-trick.
29er frame geometry: chances are you're just as right as the next guy
Mountain bikes utilizing standard 26" wheels have benefited from decades of refinement so much that frame geometry is pretty much spot-on these days. Two-niners, on the other hand, don't benefit from that maturity and, thus, the geometry of currently available 29er frames is all over the map with everyone and their brother professing the 'ideal' setup. Is a 73° head tube angle correct? How about a 70° one? Yes, and yes… er, I mean maybe. Huh? Don't even bring up chainstay length or bottom bracket drop unless your fingers are primed and ready for hours of (occasionally) mindless banter on mtbr.com's 29er forum.
Orbea takes a solid middle-of-the-road position on its Alma 29er, with a 71° head tube and 73.5° seat tube. However, our medium-sized frame (16" seat tube c-c) sports a rangy 23.74" top tube and short (for a 29er) 17.5" chainstays place the rider in a slightly more rearward position. Are you a self-professed 29er frame geometry expert that thinks those numbers will add up to slug-like handling? Read on, my friend, read on.
All dressed up with everywhere to go
Orbea outfitted our test bike with componentry that was certainly befitting of the Alma's premium stature. SRAM provided the X.0 trigger shifters and rear derailleur, X-Gen front mech, Avid Juicy Carbon hydraulic disc brakes, and Rock Shox Reba Race 29er. The FSA logo graces the K-Force MegaExo crankset, K-Force Lite carbon seatpost, OS-115 stem, and K-Force Lite carbon flat bar, while Bontrager and Selle Italia filled out the remainder with the Race Lite 29er wheels, Jones ACX tires, and Signo saddle.
As equipped, our complete medium test bike hit the scales at 24.05lbs/10.91kg without pedals and carries a MSRP of US$4400.
Getting the new school clothes good and dirty
Well-designed and executed carbon frames are always a joy for their uncanny ability to be both torsionally and laterally rigid while retaining a healthy dose of vertical compliance. From nearly the first pedal stroke, it was clear that this new Alma doesn't stray from that trend as it is at once supremely responsive and surprisingly comfortable.
The heavily reinforced bottom bracket shell surely deserves much of the credit for the drivetrain feel as pedaling efforts are almost instantly rewarded with forward motion. Likewise, the impressive torsional rigidity of that giant front end we described earlier makes for excellent steering response. Directional changes are initiated with a simple flick of the bars with little drama. Unlike some other featherweight chassis, both wheels actually feel as if they're connected to each other with the rear dutifully following the front.
What about that 71° head tube angle, you ask? Sure, on paper that kind of angle coupled with the longer 29er fork and a relatively short rake suggests steering that would be more akin to a Navy frigate sans rudder than a bicycle. Instead, the handling on this Alma 29er was among the most responsive and natural I've experienced, regardless of wheel size. Corners fast or slow, open or tight, smooth or rough were equally swept up with aplomb. Clearly there is more to the story of 29er frame geometry than just a bunch of numbers (as can be said about most bicycle-related things cough cough Tour!), and my suspicion is that the torsionally stiff front end has a lot to do with it.
The overall comfort was a bit more difficult to discern given the bigger wheel size, but the Alma 29er certainly provided a much more velvety ride that I had expected based on first impressions. Obviously, there is no true 'suspension' to speak of here, but I'll be cursed to a lifetime of non-pneumatic tires if there wasn't something to this Four Point rear end. Bigger hits were inevitably met with a solid WHACK!, but small trail buzz was nicely muted and the overall ride quality was eerily smooth for a hardtail.
Now what about those wagon wheels? I made no effort to draw any sort of conclusions specifically directed to the wheel size while testing the Alma 29er (I'm busy enough with that subject as it is…), but a number of characteristics made themselves known loud and clear. Those big wheels definitely rolled over rough stuff much easier and almost certainly lent their hands to the smooth ride. Cornering was noticeably more consistent, and traction seemed to be improved in a variety of conditions. Short of the fact that the bigger wheels are just plain heavier than their 26" equivalent, the pleasant surprise here was that the Alma 29er simply felt like a well-mannered and capable mountain bike, big-wheeled or not. Was it faster? I don't really know, but I was having a good enough time on this thing that I didn't really care. 'Nuff said.
The rest of the stuff
Given the top-notch parts pick on our test bike, you won't be surprised to hear that just about everything worked flawlessly during our test. SRAM X.0 drivetrain popped off shifts crisply and obediently and the PG-991 chain danced from cog to cog on the PG-990 cassette with nary a misstep. After a short break-in period, the Avid Juicy Carbon brakes proved to be more than adequate stoppers and provided mostly quiet service with excellent power and good modulation. Although the 80mm of travel would normally be deemed barely adequate for my local conditions here, our Reba Race 29er made the most of it and performed surprisingly well given everything I ran into over the course of a few months. Again, some credit should probably be given to the 29er wheels for their steamrolling abilities which surely reduced the suspension workload.
FSA has certainly come a long way since its days as a fairly obscure component brand a few years ago, and its dedication to carbon fiber construction has a lot to do with it. Save for the CNC-machined aluminum OS-115 stem, all of the FSA gear on our test bike was formed from the stuff. I don't have too much to say about the K-Force Lite seatpost or handlebar other than the fact that they're both pretty light and neither one broke, but the K-Force MegaExo ATB crankset does deserve some specific mention here. Unlike some other carbon cranks that are little more than an expensive fashion statement, FSA's K-Force model felt noticeably stiff under power and was a good match for the beefy Alma 29er bottom bracket shell. Shift quality up front was excellent, and the externally-mounted bottom bracket bearings broke in nicely after a few months of use (they definitely had the 'lubed with molasses' feel at first).
Gripes
Parts-wise, the only real disappointment was the Bontrager Race Lite 29er wheelset. The hubs were decent enough, being based on DT Swiss' Onyx line, and the build quality seemed quite good as our set needed no truing during testing. Unfortunately, though, the nearly 2kg per pair weight suggests that they could be made into bacon someday, and in spite of all that mass, lateral rigidity was a bit lacking. In particular, rough cornering or hard power surges were greeted with the sound of the Jones ACX side knobs rubbing on the chainstay. An impromptu off-the-bike test showed that it was surprisingly easy to flex the rim and tire side-to-side with just a bit of lateral pressure (thus also mostly absolving the rear triangle of guilt). While these wheels performed quite well in a straight line and the tires offered up plenty of predictable grip, the wheelset is unbefitting a frame of this caliber, or the rest of the component group.
Speaking of chainstay rub, Orbea didn't leave much room for error in the tire clearance department. While there was plenty of room up top, there wasn't much down below in between the side knobs and the chainstays. Thankfully, the 2.2" casing of our Jones ACX test tires is already reasonably high-volume, but don't even think about running any of the newer crop of 2.35" 29er tires that are coming out for '07. Live in muddy climes? It might behoove you to add some carefully placed helicopter tape unless you're unusually handy with carbon repair.
Two thumbs up… minus a pinky or two
So did the gamble pay off? Overall, Orbea's Alma 29er is awfully impressive, coupling razor-sharp handling and outstanding drivetrain response with a surprisingly comfy ride. How much of that is due to the bigger wheels is up for debate, but regardless, the entire package is quite the XC machine and the 29er aficionados seem to have caught on. Orbea reports that the Alma 29er was completely sold out very early in the season, and next year will see increased production as well as an expanded size run. Guess gambling does pay once in a while, eh?
Price: US$4400 (as tested)
Weight: 24.05lbs/10.91kg (without pedals)
Pros: impressively light frame weight, super stiff front triangle, compliant rear end, undeniable cool factor
Cons: inadequate tire clearance, laterally soft wheelset
Cyclingnews rating:

Photography
For a thumbnail gallery of these images, click here
Images by James Huang/Cyclingnews.com
Complete specifications (as tested): Orbea Alma 29er

Frame: Orbea Alma 29er, monocoque carbon fiber (80% Toray T700 medium modulus, 20% Toray M30s high modulus)
Fork: Rock Shox Reba Race 29er
Colour: Clearcoat carbon weave
Sizes: 18" (c-t)
Seat post: FSA K-Force Lite, SB0
Seat Selle Italia Signo


Cranks: FSA K-Force MegaExo ATB, 175mm, 22-32-44T
Chain: SRAM PC-991 Crosstep
Bottom bracket: FSA MegaExo
Front derailleur: SRAM X-Gen
Rear derailleur: SRAM X.0, long cage
Rear cassette: SRAM PG-990, 11-34T
Shifters: SRAM X.0 trigger
Levers: Avid Juicy Carbon
Brakes: Avid Juicy Carbon w/160mm rotors

MSRP: US $4400 (as tested)

Wheels: Bontrager Race Lite Disc 29er
Spokes: 14/15 double-butted stainless steel
Rims: Bontrager Race Lite Disc 29er
Skewers: Bontrager
Tyres: Bontrager Jones ACX, 29x2.2" (52/54)
Stem: FSA OS-115
Bars: FSA K-Force Lite
Grips: Orbea
Headset: TH Industries Aheadset
Pedals: Not included
Seat post: FSA K-Force Lite, SB0
Saddle: Selle Italia Signo

Weight: 10.91 kg (as tested)