On test: NoTubes ZTR Olympic 347 disc wheels and coated aluminum rotors, April 4, 2006
Inner tubes? We don't need no stinking inner tubes!
Tubeless tyres for mountain bikes have the advantage of being almost immune to pinch flats, but the downside of usually being a shade heavier than the lightest conventional systems. Stan's NoTubes sealant solved part of the weight issue, and now Stan is back with a pair of ultralight MTB wheels and lightweight rotors to boot. James Huang is highly impressed.
The NoTubes Olympic Disc wheelset
Photo ©: James Huang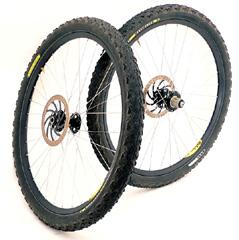 Stan Koziatek probably hates inner tubes about as much as you hated Brussels sprouts as a kid. In many ways, he has good reason to as they (the tubes, not the sprouts) are almost embarassingly prone to both puncture and pinch flats in certain situations. Koziatek introduced his Stan's NoTubes latex-based tubeless conversion sealant several years ago and quickly followed with custom rimstrips, both of which were designed to allow standard, non-UST tires to be used without tubes on both UST and standard rims. The converted setup worked pretty well and offered many of the anti-flat benefits of true UST parts with few drawbacks. In addition, the liquid sealant provided a self-sealing ability that UST lacked (although you could easily add some sealant to that system as well). The most appealing feature of the NoTubes system, though, was that it yielded wheel and tyres assemblies that were often several hundred grams lighter per wheel than UST. With these massive weight savings in such a critical area, the Stan's NoTubes system quickly earned a loyal following of diehard weight-weenies and XC racers as well as top pros such as Mary McConneloug and Christophe Sauser, many of whom won't race without it.
All was not perfect in NoTubes land, though, as converting a tubed setup into a tubeless one is not wholly trouble-free. Some rims were more adaptable for conversion than others, and many combinations were just about impossible to inflate with a floor pump. The bean-counters at Sears were undoubtedly pleased with their unexpected surge in air compressor sales, but Koziatek was clearly unhappy. In response, he developed his first tubeless conversion-friendly rim, the ZTR 355. Being a weight-weenie at heart himself, Koziatek also apparently thought most of the current offerings on the market were too heavy as the ZTR weighed just 355g each.
Building a better mousetrap
The ZTR Olympic Disc rim
Photo ©: James Huang

The fully welded join
Photo ©: James Huang

Large diameter flanges
Photo ©: James Huang

WTB's Laserdisc Lite rear hub
Photo ©: James Huang

The NoTubes coated aluminum rotors
Photo ©: James Huang

Proprietary coating
Photo ©: James Huang

Who'd have thought this tread pattern
Photo ©: James Huang

The NoTubes Olympic Disc rim is an evolution of that first ZTR design and incorporates some clever features that make the tubeless conversion even easier. The unique shape of the rim channel is designed to provide a better initial seal in order to ease inflation, and the particularly short bead hook allegedly provides a "ball and socket" fit between the rim and tire bead for a tighter, more airtight fit when the tire is fully seated. Naturally, the new rim is lighter than the original ZTR at an astonishing guaranteed weight of no more than 352g. Remarkably, the Olympic Disc rim still retains a full 23mm width for good tire support and healthy air volume as well as a fully welded join. Spoke hole eyelets, though, apparently were deemed too heavy. If you so desire, the rims will easily accept standard UST tires as well.
NoTubes offers two rim strip options for the Olympic: the "special yellow spoke tape" is lighter (partially due to a special Olympic rim-specific lightweight valve stem), but the heavier rubber rim strips make it easier to inflate by hand. Unfortunately, the two are not readily interchangeable as the built-in valve stem on the rubber rim strip requires you to enlarge the valve hole in the rim slightly, thus preventing use of the lightweight valve stem which requires a smaller hole.
In addition to reducing rotating weight at the rims and tires, Koziatek has also focused some of his attention on disc rotors as well. Standard stainless steel rotors typically weigh in the neighborhood of 140-160g; the NoTubes coated aluminum rotor weighs in at less than half of that at 57g a piece. Koziatek's first generation rotors relied on a hard-anodized finish and required special pads, but the new rotors incorporate a coating on the brake track that improves the durability and allows the use of standard organic or semi-metallic brake pads (although sintered metallic pads are still not recommended). Not surprisingly, the rotors are only available in a 6in diameter and have a rider weight limit of 170lb, although it seems they may be tougher than they appear as some pros use them on their 4X rigs as well. In a last clever touch, the rotors also have a unique 8-bolt drilling that allows installation on either standard 6-bolt hubs or older Cannondale-specific 4-bolt hubs.
The Olympic disc rims are available separately, but NoTubes provided a fully built wheelset for testing. Our test wheelset mated a pair of Olympic Disc rims to a set of WTB Laserdisc Lite hubs using DT Revolution 1.8/1.5 spokes and alloy nipples laced two-cross up front and two-cross/three-cross out back (DT Swiss hubs are also available). These wheels came with a recommended rider weight limit of 175lbs, but beefier builds (and correspondingly higher weight limits) are also available. Total weight for our test wheelset is a mind-blowing 1401g without skewers or rotors, or just 1515g with the coated aluminum rotors installed (with a mix of titanium and aluminum hardware, natch).
Getting things going
For the most part, installing both UST and standard tires was fairly straightforward. Mounting a set of Michelin UST tires with the yellow spoke tape required a stout tire lever, but once installed, the tires inflated instantly with a standard floor pump with zero hassle. The bead locks into the rim hook as promised with a reassuring (and somewhat scary) 'POP', but the setup did require a bit of sealant to seal things up to a reasonable level.
Converting a set of standard Schwalbe Fast Fred Evolution Light tires for tubeless use with the yellow spoke tape was a bit trickier. Inflating the tires with a floor pump was certainly more difficult, but not wholly impossible. Nevertheless, an air compressor proved handy in this case, but the thicker rubber rim strips would have made the task quite easy.
As mentioned, though, the two rim strip options are not reversibly interchangeable. My suggestion would be to try the lighter yellow spoke tape first, then switch to the rubber rim strip if you would prefer an easier inflation or swap tires often on race day on site.
On the trail
My everyday wheels are no heavyweights comprising a mix of WTB and DT Swiss hubs laced up to a pair of Bontrager Mustang Tubeless rims with Ritchey Logic spokes and alloy nipples along with a pair of UST tires. Running the NoTubes wheel and rotor setup with standard UST tires certainly felt significantly lighter than my normal wheels, but otherwise felt pretty normal which was a good thing.
Things took a turn when I ran the Schwalbe setup, though. The NoTubes wheel and rotor setup saved about 300g when used with UST tires, but the converted tires saved an additional 200g per wheel. At a total weight of just 2.61 kg including wheels, tires, sealant, and aluminum rotors, the NoTubes plus Schwalbe setup dropped a whopping 700 g from my original configuration. For the non-metric crowd, that's about 1.5 lbs, all in rotating weight, and almost all of that right where it counts the most. Yikes. On the trail, the massive reduction in rotating weight had a number of benefits. As expected, acceleration required far less effort, but braking and maneuverability were also improved, and the reduction in unsprung mass seemed to enhance suspension action as well. Moreover, the sensible lacing pattern coupled with the tall flanges of the WTB hubs added up to a surprisingly responsive wheelset. I wouldn't say that the wheel rigidity matched that of Mavic's unique single-wall pierced FORE-drilled UST rims (as found on their Crossmax SL, for example), but it was certainly acceptable. Overall build quality of the wheels proved to excellent as there was no truing required throughout the test period nor was there any spoke loosening.
Cyclingnews editor John Stevenson and I have an ongoing disagreement on the real effect of rotating weight. He maintains that you can't feel a couple of percent off the total weight of bike and rider, even if it's rotating mass, and that it's all in the tester's head. Even if that's so, if a reduction in rotating mass makes you go faster because you believe it will, faster is still faster - and these wheels sure felt to me like they accelerated faster.
NoTubes says that the rims will still hold air even if severely dented. Given my local terrain (and my weight), I wasn't able to test that claim firsthand, but the extremely thin-wall rim extrusion should make you think twice before using these in brutally rocky conditions, particularly when using narrower tires at lower pressures or if rider weight is at the upper end of the spectrum.
Speaking of tires, the converted Schwalbe Fast Fred tires were surprisingly capable given the lack of tread. They certainly lived up to their name and then some and provided outstanding cornering traction in the hardpacked and loamy conditions in which they were tested. The extremely lightweight casing and shallow tread depth don't lend heaps of confidence for rocky terrain, but so what. Did I mention yet that they're under 500g for a true 26x2.2in casing even with sealant?
The NoTubes coated aluminum rotors were also reasonably capable, although their performance was not quite as mind-blowing as the wheels. Dropping 100g of rotating weight is always helpful, but in this case, that weight is located very close to the axis of rotation so the difference is not as noticeable as it would be out at the tire or rim. NoTubes claims equal or better performance to a standard steel rotor with little to no break-in period required. However, I found the rotors to require a fairly lengthy break-in period with my Magura Marta test setup and the rotors never quite provided the initial bite and overall power of a standard rotor. That being said, the overall power and modulation were still pretty good and more than acceptable for most XC applications. Rotor wear was negligible for the roughly six-month test period, but then again, that shouldn't come as much of a surprise given my local Midwest terrain. In addition, the rotors remained true throughout the test and never uttered barely a peep.
The final word
For racers looking for an edge or riders looking to drop some grams who aren't afraid of an occasional dent or two, the Olympic Disc rim is an easy choice. Heck, even if you prefer to run tubes, the Olympic is still the lightest clincher MTB rim currently on the market that I'm aware of. The bare rims aren't cheap at US$95 a piece, nor are NoTubes' complete wheelsets exactly a bargain, but if weight is your number one priority, there is nothing else available at comparable cost (or otherwise) that is as light and still offers all of its features.
The rotors aren't quite the same slam-dunk as the rims; they're more like an ugly floater that bounces off the hoop a few times but manages to fall in. Their light weight doesn't offer the same amount of benefit as the wheels and they don't work quite as well as stainless rotors, but they're still worth a serious look if it comes down to the wire and you really need those last two points.
Weights - Front wheel: 645 g/1.42 lb (without skewer); Rear wheel: 756 g/1.67 lb (without skewer); Rotor: 57 g/0.13 lb each (without hardware)
Price: Wheels: US$535/pair; Rotor: US$95 each
Pros: Wheels: massive weight reduction while retaining tubeless compatibility and good durability and rigidity
Rotors: less than half the weight of standard steel rotors with good performance
Cons: Wheels: Thinwall rim extrusion can be prone to denting, rim strip options should be interchangeable, still requires messy sealant to run tubeless
Rotors: does not provide initial bite and overall power of steel rotors
Cyclingnews rating: Wheels:

Rotors:


More information: www.notubes.com
James Huang is chief guru at mountain bike suspension site www.angryasian.com