On test: Bergamo Marcello Signature Series winter wear, February 13, 2006, part 3
Marcello Signature Series Exotex Base Layer
Mark Zalewski concludes our look at Bergamo's winter wear with a very capable base layer
The MSS Exotex Base Layer
Photo ©: Mark Zalewski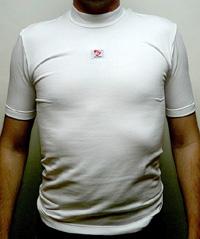 The key to cool/cold weather riding is layering. And the most important layer is the one that directly contacts your body. Keeping moisture away from your upper body in cold weather means the difference between happy riding and an invitation to sickness. Base layers, like other cycling clothing, comes in different forms to handle different temperatures. The MSS Exotex Base Layer by Bergamo is intended to complement the cooler weather clothing line.
With 190 gram Eschler Exotex Fabric, the base layer's thickness keeps you warm while still providing moisture transfer that will keep you dry. Another noticeable difference between this and warmer weather varieties is the 3 cm collar, giving extra warmth around the neck. The MSS base layer comes in both short sleeve and sleeveless options.
I enjoyed this base layer on my cool weather rides of around 45 - 60 F, giving me a little extra warmth under the MSS jacket without overheating. As the temperatures dipped lower that 40 F, I had to complement the base layer and jacket combination with an insulated jersey, but found that the base layer still performed rather well. With the colder weather, I would have liked an option of a long sleeve design to keep my arms warmer.
The best part of this base layer was how well it moves moisture. During my rides I felt completely dry, but once I returned home and shed my jacket and other layers, I could feel the moisture on the outside of the base layer but still nothing on the inside -- a testament to how well it worked.
With the other items I commented that the prices were a little higher than some other brands, but that the quality of product was worth the investment, particularly in cold climates. The MSS Base Layer is also a very good product, delivering top performance, but the price difference for this seems a little higher than the others. Still, as in many cases, you do get what you pay for.
Pro: Good moisture transfer and thickness
Con: No long sleeve option, slightly pricey
MSRP: $69.95 (Short Sleeve), $64.95 (Sleeveless)
Fabric: Eschler Exotex Fabric
Cut: Raglan
Color: White, Black
Sizes: S-XXXL
More information: www.uplandsg.com (US importer); www.maglieriamb.it
Cyclingnews rating:

See also: Bergamo MSS Jacket; Bergamo MSS Winter Bib Knicker