Recently on Cyclingnews.com
On test: Lake MXZ301 Winter MTB shoes, May 23, 2006
Not just for winter's depths
Lake's winter mountain bike shoes are sufficiently water-resistant that their use extends beyond just the coldest months, as James Huang found.
The Lake MXZ301
Photo ©: James Huang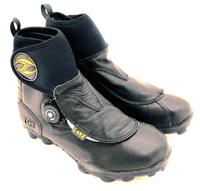 Just call me Imelda. These days my collection of cycling footwear seems to have gotten a little out of hand (although it likely pales in comparison to another CN contributor's army of $5 strappy sandals… you know who you are!). On any given day, I'm more likely to pull a pair of shoes out of the closet at random with some sort of cleat bolted on to the bottom than not, and I've already arrived at a trailhead on at least one occasion having packed the wrong shoes (Time ATAC cleats do not work in Crank Brothers pedals, in case you were wondering). In spite of the confusion, though, some shoes are still more appropriate in certain situations than others, and this statement is no more applicable than with Lake's MXZ301 Winter MTB shoes.
Winter… it's cold!
For those of you who have not experienced a Midwestern winter, let me fill you in: they're cold. They're long. They're often wet and perma-slushy, and the sun can disappear for weeks on end. Did I mention they're cold? Riding through one of these is difficult to say the least, and while proper clothing makes the experience much more tolerable, protecting your extremities is a perpetual battle. Heavy gloves and hats are no-brainers, but shoes are a bit trickier as they are not only pieces of apparel, but also pieces of equipment. And let's face it: heavy socks tend to cut off circulation to your feet (unless you deliberately wear shoes that are a bit big) and booties sometimes don't work well in off-road situations and they've invariably a bit of a chore to put on.
Three-quarter height
Photo ©: James Huang

The slick BOA cable closure
Photo ©: James Huang

Open tread pattern
Photo ©: James Huang

Lake even makes sure
Photo ©: James Huang

Enter Lake's MXZ301 Winter MTB cycling shoes. The winter shoe market is a decidedly small one, but Lake has been committed to it nonetheless for several years with its Illinois setting undoubtedly being a contributing factor in that decision. As such, the MXZ301 incorporates a wealth of experience.
The weather-resistant uppers are constructed of Pittards leather and include a tightly sealing neoprene cuff. In addition, insulation is provided by 3M Thinsulate material in the toe box, a full Outlast temperature regulating lining throughout, and even a Thermosol insulating insole to keep the bottoms of your feet toasty. A molded heel counter and a convenient criss-crossing BOA lacing system work to secure your foot and a protective flap keeps everything under wraps. Finally, the outsole is completely covered in rubber and incorporates an open tread pattern that is suitable for snowy and/or icy conditions.
That's all well and good, but it's not winter anymore
True, as I write this we're well into May, but I'll get to that in a sec. Overall, the MXZ301 certainly proved its mettle through a particularly long and dreary winter season. The intelligently designed insulation did its job well, providing ample warmth on the coldest of days even with standard cycling socks and the water resistant Pittards upper and neoprene cuff worked well to keep my feet dry as well. Thankfully, the BOA ratchet is conveniently exposed outside of the protective flap making on-the-bike adjustments easy, even with heavy gloves.
The sole stiffness definitely does not compare to most of carbon fiber offerings out there, but it was rigid enough and still allowed for relatively comfortable walking when the conditions demanded. The tread pattern worked well in snow and cold mud and the lugs weren't so tall as to interfere with clipping in to my set of Crank Brothers Candy 4ti pedals.
Not about it being May… true, daytime temperatures for many of us in the Northern hemisphere are getting pretty warm, but early mornings can still be fairly chilly and the MXZ301 shoes are still comfortable up to a relatively balmy 50°F. In addition, the Lake MXZ301 shoe is still one of very few shoes which offers adequate protection from water which extends their usefulness to wetter rides and commutes. Live in the Southern hemisphere, you say? Well, sorry folks, but fall is winding down for you and winter isn't far behind…
Gripes
As with just about everything, all was not perfect with the Lake MXZ301. While the overall weather resistance and quality of construction was excellent, the fit leaves a fair bit of room for improvement. First of all, half-sizes are not available so some users will unfortunately find themselves trapped in whole size purgatory. Other details, though, also contribute to a marginal fit. The molded heel cup does a good job at keeping the rear of your foot laterally stable, but its shape and the general cut of the upper does little to combat heel lift. Unfortunately, the BOA system doesn't help much in this area as its layout mostly serves to increase pressure on the top of the foot when tightening it down, rather than suck it back into the heel counter. Also, the toe box is fairly narrow so those with wider feet will certainly want to try these on first. Lastly, the shoes are heavy at 1090g per pair (size 44). Granted, there is unavoidably a lot of material here, but it's something to keep in mind. Depending on the conditions and situation, a pair of good booties over your standard cycling shoes may still suffice at a substantially lower weight penalty.
Conclusion
In spite of its shortcomings, the Lake MXZ301 is still among the best winter mountain biking shoes around with excellent insulation and a reasonably stiff sole. While the fit could certainly be improved, it's hardly terrible and I generally found myself concentrating more on how my feet were warm and dry rather than irritated that my heels weren't locked in place. Lake has acknowledged that heel fit is an issue with the MXZ301, and it's apparently something they're working on resolving. Overall, though, when the conditions merit them, there is simply no equal for a dedicated winter cycling shoe and it's unlikely you'll find me out on the trail again with booties anytime soon.
Weight: 1090g per pair (size 44)
Price: US$249.99
Pro: Excellent protection from cold and water, quality construction, wide temperature range
Con: Fit can be improved, particularly around the heel
Cyclingnews rating:


More information: www.lakecycling.com