Recently on Cyclingnews.com
On Test: Hutchinson Fusion 2 Road Tubeless tires, December 29, 2006
Hutchinson brings tubeless technology to the road
Get used to seeing these.
Photo ©: James Huang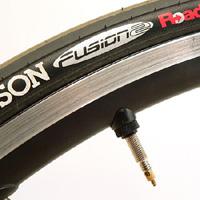 Hutchinson's UST tubeless technology changed the way the mountain bike world looks at tires. After a long development period it brings a similar system to the road, and Cyclingnews Tech Editor James Huang asks if it offers the same advantages on pavement as it does on dirt.
Several years ago Mavic and Hutchinson collaborated in the initial development of the UST tubeless system for off-road tires, and we've barely looked back since then with a slew of other companies now offering compatible wheels, rims, and rubber. While it has taken a while for many to accept the system's relatively minor weight penalty (some still haven't, and others never will), the advantages the system offers are real and numerous.
Their ability to be run at lower pressures yields greater traction during cornering, acceleration, and braking, and also improves ride quality. True UST tires also generally incorporate an airtight liner, lending a little more durability to the casings and improving damage resistance relative to tube-type tires. On a more practical level, once punctures do occur, they tend to behave much like automobile tires; with the exception of total bead failures or large cuts, pressure losses occur much more slowly and users often can successfully finish out a ride and repair the damage at their leisure.
Hutchinson brings roadies into the fray
Hutchinson's new Road Tubeless system promises to revolutionize road clinchers,
Photo ©: James Huang

The new Fusion 2 Road Tubeless weighs just 305g,
Photo ©: James Huang

The Fusion 2 Road Tubeless bead is uniquely shaped,
Photo ©: James Huang

The tire beads lock securely into corresponding channels in Road Tubeless compatible rims.
Photo ©: James Huang

Undoubtedly, roadies would also benefit from all of these attributes, but in general, that segment of the market is more resistant to change. More importantly, they're certainly not as tolerant to weight increases, whether or not there are performance benefits associated with it. In addition, engineering such a system that can stand up to the typical 100+ psi pressures used on road bikes requires a bit more work.
As such, Hutchinson has taken well over five years to develop its Road Tubeless system, having first tested countless prototypes both in and out of competition. Testers have included some of the more prominent ProTour teams and riders, including the Saeco and Agritubel squads as well as individual standouts Gilberto Simoni and Damiano Cunego, all of whom have apparently given the system their blessing as Hutchinson finally released Road Tubeless for sale to the public earlier this season.
Hutchinson has managed to tackle the weight issue handily with its initial offerings. For now, just two tires are available: the lighter weight Atom Road Tubeless with a 700x21c casing (claimed weight of 265g each), and the marginally heavier, but more versatile, 'all conditions' 700x23c Fusion 2 Road Tubeless.
The Fusion 2 Road Tubeless uses a 127tpi nylon casing reinforced with Hutchinson's Kevlar Pro Tech belt for puncture resistance. That casing is covered with a triple density slick tread, with progressively softer durometer rubber as you move away from the center for lower rolling resistance and better straight-line wear combined with more aggressive cornering characteristics. Like virtually all high-performance tires, the Fusion 2 Road Tubeless is foldable, but not via the commonly used aramid bead. Instead, Hutchinson uses a carbon fiber bead that it says offers a more consistent fit and is more resistant to stretch, both of which are critical in this application.
Our Fusion 2 Road Tubeless test tires weighed in at a surprisingly lightweight 305g (+/- 5g) apiece, which is roughly comparable to a similarly sized high-end clincher plus a butyl inner tube. At a suggested retail of US$55 each, they're even comparably priced (arguably even cheaper, given the fact there is no tube required).
Time to be thankful for that really nice floor pump you bought yourself a while back…
In concept, the system is quite simple and is fundamentally analogous to UST, with a uniquely shaped rubber-coated bead that locks mechanically into a correspondingly shaped rim channel. For the most part, installation is a standard procedure with some minor variations. To facilitate seating and sealing of the bead, Hutchinson recommends use of its StickAir bead lubricant. We didn't have it available to us during testing, but even without any liquid assistance, it was still possible to install the tires on our test set of Shimano Dura-Ace WH-7801-SL wheels (currently the only Road Tubeless compatible wheels on the market) by hand without the use of tire levers.
Inflating the newly installed (and again, bone dry) tires was possible with a floor pump, but not necessarily easy. At this point, it was plainly obvious why Hutchinson recommends use of a bead sealant, as it was a bit difficult to get the system to inflate without the use of a compressor. Dual-stage floor pumps that can churn out a lot of volume are most welcome in this case. Regardless, the tires did eventually air up quite nicely (and the upper body workout was a nice side benefit). Surprisingly, long-term air seepage even without the bead lube was minimal at worst, and roughly on par with a standard setup.
Magic carpet
As per Hutchinson's North American PR guy Marc Gullickson (yes, that Marc Gullickson), we ran our test tires at just 95psi each, a full 10-15psi lower than our usual figure. Think that would make them feel flat and slow? Think again.
Seeing as how Hutchinson's new Road Tubeless tires are neither a conventional clincher or tubular, it should come as no surprise that they have a unique ride quality that doesn't mimic either one. Conventional thinking tells us that lower pressures result in more rolling resistance, but Hutchinson claims that its Road Tubeless tires roll at least as fast, if not faster, than standard setups thanks to the omission of friction between the tire casing and tube. Whether or not that's completely true we can't say with objective certainty, but our experience so far leaves us with no reason to doubt the claim. At the very least, the Fusion 2 Road Tubeless tires don't feel any slower, which came as quite a pleasant surprise.
Thanks to the addition of the airtight liner, the Fusion 2 Road Tubeless' casing was noticeably stiffer than that of most high-end open tubulars. Stiffer casings normally yield a rougher ride, but yet again, Hutchinson surprised us. The lower pressure surely deserves some of the credit for the slightly softer and more compliant ride, but then again, the Fusion 2 Road also didn't wallow and float like an underinflated standard clincher, either, and retained an impressive level of responsiveness.
If anything, the Road Tubeless' rubber coating seemed to effectively damp small road imperfections, similar to how true UST tires behave on the trail. Pavement cracks and other road imperfections were met with a dull and nicely damped 'thump', but that was it; there was little, if any, influence on forward motion or any jarring in the handlebar. Think "smooth"… with about eight or nine "o"'s.
Lastly, the Fusion 2 Road Tubeless also delivered inspiring levels of grip in every situation we threw at it. Straight-line traction was very good even on dirty pavement, cornering was impressively surefooted and uneventful, and fast downhill sweepers were handled with decidedly higher levels of confidence. The Fusion 2 Road Tubeless' triple compound certainly doesn't hurt in this respect, but much of the credit falls on the larger contact patch resulting from the lower inflation pressure.
"Psssss…"
So what happens in the event of a puncture? As with UST tires, the easiest solution is to remove the valve stem and install a standard tube, leaving whatever damage is present to be repaired at a more convenient time. Alternatively, Hutchinson offers the Road Tubeless Fast'Air kit and Road Tubeless Rep'Air kits. Fast'Air is intended as a roadside fix that simultaneously seals punctures up to 1mm in size and reinflates the tire, while Rep'Air is a modified patch kit for more permanent repairs. In case you're wondering, Hutchinson explicitly warns against the use of latex-based sealants either in a preventative or restorative application.
In the worst-case scenario, Hutchinson also contends that the system can be ridden completely flat in the event of an emergency. Even without any air pressure at all, the beads are rather firmly locked into the rim, leaving little risk of rolling a tire as you limp your way home. Did we actually try it that way? Were you going to buy me a new set of wheels afterwards? Right, that's what I thought.
Just the beginning
As previously mentioned, there are only two Road Tubeless tires currently available, and both of them are from Hutchinson. Likewise, Shimano's new Dura-Ace WH-7801-SL is the only compatible wheelset. Given the substantial firepower behind the system and its impressive public debut, though, there's no reason to believe that this new standard will go the way of BetaMax and APS film any time soon (come on, admit it; you had a Canon Elph/IXUS, too). A greater selection of tires from Hutchinson and others is sure to follow, and, in fact, Mavic, Campagnolo, and Corima already all have Road Tubeless compatible wheelsets in development (Mavic's upper-end Ksyrium rims do have a solid outer rim wall already, but the rim profile is not currently shaped to Road Tubeless specifications).
As impatient as I tend to be, it seems that the wait has been well worthwhile as Hutchinson's new Road Tubeless tires (at least the ones we've tested here) have proven to be excellent performers, living up to their lofty promises and dragging along little-to-no drawbacks… well, there is one: what do I do with all of these clinchers now?
Weight: 305g each (+/- 5g)
Price: US$55 each
Pros: Comparable weight to standard setup, markedly improved ride quality and grip, increased level of security
Cons: marginally more difficult to inflate than a tubed tire, limited tire/wheel selection for the moment
Cyclingnews rating:


More info: www.hutchinsontires.com, www.roadtubeless.com
Photography
For a thumbnail gallery of these images, click here
Images by James Huang/Cyclingnews.com