Recently on Cyclingnews.com
On Test: Bontrager Race XXX Lite VR road handlebar, November 27, 2006
Picking up where carbon fiber leaves off
Bontrager maximizes the real estate for the top section,
Photo ©: James Huang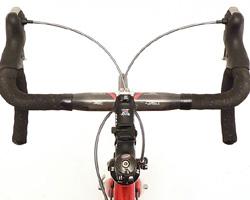 As wonderful a material as it is, carbon fiber still (gasp) has its limitations. Bontrager enlists the help of another unique fiber to create its top-end Race XXX Lite VR handlebar, and Cyclingnews Technical Editor James Huang yanks on the thing as hard as his spindly upper body can muster to see if it really is any different.
For the most part, carbon fiber is wonderful stuff for cycling gear. It's generally light and strong, damps vibration well, and can be carefully tuned to offer direction-specific properties in ways that metals simply can't match. Regardless of the public's perception, though, it still has its quirks and isn't a panacea for all that ails us.
In the case of handlebars, many riders have discovered that good carbon bars somehow manage to be surprisingly comfortable, yet still admirably rigid when climbing out of the saddle and sprinting. Still, though, designers have a limited amount of real estate to play with when it comes to throwing in more material in search of even more rigidity. The proliferation of the oversized standard with its 31.8mm clamp diameter certainly helps, but for those who are still after a stiffer bar, you're kind of out of luck… or are you?
Say hello to my little friend
As mentioned above, carbon fiber can be a quirky material, particularly in how it is much more rigid in tension than compression. Boron fiber, on the other hand, is noted for its compressive, rather than tensile, rigidity. As such, savvy designers can take advantage of those unique properties to supplement carbon fiber's shortcomings while still capitalizing on its advantages, and in fact, that's just what Bontrager's designers have done with their Race XXX Lite VR handlebar.
Bontrager's Race XXX Lite VR offers an enticing combination
Photo ©: James Huang

Graduated markings on the drops
Photo ©: James Huang

The oversized 31.8mm center section
Photo ©: James Huang

Slick finish on the Race XXX Lite VR handlebar
Photo ©: James Huang

The Variable Radius bend allows for multiple hand positions,
Photo ©: James Huang

Bontrager's top carbon road handlebar integrates small amounts of boron fiber primarily in the regions flanking the stem clamp area to beef up the bar's overall bending stiffness without affecting the ride quality too much. Since boron is heavier than carbon fiber, the material is used rather sparingly; the primary materials used are still Bontrager's tried-and-true ultralight OCLV 110 and OCLV 55 carbon composites (so named for the material's weight per square meter: 110g and 55g, respectively). In spite of the boron additions, the total weight of our 42cm (c-c) test sample was still a featherweight 168g.
New-school materials, old-school shape
Molded carbon fiber offers a lot of flexibility in terms of shaping since designers aren't bound to the limitations of a curved tube. As such, we've seen heaps of wildly sculpted carbon bars as of late, most of which boast enhanced anatomic fits and the like.
In spite of the space-age materials employed, the Race XXX Lite VR handlebar wears a decidedly traditional form with nary a wing-shaped cross-section or hyper-anatomic bulge to be seen. The bar maintains a round 31.8mm diameter throughout roughly the center third then quickly tapers to a more conventional 24mm section whose shaping consists only of a flat section up front to help conceal brake and shifter housing. Otherwise, things are still pretty much as round as Norville Barnes' world-changing idea in the 'Hudsucker Proxy' ("you know, for kids!").
The relatively shallow 132mm drops forego a standard two-kink anatomic bend in favor of a variable radius curve (hence the 'VR' designation). This more classic shape doesn't quite offer the long flat sections for the base of your palm, but it does offer more positioning flexibility since the bar doesn't dictate where you put your hands. The front of the drops are also conveniently marked for easier lever mounting.
Hype = reality, at least in this case
As with any good carbon bar, the Race XXX Lite VR does an excellent job of negating harsh road buzz, but pulling up on the ends during sprints and climbs yielded a curiously sharp response for which I honestly wasn't mentally prepared. It's hard to believe that a few grams of boron fiber can have much of an effect, but in the case of the Race XXX Lite VR, a few grams clearly go a long way.
Much to my surprise, the difference in bending rigidity in comparison to some other "stiff" carbon bars was not only noticeable, but bordered on dramatic. Granted, my sprint probably more closely resembles the ferocity of a cookie-toting Girl Scout than Robbie McEwen (mmm… cookies), but my impression stands nonetheless. To make sure I wasn't imagining things, I even had several other riders take a spin on the bar and all reported similar feedback.
The VR bend will likely polarize many riders, but this aspect of the bar is more a matter of personal preference than absolute truth. While some will admire its traditional appearance and versatile shape, others will lament the absence of a broad perch that a true anatomic drop provides. When combined with the rather shallow drop, though, the VR hook is quite tight, particularly for my rather large mitts. In my case, Bontrager's bend proved to be not quite as comfortable as a straighter section during longer stints in the drops, but it was still far from objectionable. On the plus side, the bend does significantly reduce reach to the levers, which made for easier shifting and braking.
Likewise, the mostly round top section is a boon for those that prefer a more conventional shape, but others might prefer a bit more surface area to spread out the load. Again, this is a purely subjective issue, and one with which I didn't take much objection. Bontrager does, however, maximize the length of the tops before they hook forward, thus providing a wider stance for your hands and freer breathing during climbs.
In combination, though, the shallow drop and relatively broad top section conspired against my wrists during sprints. Grabbing the bars closer to the ends helped quite a bit, but grasping the deeper part of the hooks wasn't much of an option for me. To be fair, this is the unavoidable price that is paid in the name of more room up top, so weigh your priorities before your purchase.
Horses for courses
Personal preferences aside, the Bontrager Race XXX Lite VR bar is a striking piece of composite engineering. Not only did Bontrager manage to create one of the most rigid bars I've used in recent memories, but also one of the lightest around at just 168g. However, Bontrager might consider producing an alternate version of the bar with more aggressively anatomic sculpting in order to appeal to a wider audience. Assuming the extant shape works for you, and considering that this ultralight also comes with a heavyweight five-year warranty, you'd be hard-pressed to do much better.
Price: US$399.99
Weight: 168g (42cm, c-c)
Pros: Ultralight weight combined with impressive rigidity, solid overall feel, excellent ride quality.
Cons: Polarizing variable radius bend, lack of wrist clearance when sprinting, textured surfaces would enhance clamp purchase.
Cyclingnews rating:

Photography
For a thumbnail gallery of these images, click here
Images by James Huang/Cyclingnews.com