Recently on Cyclingnews.com
On test: adidas adiStar Artic jacket, March 2, 2006
Winter weather beater
The adiStar Artic Jacket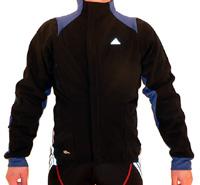 German clothing and footwear maker adidas has been a player in the cycling apparel market for what seems like eons and enjoys a particularly a strong presence in Europe, highlighted by sponsorship of Jan Ullrich and the T-Mobile squad. However, adidas has only recently made a push back into the lucrative US market with its highly technical, yet Teutonically stylish, adiStar line of cycling-specific gear. James Huang gives the Artic Jacket a go through a particularly dreary Michigan winter along with the LS Wind Jersey and Artic Bib Tight.
The adiStar Artic Jacket is adidas' interpretation of the ultimate cold weather cycling jacket. If you've done any winter riding at all, you know that wind protection can be almost as important (some would argue more important) as efficient insulation. To this end, adidas covers all of the front surfaces of the jacket, including the entire torso, upper shoulders, and top of the sleeves, with ClimaWarm Wind windproof and insulating material. As further protection, the cuffs and high-cut collar fit reasonably tightly and the waist is sealed off with a healthy dose of elastic along with a few dabs of silicone to keep the rear end down.
The rest of the jacket is finished in adidas' more standard ClimaWarm insulating fabric. Since the front half of your body is, invariably, more vulnerable to wind than the back half (unless you've got a really sweet tailwind), this combination makes for good protection from winter wind while still allowing for good breathability. To further enhance ventilation, adidas also adds a pair of zippered vents in the forearms as well as a set in the upper chest region.
Reflective stripes

More reflective material

Cleanly integrated chest vents

Need more ventilation?

The cut is decidedly cycling specific (as it should be) with slightly longer sleeves and a longer tail as well as a little more room in the back of the shoulders to accommodate riding in the drops. To further enhance the fit, the shoulder panels are made from adidas' extra-elastic Climawarm 3D material and many of the Artic's other panels are already quite stretchy (good for when you have a few too many donuts during your mid-ride pause at the Dexter Cider Mill…). A single zippered pocket adorns the rear of the jacket (sadly, too small for said donuts…) and a reflective pair of adidas' trademark 'three stripes' provides some effective low-light visibility.
Brrr… it's cold out here!
Michigan is not exactly renowned for its balmy winter climate so this jacket got a good winter workout. For cold conditions, the windproof front and non-windproof rear combination proved to be a very effective barrier to Old Man Winter. With a standard jersey underneath, the adiStar Arctic jacket provided ample warmth out on the road down to about the freezing mark and didn't feel too warm until the mercury rose well above 40°F (4°C). With heavier base layers, this jacket was surprisingly comfortable down almost all the way down to 20°F (-7°C).
Off-road, where wind wasn't as much of a factor, you could easily subtract ten degrees or more from those figures. It was in this situation, in particular, where the adjustable venting proved particularly handy as it took a bit of careful layering to prevent overheating since the Artic was so effective. Whether it was by design or a pleasant coincidence, the windproof ClimaWarm Wind panels also proved quite resistant to snags from the numerous thorny vines that frequent my local stomping grounds.
Regardless of the environment, the cut of the jacket was dead-on, providing a comfortable fit free from tight spots or bunching, and ample coverage exactly where you would want it. The generously extended tail was particularly welcome on muddier days out on the cross bike.
Swing… and a hit!
Is there room for improvement? Maybe some, but not much. The zipper pulls on the Artic are on the small side and are somewhat difficult to locate and operate with heavy winter gloves. Sure, they're cute and all, but from a functional standpoint, I'd rather take a 4in long knotted up piece of nylon cord. Also, I'm not sure who started this trend, but to this day, I just do not understand the thinking behind putting just one back pocket on cycling jackets. Maybe it's just me, but I think it's a bit of a pain to have to reach up through the bottom of a jacket to get to the contents of a jersey pocket. This jacket is simply not intended for those situations where you might be shedding your outermost layer mid-ride, thus requiring that you transfer your stuff from one layer to another. Moreover, the single pocket is on the small side. More pockets, please! Ok, enough ranting about pockets…
Make no mistake; the adiStar Artic Jacket is clearly intended to be a cold weather piece of gear, as opposed to a cool weather one. As long as it is used as such, I would say that adidas was successful in their goal as it provides excellent warmth for particularly cold days and just barely flirts with that dangerous border of 'too warm'. Zipper pulls and pockets aside (yes, I know, I'm being nitpicky), there would be no re-gifting if one of these appeared under the Christmas tree.
Pro: Outstanding fit and effective protection from very cold weather
Con: Woefully inadequate pocket, smallish zipper pulls, maybe too warm for late Fall and early Spring rides
MSRP: US$149.95
Fabrics: ClimaWarm Wind, ClimaWarm 3D, ClimaWarm
Color: Black/Blue, Red
Sizes: S-XL
More information: www.adidas.com
Cyclingnews rating:

See also: adidas adiStar LS Wind Jersey, adidas adiStar Artic Bib Tight