Tech News – August 18, 2006
Edited by John Stevenson & James Huang
Got tech? Send press releases, news, and tech questions to the Cyclingnews tech desk.
Julien Absalon has already been using

The new Crossmax ST

Last year's Crossmax XL has morphed

The Crossmax SL disc

Mmm… red.

Wider spoke flanges across the board

New revised Isopulse lacing pattern

New harder steel pawls

Sealant friendly

Mavic updates and expands lineup for 2007
By James Huang
In the face of ever increasing competition in the pre-built wheelset market, Mavic has revamped its mountain bike wheelsets for 2007 with virtually zero carryover from the '06 catalog. A number of general improvements grace the entire line, including key improvements to the freehub internals. Previous FTS-L freehub bodies were somewhat notorious for seal drag and requiring frequent maintenance. According to Mavic Marketing Communication Manager Sean Sullivan, the crux of the issue was not contamination from outside, but rather buildup of metallic 'dust' from within as the somewhat soft pawls wore and broke down the lubricating oil. The updated FTS-X system utilizes new pawls made of harder material which are said to produce substantially less particulate, and a new freehub body seal cuts down on friction. Sadly, Mavic continues to use a bushing on the inboard side of the freehub body (made of fancy-sounding 'Iglidur') instead of a bearing, but insists its current approach is still the best way to go.
New hub bodies are used across the board with wider spoke flange spacing that improves lateral rigidity while simultaneously increasing disc brake caliper clearance. Mavic's 'Isopulse' non-crossed spoke lacing pattern also receives a minor tweak: the drive side is now perfectly radial without any offset relative to the hub axle, which Sullivan says offers better power transmission and spoke longevity due to the more balanced spoke tension between drive and non-drive sides and the reduction of cyclic loading.
Cross country racing
Last year's Crossmax SL has been eclipsed at the top of Mavic's XC food chain by a new high-zoot SLR which will be offered in both ceramic-coated rim brake and disc brake versions (both IS and Centerlock). Relative to the '06 SL, he SLR rim and disc brake versions shed 50g and 155g, respectively, for total claimed weights of 1410g and 1520g for the sets. Weight reductions come courtesy of a narrower UST rim, butted Zicral front spokes, new hub shells, and titanium axle stubs. Both configurations borrow the red and black theme of the Ksyrium ES, which also lends its carbon and aluminum hub shell to the rim brake SLR. Titanium skewers and wheel bags are included with the MSRP of US$950 or US$999, depending on configuration.
The new Crossmax SL is now only available with disc brake compatibility, but in both six-bolt and Centerlock versions. Functionally, the SL is 100% identical to its Crossmax SLR sibling with the same narrower UST rim, butted front spokes, new hub shells, and titanium axle stubs. Swapping the titanium skewers for steel ones and omitting the wheel bags drops the suggested retail cost to US$900 for the pair.
Cross mountain
The new Crossmax ST is Mavic's interpretation of a true all-mountain or general purpose MTB wheelset. Mavic claims the new ST weighs the same as last year's Crossmax SL but is also 20% stronger than the XL. Much of the increase in strength should be credited to a new rim milling pattern which retains a central rib for improved rigidity, but the more widely-set Zicral spokes likely contribute as well. The ST will be offered in ceramic-coated rim brake and both six-bolt and Centerlock versions with stated MSRPs of US$700 and US$750, respectively. Claimed weights for the ceramic and disc models are 1585g and 1660g for the pair, but our IS disc-compatible test set hit the scales at 1714g without skewers.
A new midrange Crosstrail model has been added to the category, featuring a milled UST rim and bladed stainless steel spokes. Both rim and disc-compatible versions will be offered (again, in either IS or Centerlock), but rim brake editions will forego the ceramic coating for bare machined aluminum. Claimed weights for the rim and disc pairs are 1700g and 1815g, with quite reasonable associated retail prices of US$425 and US$475.
A new entry-level Crossride Disc boasts a low US$200 MSRP and features IS or Centerlock compatibility, bladed straight-pull stainless steel spokes, and hardened spoke holes in the rim to resist cracking and pullout. Total weight is listed at 1920g for the pair, but sorry, UST tires won't work here.
Enduro FR
The segment occupied by the '06 Crossmax XL has now been split in two, with the addition of a burlier Crossmax SX to cater to the more aggressive crowd. Other than the unchanged Deemax and Deetraks, the SX is the only 20mm thru-axle compatible wheelset available for the uphill crowd, but like the XL, QR-compatible end caps will be available. A new UST rim is 2mm wider for increased strength and rigidity, and a new spoke head seat in the hub shell is better able to resist spoke ejection on hard landings. The new SX carries a MSRP of US$775 and a claimed weight of 1920g for the set.
More info: www.mavic.com
More photography
Images by Mavic
Images by James Huang/Cyclingnews

IRD Crossfire

IRD Crossfire

IRD announces CrossFire cyclo-cross tyre
Component maker IRD has announced a new 32mm cyclo-cross tyre, the Crossfire, adding to the line of cyclo-cross components it founded last year with a cantilever brake.
The Crossfire is made for IRD by Panaracer and is based on the Panaracer Fire XCPro mountain bike tyre. That tread is available to fit 700C rims, but only in a 45mm size - a bit big for most cyclocross frames.
IRD suggested to Panaracer that if the tyre maker had no plans to make a cross-specific version of the Fire, IRD would like to finance the mould and market the resulting tyre under the IRD name. Agreement was reached and a tyre was born.
The CrossFire will be available in an all-red silica/rubber version and a higher rubber content all-black version, and in folding and wire bead incarnations. The folding version will retail for US$39.00 and will be available from September 1.
More info: www.interlocracing.com

Zipp clothing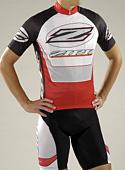 Zipp launches clothing
Zipp component owners whose dedication to the aero and lightweight specialist goes beyond merely owning and using its wheels can now telegraph their devotion with a new range of Zipp clothing. And why not? After all, CSC rider Jens Voigt has clocked up six wins in the last two weeks on Zipp wheels, which - 'it's not about the bike' aside - suggests Zipp is doing something right.
Zipp's clothing range consists of jersey, shorts and socks, and it's the shorts that have had the bulk of the company's attention. "Because we know what a pain in the posterior a cheap pair of shorts can be, both Standard and Bib Team shorts are available featuring the top-of-the-line elastic pad," saus Zipp. "More importantly, the interior padding, uses 2 types of density foam, and 2 types of elastic padding to ensure a great fit and on going comfort."
The jersey boasts a tapered fit and three-quarter length zip, while the socks are made by DeFeet.
More info: www.zipp.com

Titus Racer-X Limited

Titus first with 2007 XTR
Arizona bike maker Titus has announced one of the first bikes to be available with Shimano's 2007 XTR component group: a Limited Edition version of its highly-rated Racer-X cross-country suspension mountain bike.
Titus says it was able to obtain the new group before much bigger industry players thanks to its development relationship with Shimano.
With availability scheduled for this month, only 100 of the candy-apple red special editions will be made. The bikes will feature the new 2007 Fox RP23 rear shock and F100RLC fork.
The 2007 Limited Edition Racer X retails for $5,999 and is available in seven sizes from XXS (13.25in seat tube) to XL (23.25in).
More info: www.titusti.com