Tech feature: Wiler Triestina celebrates 100 years with party and Cento bike, June 28, 2006
New Cento marks a sweet century for Wilier Triestina
Marquee Moments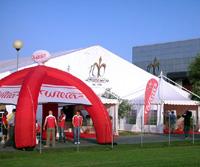 Few bike brands can boast over a century of existence - some of the biggest are mere striplings, having been founded in the 1970s or later. Italian marque Wilier Triestina goes back to the early years of the 20th century and Cyclingnews European editor Tim Maloney was in Rossano Veneto for the celebration of its centenary and launch of the new Cento bike.
An old time Wilier Triestina

Classic Wilier Triestina track iron

Wilier Triestina road bike

The Wilier Triestina that Claudio Corti

David Rebellin's Amstel Gold

Damiano Cunego's Lampre-Fondital

Lampre-Fondital's

Wilier Triestina's Lino and Andrea Gastaldello

On a warm June Friday evening, Wilier Triestina celebrated its one hundred year anniversary as a bicycle brand. Cyclingnews obtained one of the precious invites to the special party held at Wilier's headquarters in Rossano Veneto, Italy. Wilier Triestina's Lino Gastaldello and his three sons Enrico, Andrea and Michele hosted a gala celebration for their friends, clients, media and sponsored riders, with an exhibition of classic and contemporary Wilier Triestina bicycles, capped by the big reveal of a special Wilier Triestina model, "Cento" that commemorates the centenary of the iconic Italian bicycle brand.
Wilier Triestina Cento
Sweet Swoops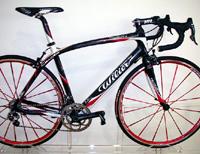 An Anniversary Masterpiece
The all-carbon frame

The Cento's squared off headtube

A closer look

Campagnolo's new Record 2007 crank

Fulcrum's all new RacingZero wheels

The swoopy lines of Wilier Triestina's new Cento (one hundred in Italian) celebrate the centenary of the Italian bicycle makers history with a unique and attractive design, but with the Wilier Cento, beauty is more than skin deep. Cento's unidirectional carbon fiber monocoque frameset is constructed with a patented molding process that enables precise control of tubing wall thickness. Cento uses both T60 and T30 unidirectional carbon fiber to create a balance between light weight and heavier, more rigid tubing. This mix provides Cento with a stiff, lightweight frame that weighs in at 900g without fork for a Large size.
Other unique features grace the Cento, like a special squared off integrated headtube and fork that provides more rigidity; chainstays molded under high pressure in high modulus T30 unidirectional carbon fibre to provide maximum power transmission; a front derailleur hanger that is constructed as part of the frame itself and carbon fibre dropouts.
The only aluminum parts on Wilier Triestina's new Cento are the aluminum inserts for the bottom bracket and headset cups. This Cento is equipped with Campagnolo's new Record group for 2007, with Fulcrum's Racing Zero wheels, ITM's new 101 carbon fibre stem and bars and Selle Italia's new Thoorx saddle.
Andrea Gastaldello told Cyclingnews, "We are really proud to be able to celebrate this hundred year anniversary; it's something that doesn't happen every day! And we are very happy about how our new "Cento" model turned out." The Cento will be available this Fall and Lampre-Fondital's Patxi Vila will ride the new bike at this year's Tour de France.
Among the host of cycling celebrities on hand at the Wilier Triestina bash was Davide Rebellin, who has a long relationship with Wilier Triestina. Rebellin's Italian residence is just down the road from Wilier Triestina and he's raced on the brand on both the Liquigas and Gerolsteiner teams. Rebellin told Cyclingnews, "To ride on Wilier is to ride on a real tradition. It's a special bicycle brand that has won so many races with so many great riders."
We asked Rebellin how he was healing up after his bad crash in the Giro d'Italia where he crashed hard and broke a rib on Stage 10. "I was hoping to come back sooner, but I just couldn't train right," he said. "There was just too much pain and it took a long time for the rib to heal well. But now I'll start racing again at the Brixia Tour in July and look to do well in the ProTour races. I might ride the Vuelta and perhaps even ride the world championships in Austria if I get selected." Just as Rebellin mentioned the world's, Italian team selector Franco Ballerini came by to say hello and we left the two to discuss the upcoming races.
Giuseppe Martinelli led the contingent from the Wilier Triestina sponsored Lampre-Fondital team at the bike bash and he took a few moments to tell Cyclingnews about working with the hundred year old brand. "I would say that (Wilier Triestina) is an excellent product... and an excellent company to have as a sponsor. They are a traditional company, who work very closely with us to make the custom bikes we need for our riders. They know how to do the special things that we need and Wilier Triestina is a 'made in Italy' product and that's perfect for an Italian team."
We asked Martinelli about some recent criticisms of him for allowing 25 year old Lampre-Fondital team leader Damiano Cunego to ride the upcoming Tour de France. Martinelli responded, "First of all, the choice to ride the Tour came from Damiano. It was something he wanted and the team supported his decision. Secondly, I think it's good that Damiano can get some experience at the Tour this year without a lot of pressure. We know he's a champion rider; that is pretty clear by now so there can only be more pressure on him in the future." Martinelli told Cyclingnews that Cunego couldn't make it to the Wilier Triestina 100th anniversary celebration because he was training at altitude in Livigno, Italy but he and his Wilier Triestina will be ready to go at the Tour De France start next Saturday in Strasbourg, France.
For more on Wilier Triestina, see the Cyclingnews feature from Italia Bici 2005
Photography
For a thumbnail gallery of these images, click here
Images by Tim Maloney/Cyclingnews