Tech feature: Specialized 2007 MTB line up, August 1, 2006
Specialized takes things into its own hands
Rear suspension rules the roost for 2007 Specialized mountain bike line
Our coverage of Specialized's 2007 product line launch continues with the company's extensive mountain bike offerings. Integration is the word of the day here, and James Huang heads off from Holzkirchen, Germany up into the Bavarian highlands to sample the new wares.
This certainly isn't your dad's Enduro!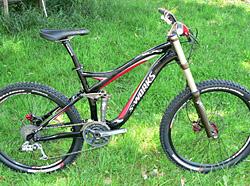 For nearly a decade, Specialized has unwaveringly championed its Horst Link-equipped four-bar linkage rear suspension designs. Multiple refinements and tweaks have abounded since those early days to yield today's versatile and capable setups but Specialized now takes a big leap forward in the system's development for 2007 with a line of house-branded suspension components and the first major change in the FSR system since acquiring it from Horst Leitner all the way back in 1998.
'Total Suspension Integration' or 'Mike McAndrews earns his keep'
When Specialized added legendary suspension designer and engineer Mike McAndrews to its roster last year, speculations ran wild as to what Mike Sinyard had in mind for his old friend and former employee. After all, 'Mick' has a long and storied career in both motorcycle and bicycle suspension: he headed up Rock Shox's research and development program for six years in its early days, started the fork program at Fox Racing Shox, worked with Paul Turner (again) at Maverick American, and developed the Brain that graced Specialized's then-revolutionary Epic full-suspension bike. With that kind of history, something big was in store.
The new Stumpjumper FSR

Top-level Stumpjumpers

All Stumpjumper FSR frames

Expect to see a lot of Magura

All aluminum versions

After forging, the Super Bridge

Specialized's first-ever rocker link

Mike McAndrews' new Spike Valve damper

The new damper

Air springs are light, but

Specialized's suspension components

This is the heart (and Brain!)

Mmm…. new XTR.

Specialized continues

As with the Epic, the carbon S-Works

Specialized outfits the new Enduro

The new E150 fork

Inside the new E150 fork

Although the overall performance of the fork

The DH/FR Demo frame

The FastTrak SLK (Super Low Knob)

The Arc Terra

The El Toro

The off-road version

That question has now been answered as Specialized has brought back the FutureShock moniker with a trio of in-house designed rear shocks and a lightweight dual crown fork for its 2007 MTB lineup. Why go through the trouble, you ask? According to Specialized, developing shocks and suspension forks as integrated elements of its complete framesets and bikes affords its designer more control over how the suspension feels beneath the rider. In concept, the idea certainly carries merit, but many companies lack the expertise and/or funding to tackle such an endeavor. Conveniently, Specialized falls victim to neither situation.
Buzzwords and nicknames
All of Specialized's new AFR (Active Functional Response) suspension components incorporate McAndrews' unique compression damper design that incorporates three distinct oil circuits: a user-adjustable low-speed bypass port, a shim stack for medium speed impacts, and a unique 'Spike Valve' (a throwback to McAndrews' nickname in his motocross days) for particularly large and/or fast bumps.
For slow speed events, such as braking forces and rider movements, both the shim stack and Spike Valve are closed and the resultant limited oil flow through the bypass valve reduces unwanted movement to prevent diving and bobbing. As the hits get bigger or faster, the progressively damped shim stack opens up to dissipate more energy and control movement.
On most conventional dampers that utilize such a shim stack, however, damping forces continue to increase with shaft speed. This means that particularly large or fast hits are theoretically still subject to some impact harshness, or "spiking", due to insufficient oil flow. In these situations, Specialized's Spike Valve opens up and allows for massive oil flow, effectively leveling off the damping force relative to shaft speed to allow full travel and prevent spiking.
In addition to the damping tricks, all of Specialized's new suspension components also incorporate a Large Volume Air Spring, or L-VAS, which allegedly offers the small bump and midstroke performance of a good coil spring. Unlike simple coil springs, though, L-VAS offers light weight and gently progressive bottom out control. Rebound damping will also be externally adjustable, and all of the new suspension components features nicely machined, anodized, and etched aluminum knobs.
Epic finally comes of age
While the new suspension bits find their way on various Epic and Stumpjumper models as well as the all-new Enduro platform, it is arguably the Epic which gains the most benefit from the new project. Last year's terrain-sensing Brain did its job reasonably well for the most part, but it still got a bit confused at times. The unit opened and became active readily upon impact (albeit with a noticeable transition), but a 'hydraulic timer' left the Brain's oil port open for two to three seconds after the impact. As a result, the Epic's rear suspension was sometimes still active, or semi-active, even when it didn't need to be.
In addition to designing new damper and air springs across the board, McAndrews and his team also redesigned the Brain and did away with the timer altogether. Instead, rebound forces now act to shut off the Brain valve on each event, meaning that the rear end now shuts off completely immediately following the impact. A lighter bias spring also enhances the overall sensitivity of the system and the shock body itself is flipped relative to last year's Fox unit for more direct oil flow. The user-tunable Brain Fade function carries over from previous iterations, and the new unit even manages to shave about 30g.
The benefits of these changes were plainly evident on our test rides up in the Bavarian highlands. After years of fumbling around, the new Brain finally fulfills its original promise with a completely seamless transition from locked to active modes and it is now virtually impossible to confuse the new, smarter unit. In addition, the new shock also imparts a better and more consistent overall feel to the Epic's rear end. It took a while, but I can finally say with confidence that the Epic really is everything it's cracked up to be.
In other respects, the Epic frame carries over largely unchanged from last year and rear wheel travel remains at 100mm. The tech savvy will be disappointed to hear that '07 production bikes will not receive the integrated carbon cranks that grace the sub-20lb Epic race bikes of Christophe Sauser and Liam Killeen. Maybe next year?
Stumpjumper continues to grow up
Specialized's venerable Stumpjumper FSR receives treatment similar to the Epic, with a new AFR shock and new remote Brain on the S-Works and Pro models that shaves 50g from last year. Other models remain Fox-equipped, with the next model down sticking with last year's Brain and the rest of the lineup going, er, Brainless, so to speak.
The new shock and Brain offer the same benefits to the Epic's longer-legged brethren, but the Stumpjumper's Brain unit gets a little more free bleed in the Brain Fade circuit, yielding a slightly less aggressive tune given its trail bike intentions. Rear wheel travel actually decreases a bit from last year and is now capped at 120mm.
Unlike the Epic, the Stumpjumper frames receive some serious attention for 2007. Az-1 carbon fiber construction now trickles down to the Pro level, and the entire S-Works rear end (including cartridge bearing rear shock mount and asymmetrical chainstays) now graces the entire line, although cheaper models forego the forged magnesium link for a heavier aluminum one.
Aluminum models get an all-new front end that features a dual ORE (Optimized Radius Engineering) down tube and a brilliantly creative seat tube assembly in which the bottom bracket shell, lower seat tube stub, and shock bridge are all cold-forged as one part to create a so-called Super Bridge, utilizing a process dubbed Spinal Tech. After forging, the interior of the part is differentially milled, effectively leaving a butted seat tube. Who knows how much more expensive it must be to do it this way, but the new construction results in a seat tube assembly that is not only much lighter and stronger than if it were welded, but it also ensures better alignment.
The Stumpjumper FSR is clearly intended to be Specialized's most versatile off-road offering, and our test rides confirmed as such. It is decidedly less edgy than the Epic with pleasantly neutral handling for all-day adventures, yet the surprisingly efficient pedaling platform for its nearly five inches of rear wheel travel certainly doesn't rule it out for cross-country racing or 24 hour events .
Enduro gets back to its roots
Why drop the Stumpjumper's rear travel to 120mm, you ask? Why, to make room for the all-new Enduro. Specialized felt its Enduro line had begun to lean a little too far to the freeride end of the things and, in the process, had lost some of the all-mountain versatility of the original. For 2007, the Enduro has been wholly revamped to deliver a chassis that allegedly still goes downhill just as well as last year's version, but climbs as well as the Stumpjumper FSR, all while sporting a full 150mm of rear wheel travel.
Much of the credit for the newfound climbing legs goes to Specialized's first-ever rocker link suspension design. The new pivot array is better able to resist pedaling squat than the existing swing-link setup and minimizes the need to resort to damper trickery in order to keep things efficient. The new rocker link packaging also makes for greater standover clearance and a lower center of gravity, as well as a longer section of straight seat tube to facilitate dropping the saddle in technical sections.
A new FACT (Functionally Advanced Composite Technology) 10m carbon front triangle helps drop the frame weight of the top models to about 2.5kg, including the AFR shock. Other models use a slightly heavier M5 aluminum front triangle which adds about 250g, but all Enduro frames receive the same tidy asymmetric M5 rear triangle. Impressively, complete bikes will weigh as little as 12.3kg/27lbs without pedals.
Up front, an all-new dual-crown E150 fork mirrors the rear end's 150mm of travel in a stout chassis that features 35mm diameter aluminum stanchions and a cast magnesium lower leg assembly with a huge 25mm thru-axle. The new fork shares many features with the new AFR rear shocks, including the L-VAS air chamber configuration and the new Spike Valve damper. To those, the E150 also adds Attitude Adjustment, which decreases fork height and travel by 40mm for climbing. The entire package is said to weigh just 2kg/4.5lbs, including the lower crown and steerer assembly, thru-axle and upper crown which also features an integrated oversized stem.
Test rides on the top-end S-Works model mostly support Specialized's claims about the Enduro's newly found climbing prowess. When seated, the Enduro definitely goes uphill about as well as the shorter-travel Stumpjumper. The built-in platform in the AFR shock was admirably adept at combating excessively jerky body motions, but the Enduro doesn't quite have the snappy feel of the Stumpy, although it's not too far off.
When pointed downhill, though, the extra travel and overwhelmingly planted feel of both ends inspired confidence through an ugly technical section, and the steering precision of the E150 was exceptional. The somewhat relaxed geometry (head tube angle can be adjusted to either 68° or 69°) will likely keep the Enduro off of many endurance event starting lines, but Super D would be right up this bike's alley, along with more general all-mountain riding and exploring with perhaps a bit of freeriding tossed in for good measure. All in all, though, the new Enduro is a rather unique package that offers lots of big-bike capabilities coupled with impressively light weight, leaving it with few peers in the marketplace when it hits stores later this year.
Other stuff
Specialized has a long history in making off-road tires, and 2007 brings more of the same. The versatile Resolution tread design gets revised for next year with wider and flatter center knobs with ramped leading edges for faster rolling. Transition knobs get also get rearranged for a more consistent cornering. Tubed and UST versions will be available in 26 x 2.1in and 2.3in, and 29er fans will be thrilled to see a 29 x 2.3in tubed version as well.
Pro feedback has resulted in a pair of new race-specific treads, based on Specialized's popular Fast Trak design. The new Fast Trak SLK (Super Low Knob) sports super short 1.7mm tall center knobs for faster rolling in hardpack conditions. In keeping with current industry trends, the SLK will be available in Specialized's S-Works 2Bliss configuration which pairs a tubeless bead with a tubed 2.0in wide casing to shed weight when used with sealant. A second LK (Low Knob) variant will wear slightly taller knobs for loose-over-hardpack conditions but is still intended mostly as a race-only tire. Available flavors will include an S-Works 26 x 2.0in 2Bliss and Pro versions in both UST and tubed, both with a 2.0in wide casing.
As with Specialized's road eyewear lineup, the MTB optics range receives a faster response time for its NXT Adapalite photochromic lenses, plus a trio of new models, the El Toro, the Endo, and the Arc Terra. The El Toro and Endo are somewhat more casually styled and represent the company's first forays into a more 'street-friendly' optics style, while the Arc Terra is a variation of last year's 16g road-specific Arc model with stainless steel earpieces and a small browpad.
Specialized's Pro MTB shoe also gets overhauled for next year. As with the roadgoing version, the new shoe wears a new M-Lock ratcheting buckle and adjustable X-Link strap base for a more customizable fit. A full-length FACT carbon sole plate makes the most of your pedaling force, and removable toe spikes aid in hike-a-bike sections.
Photography
For a thumbnail gallery of these images, click here
Images by James Huang/Cyclingnews.com