Bikes of the Sydney Track World Cup - part 1: Anna Meares' BT Stealth, November 23 2006
Cyclingnews' Ben Abrahams takes a look at the latest record-breaking machine from Aussie phenomenon Anna Meares, who broke her own world record set in Athens at last weekend's Track World Cup.
Anna Meares' world record breaking BT Stealth
Anna Meares' world record breaking BT Stealth
Photo ©: Greg Johnson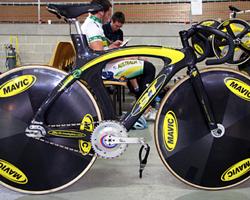 For the 06-07 track season, Meares is aboard the latest incarnation from Australian frame manufacturer Bike Technologies, known as the BT Stealth.
The frame retains its curvy design from previous editions but is now constructed from high modulus carbon fibre and features beefed up chainstays for increased stiffness, plus an integrated headset with 1 & 1/8 inch steerer - a feature more often found on road frames. Cycling Australia mechanic Stuart Smith explained that short distance track riders will usually favour stiffness over weight saving, meaning that the complete bike tips the scales at a relatively heavy 7.8kgs - a full 1kg over the UCI limit.
By the time Cyclingnews was able to photograph Meares' bike, the low-profile aero-bars used for the morning's world record had been replaced by a more traditional set up for use in the team sprint - an event Meares also won alongside sister Kerrie.
The trackie's favourite:
Photo ©: Greg Johnson

Comfort is all important
Photo ©: Greg Johnson

SRM take care of the power measurement
Photo ©: Greg Johnson

The Australian track cycling team's sprocket collection
Photo ©: Greg Johnson

She may have taken just over half a minute to complete the 500 metre time trial, but countless hours of track training mean that comfort on the bike is still a priority; consequently, there are no restrictions on saddle choice with Meares opting for an old armchair-style Rolls.
Tucked away neatly behind the saddle is the small but unmistakable SRM computer, linked by wire to the Track Science crankset to provide real-time power measurement analysis after each ride. Word in the pits was that Meares' world record was the first to be monitored in real-time by a SRM.
Pedals are the now-extinct Shimano Dura-Ace SPD-R with a custom strap attachment to prevent accidental unclipping during those surges from the start gate. Smith says that Cycling Australia bought around 50 pairs before they went out of production in 2003 - now you know where they've all gone.
At the business end of things, Meares rolls along on Mavic's Comete disc wheels shod with 19mm Vittoria EVO CL gold tubulars. These tyres were specially developed for the Athens Olympics and are inflated to a staggering 240 psi. But that's only half the story.
The Australian track mechanics remove the standard bearings from each wheel and replace them with ceramic ones subjected to a mystery process which reduces the wheel's rolling resistance. Details of this process were kept firmly under wraps.
Each wheel, identical from the manufacturer's perspective, is assigned a number before being subject to a series of speed tests at the Australian Institute of Sport's facility in Adelaide, South Australia. In one test, the wheel is accelerated to 70km/h before being released; time is recorded until it comes to a complete standstill. The best performing Cometes, used by Meares for her record, can spin for over 12 minutes.
When the bike tour was over, Smith then revealed the Aussie track team's customised sprocket collection. Each sprocket is sent to Japan for a special treatment where three microns (a micron is equivalent to one millionth of a metre) are shaved away from the interior and replaced by two microns of Ni-Cad followed by one micron of Teflon. The process costs AUD$10,000 for each set of sprockets, but Smith claims it produces a "phenomenal reduction in friction and heat dissipation."
Photography
For a thumbnail gallery of these images, click here
Images by Greg Johnson/Cyclingnews