Tech feature: Liquigas-Bianchi's 2006 bikes, January 30, 2006
With one century & two decades, Bianchi still has the passion
A look at Liquigas-Bianchi's team bikes for 2006
Tim Maloney-European Editor In Milano
Er, hang on...
Photo ©: AFP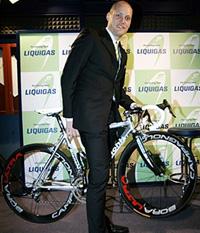 At Saturday's Liquigas-Bianchi team presentation, Cyclingnews met with Bianchi's managing director Davide Brambilla and marketing chief Stefano Vigan˛ who told us about the company's continuing collaboration with the Liquigas team in 2006. "Bianchi has been building bikes for 120 years, so our relationship with the Liquigas team is very special for us," said Brambilla. "And it was a special year in 2005, with Danilo (DiLuca) winning the ProTour. It's a very competitive team and the relationship has been more than positive. We believe that DiLuca's ProTour win just confirms the passion we have at Bianchi for the sport of cycling. But it's not that simple to keep the innovation going with the team. It's a lot of work but it helps Bianchi continue to make better bicycles."
Brambilla mentioned the close relationship that has developed with DiLuca, who often visits Bianchi's legendary Reparto Corse race shop in Treviglio, near Bergamo. When we subsequently spoke to DiLuca, he echoed Brambilla's remarks, Saying, "I've fined-tune my new FG Lite with the Bianchi guys and I've been thinking about it race after race. It's an extraordinary bike." DiLuca had his new Bianchi FG Lite proto on the road for last year's Giro di Lombardia and will ride a newer version of the FG Lite in 2006.
Danilo Di Luca's Bianchi FG Lite
Photo ©: Tim Maloney

Each Liquigas-Bianchi rider has five custom bicycles for 2006, for a total of 140 bikes, including Bianchi's unique D2 Crono Carbon TT bike. And Liquigas-Bianchi riders can chose the FG Lite, or FG Lite Carbon or Bianchi's new S9 Matta Ti/Carbon frameset, depending on the kind of bicycle they prefer for specific races.
Although most of the '06 Liquigas team bikes are in Bianchi's signature celeste green that matches the Liquigas colors, Danilo Di Luca's FG Lite will remain unpainted for extra weight savings. The '06 Bianchi FG Lite in Dedaccai 7000 series Hyperalloy aluminium (with zinc and magnesium alloying elements) has a tubeset with increased rigidity and reduced weight.
ITM Millennium bar & stem
Photo ©: Tim Maloney

New to the Liquigas-Bianchi team's equipment selection for 2006 are Continental tyres. Conti's Hardy Bolts told Cyclingnews, "Continental is proud to supply Liquigas-Bianchi for 2006. We are happy to support such a strong squad."
The unusually shaped top tube
Photo ©: Tim Maloney

Danilo Di Luca's 2006 Liquigas-Bianchi team bike
Di Luca's bike is built around a Bianchi FG Lite Sloping geometry frame in triple butted Dedaccai 7000 series Hyperalloy tubing, with semi-integrated headset and Bianchi FFV Full Carbon fork. Components include a Campagnolo Record 10 groupset & Bora Ultra high profile tubular wheels; Fi'zi:k Arione saddle; Selcof carbon monocoque seatpost; ITM Millennium bars & stem; FSA headset; Continental Competition tubulars; and Elite bottle cages.
Magnus Backstedt's 2006 Liquigas-Bianchi team TT bike / Bianchi D2 Crono Carbon
Magnus Backsted's Liquigas-Bianchi XL Bianchi D2 Crono Carbon
Photo ©: Tim Maloney

Maggy and his Liquigas-Bianchi teammates will challenge the watch aboard Bianchi's new D2 monocoque D2 Crono Carbon, made in proprietary UHM/IM Ultra High Modulus Graphite carbon fibre.
Bianchi designed the D2 Crono Carbon with the help of state of the art finite element analysis software and with the input from their top riders that helped the legendary Bianchi race division Reparto Corse provide the best solution to elude the second hand.
Components include Campagnolo Record 10 groupset; Bora Ultra high profile tubular and Ghibli disc wheels; Fi'zi:k Liquigas-Bianchi team issue Airione saddle; Selcof Carbon Monocoque seatpost; ITM Millennium stem & Nivola carbon fibre TT bars; FSA headset; Continental Competition tubulars and Elite bottle cage.
Photography
For a thumbnail gallery of these images, click here
Images by AFP Photo
Er, hang on... Magnus Backstedt gets slightly confused over which bike is whose at the Liquigas-Bianchi launch. Danilo Di Luca's bike is a tad small for him...
Images by Tim Maloney/Cyclingnews