Giant's 2007 bike range revealed, October 11, 2006
Part 1 - Giant's 2007 line-up
Europe's media hang on to
Photo ©: Bastiaan Heus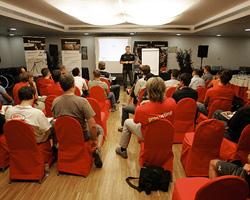 With another year rapidly drawing to a close, CyclingNews put Ben Atkins on a plane to Spain to uncover what cards the world's largest bike manufacturer, Giant, will play in its 2007 range.
Giant - the World's biggest bike company, and suppliers to the T-Mobile team (both men and women) - have made some significant changes to their range for the 2007 season. In mid September they invited the cream of Europe's cycling journalists (and me!) to a special launch weekend, coinciding with the Festi Bike event in Tres Cantos, a suburb of Spain's capital, Madrid.
There are changes to established bikes, and new models, in both their road and off road ranges. The weekend's itinerary was to allow us to play with, er sorry, have a test ride of some or all of these bikes on the roads outside Madrid, and on an off-road course constructed for a race at the Festi Bike show.
Sadly, my old team mate Abraham Olano was unable to attend as planned, but we did have Rune Hoydahl on hand to take us through our paces on the mountain bikes.
Presentation
After the Giant team were introduced by Marketing Director (and Giant Tour team mate of mine), Tom 'Welsh Wizard' Davies, we were given a technical presentation from Giant UK's Training Manager and Events co-ordinator David Ward. This took us through the major changes made to the TCR range and a technical explanation of Giant's new Maestro rear suspension system.
The Road Bikes
How did that get up there?
Photo ©: Bastiaan Heus

TCR Advanced
There have been significant advances made to next year's frame, the first and more visible being the shape of the tubes - the top and down tubes now have a much more triangular cross section. David explained that as the widest part of the tube is where it is strongest and stiffest. The triangular shape puts this strongest and stiffest part of the tube as far apart as possible within the confines of a compact frame, making the front triangle even stiffer than before.
As well as the tube shapes differing, they are also made in a vastly different way, using nanotechnology - the new T800 Carbon Composite. This involves grinding carbon fibre into a powder and mixing it with the resin, which when added to the weaved carbon fibre tubes and cured makes for a much stronger frame. This technology allows stronger and stiffer frames to be made with less material - meaning lighter frames.
Changes have also been made to the fork, giving it a rounder section than before. This, Giant say, makes it up to 40% stiffer than last year's more aero section fork!
The TCR Composite Advanced is available as either a conventional frame or with ISP (Integrated Seat Post). The decision to include the conventional seat post frame in the range is due to the ISP frame often being too stiff for smaller riders. It also makes it easier for Giant dealers in the US to fit frames into standard sized UPS boxes!
ace Giant wrencher William Hebing
Photo ©: Bastiaan Heus

TCR Alliance
The TCR Alliance is a completely new bike in the Giant range. Made half from Aluminium and half from carbon, it is an "Alliance" between the two materials and combines the qualities of both.
The Head tube, Down tube and Chainstays are made from ALUXX Aluminium - taking advantage of the stiffness afforded by the material in the areas that need it most. The Top tube and Seatstays are made from T700 Carbon, taking advantage of the material's damping qualities for maximum comfort on longer rides. The Seat tube is a mixture of the two materials, where a Carbon tube has been laid up inside a thin Aluminium one!
The Alliance has been made with the same tube profiles as the Advanced and shares the same fork design. It is aimed at the Etape and Sportive rider with a sensible budget, and has been suitably built up using a Shimano Ultegra groupset, Mavic Ksyrium Elite wheels and a Giant finishing kit.
Trinity
Giant also presented a new version of their Time Trial and Triathlon bike, the Trinity (geddit?). Built for one thing and one thing only - speed in a straight line and it certainly looks the part. It is built up with Shimano Dura Ace components Easton Delta Force Aero bars and Mavic Cosmic Carbone wheels creating a pretty small frontal area.
The Off-Road Bikes
The Trance and its Maestro rear-suspension
Photo ©: Ben Atkins

Maestro rear suspension system
Until now, Giant have had to rely on licensing rear suspension systems from other manufacturers - the opposition! After extensive research, Giant has come up with the design of the Maestro system - featuring numerous patents - allowing them to go it alone, and - they hope - leave the competition behind.
Maestro is a new kind of dual-pivot system, which creates a floating pivot point (i.e. the fulcrum that the rear hub rotates around is at a point away from where the frame actually pivots). This floating pivot point is also not a static point and moves around depending on which part of the arc the suspension is at. The practical application of this means that the movement of the rear wheel is as near to vertical as possible, which cuts chain kickback to a minimum. Giant also say that the design means that all of the bike's travel is available for use - in fact early testers have commented that 4 inch travel bikes feel like five inch ones.
Anthem Advanced
The Anthem is Giant's out and out Fast Racing Cross Country Full Susser. The frame is made with Giant's 3G composite carbon fibre with 3.5 inches (90mm) of rear travel.
The frame is built up with a Fox Float RP23 rear shock and Fox 32 F80 forks. The componentry is entirely 2007 Shimano XTR, apart from the Mavic Crossmax UST wheels. The finishing kit is by Easton.
Trance Advanced
The Trance is a Full Carbon Cross Country Enduro Frame using Giant's T700 carbon, finished in a mix of gloss and matte lacquer. Built more for comfort and endurance rather than pure speed it is slightly heavier than the Anthem but with slightly more travel at 4.2 inches (106mm).
The bike is built up with a Fox Float RP23 rear shock and Fox 32 F100 RLC forks with lockout. The componentry is a mixture of 2007 Shimano XTR and SRAM (X.0 shifters) and Avid (Juicy carbon brakes) with Mavic Crossmax UST wheels. The finishing kit is by RaceFace.
The 2007 Glory Zero
Photo ©: Bastiaan Heus

Glory Zero
The Glory Zero Freeride version of Giant's downhill bike, made from bombproof ALUXX aluminium, featuring 8 inches (203mm) of travel. A massive 1.5 inch headset allows the use of single crown forks, in this case a Marzocchi 66RC2X fork with 170mm of travel, with a Fox DHX 4.0 Coil shock at the rear.
The finishing kit is a mixture of SRAM, Shimano, RaceFace and Hayes brakes, with a RaceFace finishing kit.
Tomorrow we'll publish Part 2 of Ben's trip to Spain where he becomes one of the first people in the world to put Giant's new range through the ropes.
Photography
For a thumbnail gallery of these images, click here
Images by Bastiaan Heus
Images by Ben Atkins/CyclingNews