Tech Feature: 26in vs. 29in wheels, part 2
Getting closer to the bottom of the MTB wheel size brouhaha, but still falling
A couple of months ago, James Huang reported on the progress of a Cyclingnews project to get to the bottom of the wheel size debate in mountain biking. Advocates of the newer '29-inch' size (based on 700C wheels) claim it rolls better over rough terrain, increasing speed and saving energy. To test this idea, we set up two bikes that were as near to identical as possible, but used different wheel sizes. We were deluged with feedback from the 29er and traditional camps, which has led to some changes in the bikes and test protocols, as James reports.
Seven IMX 29er version 2.0,
Photo ©: James Huang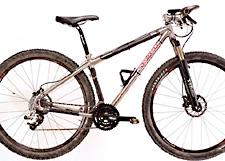 Our new Seven IMX 29er frame
Photo ©: James Huang

It doesn't get much shorter than this!
Photo ©: James Huang

Salsa Cycles comes through
Photo ©: James Huang

Many thanks
Photo ©: James Huang

Yes, it says Blaze.
Photo ©: James Huang

Things are getting crowded here, eh?
Photo ©: James Huang

Wires coming out of the bottom bracket
Photo ©: James Huang

If I've learned just one thing from this project so far, it's that 29er aficionados are a rather, er, passionate bunch. After posting Part One of this series, we received gobs of mail, both good and bad, logical and occasionally nonsensical. If you're reading this looking for our conclusions you'll have to accept our apologies as we're still not there yet. However, we do have some revisions in our test setups to tell you about with which we think you'll all be quite satisfied, regardless of your own personal choice in wheel size.
We need more power!
One common theme of many of your emails was the need to add power meters to our pair of Seven IMX test sleds. The people have spoken, and we concede. The folks at Ergomo and Gita Bike, Ergomo's US distributor, pitched in with an ISIS-compatible power meter for each bike plus a head unit to share between the two. The Ergomo is a particularly interesting unit for this project because it measures power at the bottom bracket, rather than the rear wheel or in the crank. That made it an elegant solution to the problem of measuring power on our bikes.
We're still in the learning phase in getting these things setup and dialed in, but it'll clearly add a very useful additional parameter with which to complete our analysis. The handlebars on these bikes are getting awfully crowded, though; that Garmin Edge 305 GPS unit and the Ergomo head take up a lot of real estate! The pair of little electronic boxes also provides a dizzying array of data points to analyze. Sheesh, I feel like I'm in grad school again.
Geometry, schmeometry
Another common thread to your feedback related to the frame geometry on our 29er. Many wagon wheel devotees balked at the relatively long chainstays and 71° head tube angle, saying that our test was biased from the start because the geometry would make the bigger-wheeled bike handle like a semi-truck. While it is true that our 29er does require a smidge more conviction to snake through twisty terrain, I didn't necessarily find the handling characteristics to be particularly objectionable and I have yet to blow a corner as result.
Regardless, as with the power meter issue, you talk, and we listen. Seven Cycles built us another 29er frame with which even the most diehard 29er fan should have little issue. We shortened the chainstays from 18.13in down to 17.5in and jacked the head tube angle all the way up to 73° to yield a near-identical trail figure to that of the 26in bike. Otherwise, the other key dimensions of the frame remain unchanged, meaning that it still fits my 5ft 9in frame quite perfectly and my as-requested 14in (center-to-center) seat tube provides reasonable standover clearance for my stubby legs.
For the purposes of this comparative test, the geometry is now dead-on, but for those interested in actually purchasing a Seven 29er frame for themselves, I'd probably run with ever-so-slightly longer stays and maybe a smidge longer top tube if your body dimensions allow. The chainstays on our new rig are now so short that I had to run an older Shimano XT top-swing front derailleur to prevent tire rub (the new wider-linked Shimano units just stick back too far), and the steeper front end results in a small amount of very manageable toe overlap.
3:41, 2:89, 1:58... it's all just a bunch of numbers
This brings us to the final key issue some of you had, which was the non-normalized gearing. Installing the Ergomo bottom bracket-mounted power meters necessitated two new sets of cranks, and SRAM was generous enough to kick in a pair of Truvativ Blaze units. I know, I know… did he say Blaze? Yup, 'tis true, we've swapped out the decidedly trick FSA K-Force MegaExo ATB carbon cranks for rather pedestrian aluminum three-piecers, but let's talk about the ease of sourcing high-end ISIS-compatible mountain bike cranksets these days, shall we? Right, moving on…
As mentioned in Part One of this project, the 104/64mm BCD of today's modern cranksets doesn't really allow for downsized chainrings, and a 34T cog is about as big as it gets out back. Much to my chagrin (my knees hate you all), we've decided to upsize the rings on the 26in bike and swap out the cassette. For the gear chart fanatics out there, you'll want to know that we're running 22-32-44T rings and an 11-34T cassette on the 29er, and 24-34-46T rings with an 11-32T cassette on the 26in bike. Jason Boucher at Salsa Cycles stepped up and pitched in the chainrings here, and although he apologized that Salsa did not have its pinned-and-ramped Pro Series rings available for us at the moment, it turns out that the straight-sided standard rings actually seem to shift well enough for our needs. Regardless, the number of teeth is the key issue, and we're not here to evaluate shifting performance anyway.
Okay, are we happy?
Now that we've gotten all of that out of the way, now is the time that I tell you all that we still have work to do here before we make any firm conclusions. Revising the test fleet certainly set us back a bit time-wise, but we're clearly more concerned with getting this done fairly, objectively, and properly than getting it done quickly.
Have the revisions changed my subjective perceptions of the bikes? A little. Admittedly, though, we only have limited trail time on it so far, but still enough to yield some firm, but still subjective, opinions. The steeper head tube angle, shorter stays, and significantly shorter wheelbase do, indeed, yield a faster handling bike than our original 29er. Cornering has become a bit more natural, and thanks to the greater gyroscopic effect of the big hoops, the high-speed stability is largely unchanged. Overall, the somewhat monster truck-like feel of our first iteration has diminished somewhat, but the bigger wheels' enhanced ability to roll over stuff has not.
Make no mistake, though; in spite of the handling change, the wheels are still awfully big and substantially heavier than the 26in ones. The new bike is definitely more eager to change direction than our first 29er, but the difference is hardly akin to night and day and almost assuredly is not as dramatic as some readers surmised that it would. The gap in handling between the two has narrowed substantially, but it still isn't a dead heat.
However, the idea here is to produce some fair, objective numbers. Subjective impressions of how a bike rides are important, because they govern the 'having fun' part of riding, but the debate here is about something more concrete: whether 26in or 29in-wheeled bikes are faster or more efficient in certain types of riding. We'll let the numbers speak for themselves when all is said and done. Unfortunately, you'll still have to wait a bit to find out our results, but you know what they say about good things… soon, soon, I promise.