On test: Spiuk Nexion helmet, August 24, 2005
Little Basque battler
Most of the Basque Country's cycling exports are compact units with plenty of features - just look at the Euskaltel-Euskadi squad. That phenomenon now extends to helmets, as Les Clarke found out after using the Spiuk Nexion.
Plenty of vents...
Photo ©: John Stevenson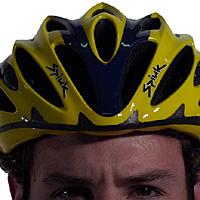 Look at most helmets in your average training bunch, and it's likely a number of brands appear time and again, but chances are Spiuk is not one of them - yet. The Basque Country clothing marque suppliers helmets to the Illes Balears-Caisse d'Espargne and Kaiku squads and its helmet - including the Nexion - are becoming more widely available outside its Basque and Spanish base.
The most striking feature of the Nexion is the plentiful vents - all 22 of them. They're efective in keeping your head cool if you're trying to emulate Alejandro Valverde on a hot summer day, but do demand a cap under the helmet on colder days. Fortunately, the Compactfix system makes it a doddle to adjust when things warm up and you want to lose the extra layer.
A really simple feature that makes a surprisingly large difference is the padding on the straps under your chin - it just offers that little extra bit of comfort and acts as yet another handy pad to soak up more sweat.
The Compactfix system
Photo ©: John Stevenson

In terms of overall fit, this helmet was suited very well to my head - my head's not what you'd call an unusual shape, so it's safe to say the shape of this helmet would suit most riders. The really appealing aspect of the Nexion is how compact it is - no unnecessary bits pointing out in an attempt to stand out from the crowd - just a well-fitting lid that doesn't take too much room and looks good.
At 290 grams for our medium (56-61cm) size sample the Nexion is right in the middle of the back as far as modern, high-end helmet weights go. In other words, it's pretty light. In fact, when first riding with the Nexion I had to remind myself several times I'd remembered to put it on in the 5am winter gloom, thanks to its combinaiton of comfort and low weight.
Something for the MTB crew
Photo ©: John Stevenson

At first glance, the Nexion appears to be like any other higher-end helmet, but have a peek inside and you find the useful 'hair net' mesh cradle. This is designed to keep out flying insects and sits under the Coolmax padding inserts, which do a super job of soaking up ample amounts of sweat. An insect, especially a stinging or biting insect, inside your lid is definitely a Bad Thing, so this is a welcome idea.
The Nexion also comes equipped with a detachable visor which will be popular among the MTB crew - whip it on to protect your eyes from the sun and low branches, whip it off for a road helmet that looks the bomb in the bunch fashion stakes. Come on, everyone's got at least a slight bent for looking good on the bike!
In it's 'road mode'
Photo ©: John Stevenson
When you're looking at helmets in this range of the market, the idealist would say that price shouldn't be an object; but most of us are realists and price is definitely a consideration. Compared to its peers, the Nexion is a relative bargain at US$139.99, considering the comfort and ease of adjustment. It's available in 10 different colour schemes and three sizes, including Illes Balears-Caisse d'Espargne and Kaiku team colours.
After riding around with the Spiuk Nexion on my head I'm convinced this helmet is one where quality, fit and price are matched extremely well. A comfortable helmet in a compact package at a reasonably compact price is a great thing; now even the realist can obtain a piece of idealism when it comes to keeping their head safe.
Photography
For a thumbnail gallery of these images, click here
Images by John Stevenson/Cyclingnews.com
Retail price: US$139.99
Weight: 290g
Colours: Range of 10 colours, incl. Illes Balears-Caisse d'Espargne team colours

Pros: Weight, comfort, size
Cons: None
More information: www.spiuk.com
Cyclingnews Rating: