On test: Spinner Aeris, October 29, 2005
A knife-edged tool for the XC racer set
Cross-country racers are accustomed to choosing from just a few forks. Spinner's light but effective Aeris is one that deserves to be added to the range of options, according to James Huang.
The Aeris from Spinner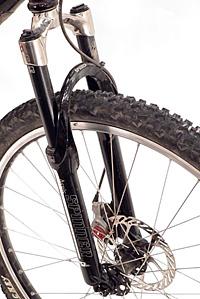 Spinner has been a huge OEM fork manufacturer for 20 years but isn't widely known as an aftermarket company. It began designing and marketing forks for the aftermarket about 10 years with a line of price-point forks stamped with the InSync brand, but these are unlikely to have made an impact on the consciousness of most 'serious' mountain bikers.
For 2006, though, Spinner is proudly selling under its own name and is aiming straight for the ultrahigh-end XC race fork market with the incredibly light Aeris.
Spinner uses a unique forged and polished titanium crown

Canít remember

The Aeris is available

The Aeris dropouts are minimal

Spinnerís engineers deserve a pat on the back

All of the aluminum parts

The Spul valve is the heart

Is my scale broken?
First things first: when I say "incredibly light", I mean it. My disc-specific test fork, with a 180mm steerer tube had an actual weight of exactly 1215 (2.7 lb), including a standard starnut. Okay, so it's not quite 1.1kg as advertised, but it's pretty close.
Many users will end up with less steerer tube anyway and will come closer to hitting that mark. Either way, that's an impressive figure no matter how you look at it, but when you consider that the fork is fully featured with 80mm of travel, reasonably-sized 28.6mm stanchion tubes, and 'stable platform' damping, that number holds even more significance.
As expected, a lot of effort went into reducing the chassis weight. The lower legs are cast magnesium, the crown is forged titanium (yes, titanium), and the upper legs and steerer are both made from a Scandium alloy. Even all of the aluminum bolts and fittings are drilled out like crazy.
Reducing chassis weight only gets you so far; you still have to put functional internals into the fork, and they still have to work. The right leg houses a large-volume air spring plus Spinner's Spul (say "spool") stable platform damper assembly and a bunch of oil. The Spul design is easily the simplest stable platform damper around and consists of a molded plastic body with a handful of other bits. The spring-loaded compression port provides the platform functionality of the fork and basically operates like a pressure blowoff valve. When the pressure is low (say, when you're pedaling), the valve is shut. But when you hit a bump, creating a pressure spike, the valve pops open and fork becomes active.
What's in the left leg? Well, to put it bluntly, just about nothing other than a few structural bits that hold the fork together. All in all, it's a remarkably simple internal design.
Out on the trail
First of all, tuning the fork is a bit tricky. There are no external damping adjustments on the Aeris whatsoever, and not a single knob to twiddle. Air pressure is easily adjusted with a top-mounted valve, but the spring rate, damper and platform settings are a delicate balance of oil viscosity, oil height, and air pressure. Everything is somewhat intertwined and there is a definitely learning curve to tuning.
I had an early production model so there wasn't really any documentation, but hopefully Spinner is providing tuning and setup guidelines by the time this review is posted. Be forewarned, tuning is everything as far as suspension is concerned, and if you don't know what you're doing you'd best find someone who does before you head out on this thing.
Once the growing pains of tuning were out of the way, the Aeris proved to be a very capable performer, as long as you remember what it's meant to do. With so little weight, one of the first questions has to be chassis rigidity. It's nowhere near the current crop of extra burly forks with 32mm legs, but then again, almost all of those are about a pound heavier. Given the Aeris's intended purpose of XC riding and racing, the chassis rigidity is actually pretty good, and certainly in the neighborhood of its direct competition.
The Spul damper works as advertised, in spite of its simplicity. The transition from inactive to active is remarkably transparent and the fork has well-controlled compression and rebound control to keep your wheel on the ground without feeling too busy.
I'll admit that I didn't submit the Aeris to too much adverse weather, but it does use a proven double-seal combination that has been shown in other forks to keep things working smoothly when things get ugly.
Conclusion
As a tool for getting from point A to point B as quickly as possible, I can think of few other forks that accomplish this goal with such a singular mindset. It's very light, reasonably rigid, and has good damping characteristics. It's a bit of a pain to tune, but once things are set, you shouldn't have to do it again. As an everyday trail fork, there are certainly other forks on the market that are better workhorses, but the Aeris is an exceptional race fork.
Then again, it had better be with a suggested retail price of US$799, but even at that price, Spinner is reportedly selling these things as fast as they can make them. If you are in the market for the ultimate lightweight race fork, this just might be your ticket.
Weight: 1215g/2.7lb (with 180mm steerer and starnut)
Price: US$799
Pro: Unbelievably light weight with reasonable chassis rigidity, plus it actually works really well!
Con: High price to go along with the light weight and good performance, somewhat difficult to tune.
Cyclingnews rating:


More information: www.spinner-usa.com