On test: Specialized S-Works Tarmac, August 30, 2005
Get up and boogie
Steve Beletich checks out the moves of the Specialised S-Works Tarmac
Specialized S-Works Tarmac
Photo ©: Specialized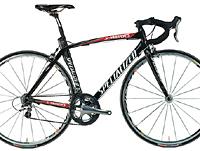 As evidenced by Team Gerolsteiner's bike choice for their 2005 season, the Specialized S-Works Tarmac is a pro-ready race machine with all the trimmings. It is based around a compact monocoque carbon fibre frame, featuring the fattest downtube and bottom bracket shell you're ever likely to lay eyes on. To compensate, the seat stays, seat post and fork are embedded with vibration-dampening Zertz gel inserts. The component group is Shimano's ubiquitous Dura-Ace, and hoops are Mavic's tried and tested Ksyrium SSC SLs, shod with Specialized tyres and tubes. Carbon stem and bars are also from Specialized, as is the integrated headset, saddle and seat post. While this is a 2005 bike, the S-Works Tarmac is virtually unchanged for 2006.
First Impressions
It was in the Cyclingnews white-out photographic studio, under some powerful flood lights, that I first laid eyes on the 2005 S-Works Tarmac. Although the crank had not yet been turned in anger, the striking black/red colour scheme and enormous lettering on the downtube oozed pure speed. It could have been the bright lights or fresh-out-of-the-box paint job, but my first challenge was to reach down, pick my jaw up off the floor, mop up some drool, and regain composure. Yep, this black beauty was just screaming to be ridden, and raced, real hard.
The seatstays get Zertz inserts
Photo ©: Paul Mirtschin

Carbon seatpost
Photo ©: Paul Mirtschin

The fork is also Zertz-equipped
Photo ©: Paul Mirtschin

Beefy bottom bracket
Photo ©: Paul Mirtschin

Expander wedge seat post clamp
Photo ©: Paul Mirtschin

Down tube cable stop
Photo ©: Paul Mirtschin

Tidy four-bolt clamp
Photo ©: Paul Mirtschin

The shallow-drop bar
Photo ©: Paul Mirtschin

Specialized carbon fiber stem
Photo ©: Paul Mirtschin

Opposed bolts
Photo ©: Paul Mirtschin

Alias seat
Photo ©: Paul Mirtschin

Shimano Dura-Ace transmission
Photo ©: Paul Mirtschin

Mavic Ksyrium SL wheels
Photo ©: Paul Mirtschin

Poise regained, the other eye-catchers included the aero-sectioned seat tube, transparent gel inserts and blindingly white handlebar tape. It's also very difficult to miss the sheer size of the bottom bracket shell. Tapping it with a fingernail gave a 'thud' rather than a 'click' - an indication of just how much carbon fibre is laid into that area. To my delight, a gentle upwards tug on the top tube soon confirmed what I had previously read: 7.3kg without pedals !!
All had I to do was screw on some pedals and a bottle cage, adjust the saddle height and setback, and away I went. Seat post adjustment is by way of a novel, vertical bolt system which, upon tightening, forces an internal wedge to tighten against the seat post. It's a nice piece of engineering, although I had to apply some serious torque to reach the friction point where the saddle would stay put.
The saddle rail clamp is a two-bolt system which allows for infinite adjustability. Although if you decide to fit a saddle without a central opening, it's a little more tricky to access the forward adjuster bolt. Fortunately I was supplied with three 'split' saddles from the Specialized Body Geometry range, in widths of 130, 143 and 155mm, to suit the varying distances between riders' sit bones. The 143mm suited me best.
Once on the road, the Tarmac displayed two inescapable characteristics which I will deal with right away, in order to avoid harping on about them throughout this entire article: 1) the ride quality is spectacularly smooth and 2) the frame is mind-blowingly rigid.
Ride Quality
Even though I came straight off a 3Al/2.5V titanium frame with relaxed Belgian geometry, the Tarmac's ride was more than noticeably smoother. This was an unexpected but welcome surprise, which belied the drainpipe-sized downtube and enormous bottom bracket shell. I did not experience any kind of discomfort related to the condition of the road surface, period. Indeed there were several moments early on when I had to stop and check my tyre pressure to reassure myself that I did not have a slow leak. No doubt the hourglass-shaped seat stays and total of five Zertz gel inserts are responsible for the amazing ride quality.
It's also worth saying that the damping qualities of the bike varied depending on speed. At low speed the Tarmac seemed to 'bounce' a little, but at high speeds road buzz would approach a frequency which was a natural enemy of the frame.
To conclude the story on ride quality, I am pleased to say that after riding the Tarmac for a month, I now fully appreciate what people mean when they speak of the 'liveliness' or 'springiness' of a steel or titanium frame, in comparison to the more damped ride of some carbon fibre frames. It's a personal choice as to the level of damping that you prefer, but if damping is what you're after then I'd have to say that the Tarmac has it by the bucket load.
Rigidity
The other, equally impressive aspect of the frame was its torsional stiffness. The way that this attribute presented itself requires a revisitation of Newton's third law of physics, which says: "for every action there is an equal and opposite reaction". This law's application to pedalling a bicycle is as follows: the pedals will push back on your feet as hard as you push on them. Furthermore, the more torsionally rigid the frame, the harder the pedals will push back on you, due to the lack of 'give' in the frame.
This was most definitely apparent with the Tarmac. The harder I turned the pedals, the harder they, despite my efforts, would push back on my feet. There was no softness to the pedalling action, in which I used to take refuge when big efforts were required. With the Tarmac there was literally was nowhere to hide from the force of those pedals pushing relentlessly back up at me. The good news is that every ounce of effort converted to neck-snapping, tyre screaming forward acceleration. No doubt the bike's weight, at around 7.6kg with pedals, is useful in this regard too.
Yes sir, this thing really does get up and boogie.
What goes down must come up
In addition to a couple of hot-dog crits, a 43km individual time trial and the mandatory training rides, I thought I'd better take the Tarmac to the hills and give it its head, both in the uphill and (preferred) downhill directions. For this mission I enlisted the company of Cyclingnews reporter Les 'Big Ring' Clarke, and we headed off into the foggy National Park one Sunday morning.
The descent was quite wild. The Tarmac was a tiny bit twitchier than I'm used to, with a head tube angle of 73.5 degrees (for the 56cm frame). However, I felt 100% confident at all times when descending, even on very dodgy road surfaces with plenty of corners. Under these conditions the front wheel and forks did move around considerably in relation to the frame, but no doubt this is the Zertz fork inserts at work. The bike also had a tendency to continue rolling a significant distance up hills immediately after descending into a dip. This I attributed to the slippery nature of the Ksyrium wheelset and slick tyres.
Speaking of ascending, the Tarmac flew up hills with minimal effort. The frame geometry boasts a seat post angle of 73.25 degrees which is 1.25 degrees steeper than I'm used to, and the chain stays are about half an inch shorter than my current bike. This, along with the bottom bracket rigidity, gave the bike a very direct and efficient feel when climbing, and it gobbled up hills without a whole lot of exertion on my behalf.
Component group
There's been more written about the 2005 Dura Ace groupset than you'd care to read, so I'll be brief with my two cents worth. Even though I love the 'horizontal' feel of Campagnolo's Ergo levers, I could appreciate the more upright grip required for those enormous Dura Ace hoods. I could grab the hoods with my fists, with all fingers forward of the brake levers, like they were the bar-ends of a mountain bike. This also made it possible to sit some weight on my forearms down on the bars. The result was a nice aero body position which was a welcome change to sitting in the drops for long periods. I've long wanted to try it after seeing so many A-grade racers in this position, particularly when out on a solo break.
Due to the torsional stiffness of the Tarmac frame, this was hard to prove, but nonetheless I felt that the Dura Ace outboard bottom bracket bearings and imposing two-piece crankset provided an additional measure of pedalling efficiency to the whole setup. It's also fair to say that the pedalling action was very smooth, which indicates that those outboard bearings are of good quality.
For the record (no pun intended), everything else in the group worked perfectly. After a minor adjustment, the gears shifted faultlessly and never missed a cog, and the chain dropped only once. And of course it goes without saying that the Dura Ace brakes worked amazingly well - a slightly softer feel than Record, but with amazing reserves of stopping power.
Other bits and pieces
Regarding the other components spec'd on the 05 Tarmac, there was not a lot to be unhappy about. There are more carbon fibre widgets than you can poke a stick at, and they all hang together beautifully.
The 31.8mm, 230g Specialized S-Works carbon handlebars have straight/convex-shaped ergo drops, as opposed to the concave shape of classic bars. I found them comfortable, although I'm slowly coming around to the view that ergo drops force yours hands to sit in one single position, whereas classic shaped bars allow you to grip the drops at a multitude of locations.
My only point of contention with the handlebars was that I got some bruising on the tops of my forearms, just above the wrists. It turns out that my arms were interfering with the underside of the bar tops, when my hands were in the drops and I was out of the saddle. You can imagine that in this position your arms are straight and almost vertical, and the bar tops can get in the way if the setup is not right. The S-Works bars have a fairly shallow drop height (147mm) and this, combined with the trailing aero section of the bar tops, interfered with my forearms considerably. Fortunately, a downwards adjustment of the handlebar angle fixed this easily and I was soon much more comfortable.
The Specialised Body Geometry handlebar tape, although white in colour (which soon turned to grey), was quite remarkable. I had to remove and re-tape the bars in order to fit some metal bars with aero extensions, for an individual time trial. Usually cork handlebar tape self destructs as I remove it, as the underside glue is too strong. However, the Body Geometry tape had a barely-sticky back side and was near impossible to rip. I reckon this cork tape would last for years and could be re-used a number of times. I'll definitely be tracking it down next time I need some decent bar tape.
The Specialized S-Works stem is an all-carbon, 130mm long unit with a four bolt face plate and opposing steerer clamp bolts. It did not provide me with any problems even though it only weighs around 130 grams.
The Specialized S-Works Body Geometry Alias saddles are made from a split carbon fibre base with titanium rails. I tried all three saddle widths, and was most comfortable on the middle size. The narrowest one did put too much weight on my soft bits, and the widest one somewhat interfered with my pedalling action. Underneath the saddle, I felt that the seat post's Zertz insert contributed much to the wonderfully soft ride of the Tarmac.
Last, but by no means least, the Ksyrium SSC SL wheels were an absolute dream. Again, lots has been written about these hoops, particularly that they are an ideal compromise of aerodynamics (read bladed spokes) and low weight (read low rotational inertia). Their top end speed truly is incredible, and being reasonably lightweight, they don't take too much effort to wind up. Once spinning, they go like a scalded cat.
The Ksyriums are shod with Specialized S-Works Mondo tyres and S-Works Turbo Ultra Light tubes. These sub-200 gram tyres have a slick tread with raised centre profile and soft compound shoulders for cornering. They were fast, comfortable and gripped well, which I discovered after taking a corner way too hot. They also maintained a 100% puncture-free record.
The whole shooting match
In the 2005 S-Works Tarmac, Specialized have created a well-engineered, attractive and feather light package. Not only is it light, its massively oversized downtube and bottom bracket shell make it about as torsionally stiff as anyone could hope for, resulting in lightning fast acceleration and efficient climbing. Top end speed is also excellent, thanks to those bladed Ksyrium spokes and S-Works Mondo tyres. Handling is direct yet self-assured, and the Tarmac's frame geometry and strategically-placed Zertz gel inserts give it a bump-soaking ride quality that had me checking the tyre air pressure.
The Dura Ace group spoke for itself, although you can spec a Record-equipped Tarmac if that's your preference. For me, the Dura Ace hoods, crankset and brakes were the standout items. The S-Works handlebars have a shallow drop and elongated aero top section, which required some adjustment to avoid interference with my wrists when on the drops and out of the saddle. This I can forgive because, when all was said and done, it was a pleasure to test a machine of this calibre, and feel like a pro rider for a very brief period.
Suggested retail price: US$5500
Measured weight: 7.3kg without pedals (56cm frame)
Frame: compact geometry, monocoque carbon fibre, double-butted tubing, hourglass seat stays with gel inserts
Fork: Full carbon with gel inserts
Component group: Shimano Dura Ace 10 speed
Wheels: Mavic Ksyrium SL SSC
Tyres: Specialized S-Works Mondo, 700 x 23c, 127 TPI Kevlar bead
Saddle: Specialized S-Works Body Geometry Alias, carbon fibre base, titanium rails
Seat post: Specialized Pavé, carbon fibre with gel insert, 27.2x350mm
Handlebars: Specialized S-Works, 31.8mm, carbon fibre
Stem: Specialized S-Works, carbon fibre
Headset: Specialized S-Works Mindset, 1.125" integrated threadless, triple sealed stainless cartridge bearings
Pros: Torsional stiffness, ride quality, low weight, attractive paint scheme
Cons: Shallow handlebar drop
More information: www.specialized.com
Cyclingnews Rating: