On test: Shimano Ultegra 2005, May 8, 2005
Working class hero
For 2005, Shimano has given its Ultegra group the same extensive revamp that Dura-Ace got last year. The result, says John Stevenson, is a set of components with all Dura-Ace's features and far less sticker shock, perfect for those of us who'd like Dura-Ace, but can't really justify it.
Shimano's 2005 Ultegra group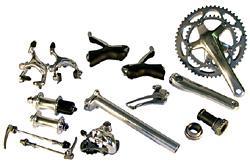 There was a time when Shimano seemed determined to keep clear blue water - and plenty of it - between its top-of-the-line Dura-Ace components and the rest of the range. For a while Dura-Ace derailleurs and shifters were incompatible with everything else Shimano made, and it always seemed that Ultegra wasn't the next step down in the range, but a distinctly poor relation.
With the 2005 Ultegra group, those days are very, very gone. The new Ultegra matches Dura-Ace feature for feature and only the price tags and scales indicate where Shimano has made changes to make the new group more affordable.
Like Dura-Ace, Ultegra features the Hollowtech II chainset and bottom bracket, and ten-speed rear cluster. It's also been completely restyled so that, at first glance, it's very hard to tell it apart from Dura-Ace, though to these eyes the new group has softer and less abrupt lines than its pricier sibling, with a 'lighter' look to the chainset in particular because of the conventional webbing in the rings rather than the filled supports of the Dura-Ace components.
The new rear derailleur

The cranks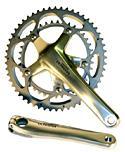 Two pinch bolts

An asymmetrical spline

The back of the crank

The bottom bracket bearings

Beefy hubs

The front derailleur

The new brake/shifter levers

The brakes

Nevertheless, it's still the chainset that's the eye-catching centrepiece of the group. Hollowtech II cranksets have a right-hand crank that's permanently mounted to the bottom bracket axle, and oversized bearings that sit outboard of the frame. The more I use these two-piece cranks, the more impressed I am with the idea, but this was the first chance I've had to assemble a box-fresh set to a bike. It's hard to see how it could be easier. The bearings screw into the frame and end up sitting outboard of the bottom bracket shell to provide a wide support for the axle which simply slips into place. You mount the left hand crank - which has an asymmetrical spline so you can't get it wrong unless you really try - fit the top cap and lightly preload the bearings in the same manner as a threadless headset Tighten the bolts on the crank to Shimano's prescribed torque settings (if you don't own a torque wrench for getting stuff like this right, then you should) and you're done.
Perhaps the only criticism one could level at the Hollowtech II design is that it still relies on the bottom bracket threads to align the bearings; that makes some engineers wince. But imagine the howls of protest that would ensue if Shimano tried to mess around with such a fundamental aspect of frame design; we're stuck with it for the moment.
Assembling the rest of the Ultegra group was uneventful. Our group came with 172.5mm cranks; 53/39 chainrings; the SS version of the rear derailleur and a front derailleur for a braze-on mount. Alternatives include crank arm lengths of 165mmm, 170mm and 175mm, 52/39 chainrings and a 52/39/30 triple which requires a dedicated left hand STI brake/shift lever - unlike 2004 Ultegra whose left hand brifter could handle a double or a triple. Band clamp front derailleurs are also available, or you can do what I did and use Shimano's SM-AD15 adapter to mount the front derailleur to a frame without a braze-on. It's not the lightest solution, but it's very versatile. (And when your starting point is a mediumweight frame like the Planet X Superlight team I was hanging this group on, you're not going to worry about a few grams; this was never going to be a UCI-busting project bike.)
On the road
So what's it like once it's all hung on the bike and rolling down the road? It's inevitable that the comparisons with Dura-Ace continue. The family relationship between the two is closer than any other pair of Shimano component sets; far closer than, say, XTR and Deore XT which share features but not attitude: XTR is far more a pure cross-country racing group, while XT is necessarily more versatile and oriented toward riding-for-fun as well as racing. Ultegra, on the other hand, is still a group of bike racing components; it might accept that you'll not race it, but it still expects - nay, demands - 100 percent effort once you're using it, and gives back commensurate performance.
In the first of a component group's major areas of function, Ultegra is exemplary: it shifts as quickly and smoothly as Dura-Ace. The feel of the shift at the lever is slightly different: Dura-Ace has a metallic, high-precision click, while Ultegra's action is slightly softer-feeling. But functionally, they're identical: the chain pops from sprocket to sprocket with the familiar Shimano effortlessness.
The design of the brake/shift levers has changed from the previous Ultegra and again is more like Dura-Ace. They're comfortable for these hands, and I find myself spending almost all my time on the hoods. The function and position of the shift levers seems to be a love/hate thing, depending on whether you're a Shimano or Campagnolo fan. I can live just fine with both and suspect, like computer operating systems (another area that people get insanely passionate about) that what you prefer is often what you're most familiar with.
I've ridden enough ten-speed bikes in the last year that I'm now blasé about all those gears but a moment's thought still reminds me how remarkable having so many ratios really is. The change has crept up on us one sprocket at a time, but I still remember the days when we agonised about sprocket selection and spacing, deciding whether to put up with big gaps between sprockets to put a 23 on a six-speed. You kids today don't know you're born, blah, drone. Our Ultegra group came with the 12-25 cluster. The 25 is nice to have when the tar points upwards, but I sometimes found myself wishing for an 11 on the other side.
The only area where the new Ultegra falls down slightly for me is in braking - there just doesn't feel to be quite as much stopping power available as Dura-Ace offers. Shimano says that Dura-Ace has a more rigid front brake caliper. This is likely the reason for Ultegra's braking not feeling quite as authoritative, as the brake pads appear to be identical. That's not to say there isn't plenty of braking power available from the Ultegra calipers; there is. But if you're accustomed to Dura-Ace, which for my money are still the best stoppers available, then you notice the difference, and you start contemplating Just One Upgrade: the front brake.
One area where Shimano has kept the old Dura-Ace stand-offishness is in the hubs: Dura-Ace hubs are ten-speed only; a nine-speed cluster won't fit. Ultegra's, on the other hand are compatible with both nine and ten-speed clusters, so you can grab a set of Ultegra-hubbed wheels now and move on up to ten-speed later. For their very reasonable asking price, the Ultegra hubs are solid workhorses with decent bearings and good finish. They're not Dura-Ace, but they're less than half the price and only 65g/pair heavier, thanks to a steel freehub body rather than Dura-Ace's aluminium. Bargain, if you ask me. Oddly, Shimano's Ultegra-level pre-built WH-R600 wheels are ten-speed-only. Go figure.
Shimano has kept costs under control with Ultegra by not offering the same wide range of choices as Dura-Ace. For example, there are seven lengths of Dura-Ace cranks available (from 165mm to 180mm in 2.5mm increments); Ultegra offers just four. Dura-Ace also offers more hub-drilling options (mostly in hubs slotted for aero spokes) and 53/42 and 50/39 chainring combinations that aren't available in Ultegra. None of this should come as a big surprise, though: options cost in manufacturing, warehousing and tracking, and you can always upgrade to Dura-Ace in one area if you need, say, 167.5mm cranks.
Ultegra does have more options when it comes to sprockets, with a whole collection of clusters specifically for junior racers: 13-25, 14-25, 15-25 and 16-27. Can't complain that nobody's thinking of the children!
The Ultegra group also includes a one-bolt seatpost and the latest version of the SPD-SL 'Lance pedal'. My colleague Anthony Tan has grabbed the seatpost and reports that it's connecting his Arione to his steel DeRosa just fine (and that's enough blatant product placement); I've yet to try the pedals, but Lance pedal users in general seem to be a happy bunch.
A wise man once said of Canon's pro quality EOS-1 camera body that nobody had any business buying one unless they already had $10,000-worth of lenses. In photography, glass - the lens - is the ultimate technical barrier. In cycling, it's fitness and the kilometres on the road needed to build it. If you're doing pro training distances, then, sure, you need pro equipment, and you can justify Dura-Ace. If, like me, you're a weekend warrior and weekday traffic worrier, Dura-Ace is overkill. Wonderful though it may be, I feel like a fraud rolling into the office on a Dura-Ace bike that weighs less than the lard I should lose to really feel I deserve it.
Ultegra is far more my speed: solid, reliable, full-featured and plenty good enough for the 8,000 or so road kilometres I do in a good year. I certainly won't be worrying about whether it's good enough to race if the bet I have with my colleague Kristy Scrymgeour ever comes off (former pro road racer will do her first mountain bike race; in return mountain biker and long-ago time trial dabbler Stevenson has to enter his first crit. Should be, erm, interesting...). In its new incarnation, Ultegra gives away so little to Dura-Ace that it no longer feels like a poor relation, but more like a true alternative that just happens to cost a bit less.
Weights & typical prices
 
Component              Weight (g)  MSRP*
Brake calipers           330       $144
Brake/shift levers       490       $365
Chainset                 840       $224
Front derailleur          90        $54 
Rear derailleur          205        $90
Front hub                145        $52
Rear hub                 355        $90
Seatpost                 215        $81
Front skewer              60         NA
Rear skewer               65         NA
 
* Prices from several Shimano authorised on-line retailers
Pro: Excellent shifting; solid, dependable 'feel', great looks
Con: Braking not as good as Dura-Ace; fewer options in cranks etc.
More information: www.shimano.com
Cyclingnews Rating: