On test - February 6, 2005
Selle San Marco Rever saddle
Jet fighter looks, armchair comfort
Stefano Belletti prova una pura selle Italiana per un vero uomo Italiano. (Steve Beletich tests a real Italian saddle for a real Italian man).
Selle San Marco Rever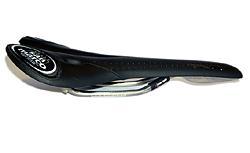 For 70 years the Girardi family have been manufacturing San Marco saddles in their Rossano, Veneto factory, from where such marques as the Regal, Rolls, Aspide and ERA have emerged. Their latest incarnation is the Rever. It sports a nylon-loaded carbon fibre base, thinly padded and covered with Lorica® fabric. The rails are hollow titanium and anchor into magnesium rail bridges at the rear. The saddle is 151mm wide and 282mm long with a weight of 195g (claimed weight is 190g but components such as saddle rarely nail their claimed weight as it's too easy for the manufacturing process to use slightly different amounts of foam, covering fabric and so on). Other features include a novel forced aeration system, titanium nose plate and High Frequency Zero Friction Sphere System (whatever that means).
In the appearance department the Rever is a fighter jet. A combination of supersonic looks and understated stealth. Black on top with a distinctly metallic undercarriage, complete with air intakes like an F16. The only raised eyebrow was in response to the purely-for-aesthetics titanium plate under the nose, held in by a cheesy self-tapper. Apart from that minor detail, this saddle oozes sleek, black, deadly charm. When stationary, it drew admiration from passing strangers. Thankfully, the Zero Friction Sphere System helped their drool, and mine, to slide right off.
From below, as installed

Nose-down, bum-up

The view from the top

The rail mounts

A titanium nose cone

A real man's saddle
Photo ©: Sheldon Brown
Given the sexy charisma of the Rever, I had no problem removing my old saddle and tossing it in the trash (such loyalty!). Whilst bolting on the new unit I noticed that the rails tended to go a little wonky at the extremities of the clamping section, and only allowed for 20mm of fore/aft adjustment (with my particular seat post clamp). This required locating the saddle at its most rearward position in order to get some decent set-back.
Once installed, the Rever's fierce appearance caused me some concern that riding it was going to be brutal. A fighter jet it may be, but fighter jets are not renowned for plush comfort.
To my amazement, after just one ride all impressions were to the contrary. I was exceptionally comfortable from the get-go. From time to time I was conscious of the saddle being there, by way of a firm sensation under my ischial bones. However this was a most reassuring feeling - like I was being supported where I needed to be supported.
After several outings I rapidly concluded that this saddle suited me, for two reasons. Firstly, those high rear San Marco 'wings' ensured that my weight sat squarely on my ischial bones. Secondly, I've had some lower back problems and I like my saddle raked forward quite aggressively (you might notice from the pics) - the Rever is well suited to this as the rear wings gave my pelvis a natural forward tilt.
Disappointingly, I can't say that I felt a great deal of air being forced onto my backside from the air intakes underneath. Not to say this wasn't occurring - I don't recall overheating. However the vent outlets on top of the saddle (which resemble the shark gills on the fenders of a Pontiac Trans Am) may have been responsible for relieving some pressure from the two contact points, which is the second of their stated functions.
The only comment I would make regarding the comfort of the Rever, is that I reckon it needs to sit under a decent pair of shorts. I'm talking about quality shorts with some decent padding, particularly at the rearward, outer extremities. You want the padding to extend right out over the edges of those high and wide San Marco wings, otherwise the harsh saddle edges and San Marco patches will tend to rub you.
The other thing worth mentioning in this area is that, unlike my old saddle, the Rever did not promote the dreaded "shorts wedgy" that can have you pulling at your shorts all day long, like a lifesaver with optimistic Speedos. Perhaps this was the Zero Friction Sphere System at work? Perhaps it should be renamed the Zero Shorts Wedgy System?
For my money, this saddle is a keeper. Fighter jet looks, ergonomic design, exceptional comfort from the word go, and no signs of discomfort two months down the track. Support where I need it and not where I don't. An occasional pleasant reminder that it's still there, without any bruises to show for it. I can even forgive the slightly short and wonky rails and the cheesy self tapper.
Photography
Retail price: €145 approx.
Weight: 195g
Materials: Titanium rails, magnesium rail bridges, nylon-loaded carbon fibre base, Lorica® covering.
Pros: Looks, weight, comfort, support.
Cons: Short rails.
More information: www.sellesanmarco.com
Cyclingnews Rating: