On test - April 20, 2005
Selle Italia SLK Kit Carbonio Road Saddle
Selle Italia SLK Carbonio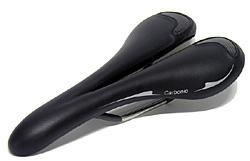 Black Magic
Steve Beletich marvels at how so many technological innovations and astonishing comfort can be crammed into a such a svelte and understated sub-200g package.
If you're looking for an example of ferocious competition between manufacturers leading to consumer benefits, look no further than the road bike saddle market. Saddle manufacturers are bending over backwards to outdo each other, resulting in the introduction of new and exciting products year after year. At every turn one saddle manufacturer seems to be saying to another: 'I'll see your silicon-composite spaceframe and raise you some interstitial cobalt-vanadium rails'.
It has to be said, nobody plays this game better than the Italians. Just look at the ground-breaking models that Selle Italia, San Marco and Fi'zi:k have developed over the past few years. Not to say there aren't great saddles coming out of the US and Asia, it's just that the Italians have a certain unique flair when it comes to techno-hype.
Steel and carbon

Stiched-in carbon cloth trim

Doing the splits

The underside

Very sleek

Okay, there is a degree of promotional propaganda associated with the saddle market, as well as the appearance of some seemingly useless gimmicks, but this will always happen when a market is buzzing and competition is fierce. On the plus side, there's some very high quality, extraordinarily comfortable and insanely light saddles being produced. Whilst the purists won't like the pace of progress (they'll want us to stick with our half-a-kilo Turbos and Rolls from last century), I say good luck to them - I'd prefer to be on 200 grams of Teflon-coated, carbon-impregnated, titanium-wrapped bliss thanks very much - hype or no hype!
The low down
It's with this blatant penchant for gimmickry that I review Selle Italia's new SLK Kit Carbonio road saddle. With 108 years of saddle-making experience under their belt (initially from Milan and for the past three decades from saddle-central in Veneto) the manufacturer needs no introduction.
Selle Italia's new SLK Kit Carbonio road saddle is an evolution of the super-light SLR saddle. Its shell is made from a nylon / carbon composite and sits on elastomer 'shock absorbers' and carbon-wrapped Vanox steel rails. The saddle is covered with Lorica fabric, which is fast becoming the material du jour for high end saddles and bike shoes.
The first thing one notices on picking up the SLK, in addition to its feather-lightness, is that it is split right down the middle. For 180mm of its 280mm length the SLK is effectively two saddles. The two 'wings' are joined at the nose by a short section of shell. You can grab the rear sections and manipulate them 20-30mm in opposite directions. In effect they operate as semi-independent components, although this will of course be moderated by having each of their rails clamped by a solid seat post. Whether or not a seat post is designed to be placed under this kind of shear/torque load is another question. The other immediately noticeable feature on first inspection is that there's quite a bit of padding on the saddle - you can press your thumb a good 10mm into the surface - definitely a good sign.
Road test
Installation is of course easy. The rails are straight and parallel, but in my opinion they could be a little longer for increased adjustability and set back. The front and rear portions of the rails are coated with carbon fibre, and the jury's out as to whether this is for show or go. Ditto for the showy-offy soft carbon-fibre implants on top of the wings. I must admit these features do look good, but the proof will very much be in the riding.
I am deadly serious when I tell you that after a month's riding the SLK Kit Carbonio, there were only two very short intervals during which I was aware that I was actually sitting on a saddle (and these occurred whilst wearing old shorts with worn-thin genuine chamois). The rest of the time I felt like I was riding on a cloud.
This is probably due in part to the sheer amount of padding on the SLK, particularly at the rear. However there's no doubt that plenty of thought has gone into the ergonomics of the shape, the patented elastomer vibration-absorbers and the semi-independent operation of the left and right rear wings. Road shock and bumps were soaked up astonishingly well, even with tyres at 120+ psi. In fact the saddle seemed to have an extraordinary amount of flex, particularly at its centre. At times it felt as though I was bouncing on a trampoline. No doubt that the long central cut-out also helped to relieve pressure in the delicate area, as I certainly did not feel any.
The movement of the left and right wings was of course much more restricted once clamped by the seat post - I could only move them about 5mm up or down by hand. The good news is that my seat post clamp did not break or crack when these unusual asymmetric loads were applied to it.
I found the Lorica saddle surface to be a little slippery, which is probably not helped by the soft, shiny carbon-fibre implants at the rear. As a result I did tend to slide around at times and would have preferred a little more grip, which could perhaps be provided by some stitched-in canvas logos at the rear.
Despite all the technological hype, in the looks department the SLK saddle did not scream 'look at me' once installed on the bike. Even the logos are small and conservative, in fact you have to look pretty hard to determine whose saddle this is. The carbon fibre implants and short sections of carbon-wrapped rail are visible, but not eye-catching. All in all this is a fairly svelte looking unit, an objective which is supported by the fact that it is only available in black.
In conclusion, both my butt cheeks send a grateful thanks to the competitive forces of the road bike saddle market. The SLK Kit Carbonio's generous padding, independent rear wings and elastomer shock absorbers all seemed to work in concert to deliver a forgettable experience. And by forgettable I mean that most of the time I was completely unaware that I was sitting on a saddle. I bounced over bad road surfaces without any discomfort, and although I did slide around a little, I consider this an acceptable trade-off for sheer comfort. Considering the impressive weight of 210 grams, my only question to Selle Italia and its competitors is how on earth are they going to top this next year?
Recommended retail price: €165, US$220
Measured weight: 210g
Dimensions: 135 x 278 mm
Colours: black or dark black
Materials: nylon/carbon composite shell, elastomer shock absorbers, Lorica fabric, Vanox steel rails
Pros: comfort, weight
Cons: somewhat slippery surface, rail length
More information: www.selleitalia.com
Cyclingnews Rating: