On test - March 23, 2005
Selle Italia C64 saddle
Sitting on air...
Possibly the part of your bike you choose most carefully, saddles can be an important part of making a bike much lighter - Les Clarke found out that if you do want to save some grams under your backside, you don't necessarily have to cut back at dinner time. You can always get a new saddle!
There's a long nose on this one!
Photo ©: Cyclingnews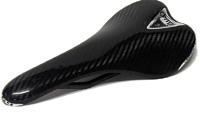 Weight weenies take note - what I am about to tell you will make you extremely happy! At a weight of only 80 grams, the Selle Italia SLR C64 offers a strong yet surprisingly comfortable saddle for use in time trials, hill climbs and super-quick crits.
Selle Italia developed the C64 as part of the SLR Carbon range in response to rider's needs for the lightest possible componentry that wouldn't break as soon as you hit a dip in the road. The company has used a composite shell and composite rails to achieve what is the lightest saddle we've ever ridden, and the company believes that with the C64 they hold the record for the world's lightest saddle.
It doesn't look like it, but there is a super-thin layer of EVA padding, weighing only five grams, inserted within the carbon shell. Not that you'd notice - tap the shell and it sounds like you're going to regret sitting on this exotic 'bike stool'. The padding does minimise the amount of shock transferred through to your posterior - nowhere near the dampening offered by conventional saddles - but it's not as bad as you'd expect.
The C64 is the only sub-100 gram saddle that doesn't require a rider weight limit. Most ultralight saddles come with a warning that specifies a rider weight limit (normally 90 kgs or over) - not so in the case of Selle Italia's superlight offering. On the 'weightweenies' website (weightweenies.starbike.com) there's a comprehensive listing of lightweight saddles available to those who want the ultimate in weight reduction under their bums; there isn't a limit next to the C64's listing, which was extremely reassuring!
With 40mm of adjustment
Photo ©: Cyclingnews

There is 40mm of fore and aft adjustment offered by the carbon rails on the C64 - the rail length is actually identical to my regular Selle San Marco saddle, and both offer the same amount of adjustment. The big difference lies in the fact that this saddle is much longer, measuring 270mm nose to tail, which is due largely to the noticeably longer nose on the C64.
The implications of this in terms of setup and comfort are that you may have to move the saddle forward in the seatpost a lot before you feel comfortable. This is to position your sit bones on the flat back of the saddle, making it more comfortable to ride. But ther was plenty of flat back to use, so that it was no problem. It was even more important to do this with the C64 because of the minimal padding - but hey, you can't have everything! I had to bring the saddle right to the edge of the adjustment to get my butt in the right place; the shape of your posterior and your natural seating position will determine just how far forward saddle has to come.
A lot of bike stores selling the C64 are wary of the durability of this saddle - some warn of the risks involved with buying such a light piece of equipment. The reality, however, is that you aren't going to ride this saddle beyond 30 or 40 kilometres, let alone over cobbles - therefore, you can be almost certain things aren't going to get nasty!
Mmmmm...shiny carbon and decals!
Photo ©: Cyclingnews

The burning question - how did it ride? Well, I was very surprised at the comfort over short distances offered by the C64. My motto for saddles is: 'if you don't notice it, it's all good', and this was the case with the C64 until I got to the 30km mark, at which point I began to notice it. But in all reality, by 30km you've probably almost finished your time trial or hill climb, and the light weight has helped put you in a winning position. That is the purpose of the saddle, and for the short distances it definitely does the job.
Riding over bumpy patches of road is a little challenging, but certainly not impossible, and there is some shock absorption happening. As is the case with other carbon products (forks, stays, etc), there is a natural level of dampening offered, but not nearly enough for longer rides. All in all, however, the Selle Italia SLR C64 is a piece of kit that noticeably lightens your bike and is great for its purpose. It's expensive in anyone's terms, but when speed is the key and weight is the enemy, look no further.
Photography
Images by John Stevenson/Cyclingnews
Retail price: US$ 395 approx.
Weight: 80g
Materials: Carbon fibre rails, carbon rail bridges, carbon fibre base, EVA padding, carbon fibre covering.
Pros: Looks, weight
Cons: Price and comfort.
More information: www.selleiltalia.com
Cyclingnews Rating: