Recently on Cyclingnews.com
Tech review - February 24, 2005
Speed weapon
Ridley Damocles
Inspired by a Greek legend, Ridley's top of the line Damocles is being ridden by two ProTour teams this season. Cyclingnews' Chief Online Editor Jeff Jones took one for an extended spin, and didn't want to give it back...
The Ridley Damocles
Photo ©: CN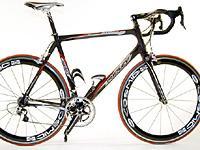 Ridley is a brand name of Belgian company Race Productions NV, which started life in 1990 as a small frame building and painting company specialising in custom built bicycle frames for customers who wanted frames with their own design or brand name. The company slowly developed to become the largest in the Benelux region, and in 1997 decided to launch its own brand name, Ridley. At first, the frames were produced in Italy, but by 1999, Race Productions NV had forged a relationship with a company in Taiwan to produce carbon fibre frames. The carbon frames were commercialised in 2003 with the launch of the Damocles. To that has been added the X-night (Cyclo-cross), Cobra (MTB) and a track frame. In 2001, Race Productions NV launched the 4ZA brand, and the company began producing high-end carbon bicycle components under this name.
Race Productions NV has been growing steadily for the past five years and wants to become one of the main players in the high-end bicycle market, in particular establishing Ridley as one of the top brands. To this end, Ridley is supplying bikes to three major teams in 2005: Davitamon-Lotto, MrBookmaker.com-Sportstech and the Fidea Cyclo-Cross Team, not forgetting the Cyclingnews.com team, which rode Ridley bikes in 2004. Both Davitamon-Lotto and MrBookmaker.com are (and Cyclingnews did) riding the Damocles frame, which is the subject of this review.
That sword
Photo ©: CN

The Damocles'
Photo ©: CN

The internal cabling
Photo ©: CN

Ridley's logo
Photo ©: CN

Vredestein's Fortezza Tri Comps
Photo ©: CN

The rear dropouts
Photo ©: CN

I need some Git Huge 2000
Photo ©: CN
Campagnolo's rear brake
Photo ©: CN

The business end
Photo ©: CN

The Stratus saddle
Photo ©: CN

FSA carbon cranks
Photo ©: CN

The bidon cages are forged steel...
Photo ©: CN

Even the bar tape
Photo ©: CN

Test bike
Ridley markets a wide range of road, mountain and cross bikes, with its flagship model being the Damocles (well, there is now a Super Damocles available). "Damocles" is derived from the classical legend first told by the Roman Cicero involving a Greek court sycophant, Damocles, and the king of Syracuse, Dionysus. The story goes that Damocles envied the king's wealthy lifestyle, and asked to exchange places with him. Dionysus obliged, but while Damocles was enjoying himself at the king's dinner table, he noticed a sharp sword over his head that was suspended from the ceiling by a horse hair. Dionysus informed Damocles that this was part and parcel of being a king, causing Damocles to rethink his options and go back to his old life.
What this has to do with a nice looking carbon fibre bike, I'm not quite sure, although I felt a bit like Damocles when given this machine to test. Far lighter and more expensive (RRP €5,292) than anything I had ever ridden, I was both excited and terrified lest I do something silly on it, like crash. That would be bad. There is also the logo of a sword printed on the top tube, which worryingly has its tip pointed towards the saddle (It's only a logo, I told myself). This merely added to the overall effect of the bike, which I found to be quite striking with its sharp red/gray decals on top of the all-carbon finish.
Apart from the carbon fibre monocoque frame, our Damocles was specced with Campagnolo Record (FSA cranks), Mavic Cosmic Carbone wheels and 4ZA bars, stem, saddle and seat post. The weight of the bike, sans pedals, was 8.1 kg, some 900g higher than the claimed weight of 7.2 kg. About 500g of this can be accounted for by the heavier, old model Cosmic Carbones that came with the bike instead of Ridley's standard 4ZA carbon T50 tubulars. The rest of the discrepancy, I'm not sure about. In any case, you won't be in danger of being under the UCI 6.8 kg weight limit with this bike.
The frame
The Damocles frame is a carbon fibre monocoque equipped with Ridley's 4ZA Damocles monocoque fork. At a claimed weight of 1.18 kg, this frame is at the lighter end of the spectrum when it comes to frame weights. Although many carbon frames these days seem at first glance to be variations on a Taiwanese production theme, the Damocles stands out more than most. Its triangular cross-sectioned top and down tubes combined with a beefed up bottom bracket and head tube give the impression of strength and speed - a good thing, even if aesthetic.
Speaking of aesthetics, when combined with the 4ZA finishing kit and deep-rimmed Mavic Cosmic Carbone wheels, the Ridley Damocles comes across as a very fast looking machine. When I first got it, I felt like I'd been given a flashy sports car to play around in. It has clearly been built with one purpose in mind: to race. It's not a bike for doing your Sunday morning coffee ride on.
The frame comes in five different sizes, ranging from XS (52.5cm effective top tube length x 48cm seat tube, measured from the centre of the bottom bracket to the top of the seat tube) to S, M, L and XL. Our test model was an L (58.5 x 57cm). The seat tube angle on the L and XL models is 72.5°, which steepens to 74° on the smaller XS frame.
Components
This Damocles came equipped with Campagnolo's top of the range Record groupset, which included an FSA SLK 172.5mm, 53/40 carbon crankset. It had a 10 speed 11-21 tooth cluster, which looked good but whenever I tried to use the 11 in a sprint, my legs buckled. Petacchi, I ain't. Similarly, the lowest gear of 40x21 was OK for moderate gradients, but riding at over 10 percent grade for extended periods was even less fun than it normally is.
Having trialled Campagnolo's Veloce gear previously, I was now quite used to the Campagnolo shifting system, which allows you to make large up and downshifts over several cogs, in theory at least. Overall, I found the shifting to be quite light and responsive, although it didn't like jump-shifting under load (not many gear systems do). Changing from between the big (53 tooth) and small (40) rings on the front was never a problem, and I think I only dropped the chain once during the test period. I even got the hang of changing from the small to the large ring in one shift, something that's typically easier to accomplish with Shimano's bigger levers rather than Campagnolo's mini-levers.
The brakes consisted of a dual pivot on the front and single pivot on the back, and I found them to be effective under all conditions. The idea behind this is that a dual pivot on the front is useful for more stopping power, whereas on the rear you need a more gentle brake to prevent skidding. I did test this under - shall we say - rather extreme conditions (45 km/h to a painful zero in about 20m, but I didn't hit the guy in front) and I still skidded on my rear wheel. Quelle surprise. My personal preference is for both brakes to be dual pivot, but I doubt it would have saved me in this instance. Thankfully, the bike was unhurt and I took the brunt of the damage.
Finishing kit
Our Damocles came with an older version of Mavic's Cosmic Carbone clincher wheels*, which are deep rimmed and come with 16 and 20 stainless steel spokes for the front and back, respectively. The rims are Maxtal aluminium alloy with carbon flanges attached to them, presumably adding some structural stability along with the aerodynamic benefit, in accordance with UCI rules, although the spokes aren't actually attached to the flanges... The hubs use Mavic's FTS-L system, constructed of aluminium and steel with adjustable, removable and sealed cartridge bearings. According to the weightweenies site, these wheels, which aren't the new Carbone SLs, are claimed to tip the scales at about 2045g a pair, which is not super light (Note: we weighed the wheels complete with skewers, cluster, tyres and tubes and they came in at just on 3 kg.). The colour scheme on our wheels was subtly different to the standard Carbones, using plain black and white graphics rather than Mavic yellow.
The Carbones are good wheels for road racing, particularly for high speed descents or sprints. This is when you really notice the aero affect, and I found I was descending several km/h faster than usual. I didn't find the wheels to be a great asset in windy, technical criteriums. In these conditions, I achieved a much better degree of control when I replaced the front wheel with a light, non-aero wheel. That said, I didn't notice any adverse crosswind effects while using the back wheel. I hasten to add that I don't consider the poor handling of the front wheel in the windy to be a fundamental drawback of the bike - it is just a matter of picking the right wheels for the right conditions.
On the other hand, I was less than impressed with the tyres that came with the Carbones. Both front and rear Vredestein Fortezza Pro Tricomps developed bulges well before their time was up (< 1000 km for the rear), and this appeared to be due to internal damage. I replaced them with a set of Pariba prologues, and finally some Continental Force/Attacks, and had no more abnormal wear problems.
The handlebar and stem are both Ridley's own 4ZA Integrated Cyclope (420 mm wide/110 mm stem, 385 g total), which as the name suggests is an all-in-one carbon bar and stem. Although it allows for zero tilt adjustment, I got used to it quite quickly. The super chunky handlebar tops are probably not everyone's cup of tea, but I found them to be quite comfortable for climbing on and I did like the routing on the underside of the bars to tuck the cables into. This was offset by my frustration at installing a computer, heart rate monitor and front light. The bars are nowhere near oval, and this means that most handlebar gadget mounts will not fit properly. The bars do come with a detachable computer mount that looks like a hemi-semi Spinaci bar, but this was only enough to install one component of the dashboard.
In keeping with style, the seatpost and saddle were also 4ZA. The post was a C-Post, consisting of a carbon shaft and an alloy head (220 g). The Stratos saddle (250 g) did the job, although it didn't blow me away in the comfort and saddle-sore-begone stakes. Still, the carbon fibre C-post did assist in damping road shock. Or that which wasn't already soaked up by the super-comfy carbon frame.
*Note: on Ridley's website, the Damocles is specced with 4ZA carbon T50 tubulars, which weigh nearly 500g less than the Carbones.
On the road
I thought the Ridley Damocles would be a nice bike to ride, and I wasn't disappointed when I got out on the road on it. Having never ridden a full carbon frame before, I was amazed at how comfortable it was. Road shock, a sore lower back and aching muscles on long rides just seemed to disappear while I was astride this machine, and that was a big plus. No amount of playing with my position on previous bikes has ever resulted in a perfectly comfy ride.
The other big positive of the Damocles was its superb handling. I felt a lot more confident cornering and descending on this bike than I have on any other. And I would often find that I could take a corner with a much tighter line than previously. This makes a difference, especially in races where you need to save every second.
Speaking of racing, in my 5000+ km on the Damocles, I was typically racing criteriums two times a week. Now, I don't win races very often but I managed to snag one in only my second race on this machine. We all know "it's not about the bike", but the added confidence of riding a professional rig can make a world of difference. Confidence plays a big part in bike racing, and helps make the idea of a suicidal last kilometre attack actually seem like a good thing.
I'm not the best person to judge any bike's sprinting characteristics, suffice to say that the Damocles didn't blow me away with its responsiveness to that initial jump. Then again, Robbie McEwen has already won a heap of races this year on a Damocles, so I don't think it's the bike that's not responding when I want to go fast in a hurry.
In terms of performance, I have to give the Damocles full marks. I'm now trying to reconcile myself to riding my GT again, where gear shifting is highly overrated.
Conclusion
Despite a couple of nitpicks over the finishing kit, my overall impression of the Ridley Damocles is a very positive one. Light but not super-light, the bike is very well suited to road and criterium racing, and does all that you ask of it. At €5,292 it's a little out of my price range, but I certainly enjoyed the experience of riding a flashy machine for a few months.
Pro: Very comfortable, excellent handling
Con: Expensive, finishing kit could be improved
Cyclingnews Rating:

Photography
For a thumbnail gallery of these images, click here
Images by Paul Mirtschin/Cyclingnews.com
Full specification: Ridley Damocles

Frame: Damocles carbon fibre monocoque
Fork: 4ZA Damocles monocoque
Colour: Red and black
Sizes: XS (52.5x48cm), S (54.5x51cm), M (56.5x54cm), L (58.5x57cm - tested model), XL (60x60cm)
Seat Angle: 72.5°
Claimed Weight: 7.2 kg (without pedals)
Actual Weight: 8.1 kg (without pedals, but with ~500g heavier wheels)


Cranks: FSA SLK 172.5mm, 53/40
Bottom bracket: FSA SLK
Front derailleur: Campagnolo Record
Rear derailleur: Campagnolo Record
Brakes and levers: Campagnolo Record
Rear cassette: Campagnolo Record 10 speed, 11-21

More information: Ridley's website

RRP (complete bike): €5,292

Wheels: Mavic Cosmic Carbone (test model only)
Tyres: Vredestein Fortezza Pro Tricomp


Stem: 4ZA Integrated Cyclope 110 mm
Bars: 4ZA Integrated Cyclope 420 mm
Tape: 4ZA
Head set: FSA Carbon 1.5", integrated

Pedals: Not included
Seat post: 4ZA carbon C-Post 29.4 mm.
Saddle: 4ZA Stratus
Bidon cage: 4ZA carbon Wing