On test: Rapha Grand Tour gloves, December 4, 2005
Don't stop 'til you get enough
Put on one of Rapha's white Grand Tour gloves, and you'll wanna be startin' somethin', Michael Jackson-style. Put on the second one, and you're ready for a Sunday drive in your convertible MG - or maybe a Friday drive as getaway for a heist to pay for them. Steve Beletich found an even better use for them, though - gripping the handlebars of his bike.
Rapha Grand Tour gloves
Photo ©: John Stevenson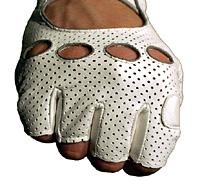 My first impression of Rapha's Grand Tour gloves was that they were a little, how can I say this, indulgent. And by indulgent I mean downright outrageous. The smirk was wiped clear from my face when I learned that this was no wind up - I really was expected to wear and review these ultra bright nose wipers.
Panic mode. I needed plausible excuses for why I would be wearing a pair of brilliant white, soft leather, perforated, fingerless gloves. A bet? I've broken both hands and these are my bandages? I'm the reincarnation of Jacques Anquetil? All of the above?
Excuses or not, I was going to have to wear these gloves, in public, in broad daylight, so I might as well get it over with.
Step 1 - put them on
As I pulled on the Rapha Grand Tour gloves I could not help but notice just how soft that white leather was. The only leather that comes close is to be found on the seats of Ferraris or possibly Bentleys. How so? - the answer lies in deepest darkest Africa, where Rapha source the hides of the African hair sheep, which have a very thin but strong outer skin to cope with the intense heat. Once treated and dyed by renowned UK leather-maker Pittards, the skins are hand cut and sewn into gloves in the UK. I was starting to understand how their UK 80 pound price tag was arrived at.
I counted 25 separate pieces of leather in each glove, and I'm betting I missed a couple as some are only a few millimetres square. They are held together by close-weave stitching, which is doubled up in key areas. The back side of each glove is perforated (for the white gloves only), and contains four knuckle holes and a large opening bordered by the Velcro fastener. These are perfect for cultivating five distinct tan-marks on the back of each hand, a la Eddy Merckx.
The back
Photo ©: John Stevenson
Step 2 - summon the courage to leave the house
Time for the first ride with the Grand Tour gloves and I'm thinking: it's early, it's still dark, so perhaps my fellow riders will not notice the fluorescent white beacons at the ends of my arms. I consider finding some dirt to rub them in, thus employing the time-honoured method historically used to 'de-newify' a pair of Dunlop Volley sandshoes. However I think better of it - I'm now older, wiser, and my skin is a lot thicker than it was in the days of the Volleys; or at least thicker than that of the poor old African hair sheep.
Gloves on and out the door. Feeling like a bit of a ponce, to be honest, although it feels sooo good. Much to my relief I feel more like Jacko Anquetil than Wacko Jacko. Comments from fellow riders come thick and fast, some complimentary and some not so complimentary, but usually followed by 'where can I get a pair'?
Step 3 - try more Michael Jackson jokes
Emotional aspects dealt with, these were some of the most comfortable bike gloves I've ever worn. The leather provides a very different feel to a synthetic material. It takes a bit of getting used to, but once broken in the Grand Tour gloves were tremendously comfortable and breathed surprisingly well.
The palm
Photo ©: John Stevenson

They also gripped like nothing else, sticking to the brake hoods as if coated in honey, or possibly Jesus Juice. Come to think of it, they'd probably come in handy for gripping babies dangled out of German hotel windows. And the King of Pop can be assured that, like mine, his sensitive skin will not be irritated by the Grand tour gloves, and that the perforations will allow for precious jewels to be stunningly encrusted.
All jokes aside, these are beautiful gloves. Probably not everyone's cup of tea and not for the faint-of-wallet, but definitely stylish, extremely comfortable and so far very hard wearing. Although the price tag is staggering, it's obvious where the money has gone. Accordingly, I'm inclined to bestow upon them the highest possible rating of Jackson Five.
Suggested retail price: UKP 80
Materials: African hair sheep leather, Velcro fastener
Colours: black with pink trim, tan with grey trim, white with grey trim (perforated top side)
Sizes: small, medium, large, extra large
Pros: style, softness, breathability, durability, outrageousness
Cons: price, outrageousness
More information: www.rapha.cc
Cyclingnews Rating: