Recently on Cyclingnews.com
On test: Kuips Phey carbon seat post, November 26, 2005
Long, Black
Steve Beletich resorts to coffee headlines[1] to describe this carbon seat post from the Basque country.
Kuips Phey seatpost
Photo ©: John Stevenson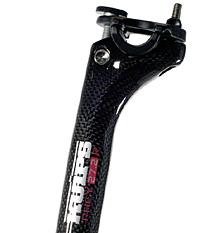 Spiuk, the Basque manufacturer of bike clothing, also produces an extensive range of bike hardware under the Kuips brand. This includes bikes, frames, forks, saddles, seatposts, handlebars, and the list goes on. On test is the Kuips Phey carbon seatpost.
The Phey consists of a monocoque carbon fibre post and head, on which sits a two-piece alloy rail clamp. Two fasteners secure the clamp - a forward thumbwheel bolt for saddle angle adjustment, and a rearward allen key bolt for tightening. This particular post is 27.2mm diameter and 350mm long, with a maximum 260mm length above the seat tube collar, when inserted. It slid into my seat tube a little easier than my old post, suggesting a marginally smaller diameter, but there was no problem clamping the collar firmly enough to prevent slipping.
The Phey provides for around 15mm of set-back, measured from centreline of post to centre of rail clamp. The rail clamp is only 30mm long, meaning that you'll get around 40mm of fore/aft saddle adjustment from a typical 70mm saddle rail. Some rail clamps are longer and therefore more restrictive, although 30mm is probably the lower limit for securely gripping the saddle rails.
When installed in my 72 degree seat tube, the saddle rails could be tilted from 13 degrees nose-up to 7 degrees nose-down, so the Phey should suit the majority of frames, saddles and desired saddle angles. It's worth noting that some side-clamping seatposts will allow 360 degrees of saddle rail rotation, which allows the post to be reversed to provide a set-forward as well as a set-back. This is an old triathlete trick for moving the rider further forward, and is handy if you wish to set up your road bike for time trialling or tri-doggying exploits.
The head
Photo ©: John Stevenson

The view from underneath
Photo ©: John Stevenson
Getting back to the Phey, I prefer its thumbwheel forward adjuster to one that requires an open-ended spanner. Getting an open-ender in to that front bolt can be challenging when the saddle rails get in the way. The Phey thumb wheel also incorporates a female hex in its head, which is handy if you are able to access it from the top, through a split-base saddle such as a Selle Italia Trans Am. The downside is that if you can't get an allen key in there to apply serious torque, then you have to fully loosen the rear bolt in order to adjust the front thumbwheel. Tightening the rear bolt significantly affects the saddle angle as the rail clamps down, which means you've got to play trial-and-error with the forward and rear bolts until you get your desired position. This can be tedious for spirit-level wielding bike fit Nazis like myself.
In terms of ride quality, I did notice the vibration-damping ride quality provided by the Phey's carbon shaft, in contrast to a butted alloy post which gave an appreciably harsher ride (no pun on 'butted' intended). Monocoque carbon also looks svelte, and this one has a nice fine weave and flawless gloss finish.
Apart from that, there's not much else you can say about a seatpost. The Kuips Phey is long, black, and looks the part. It provides for a reasonable amount of fore/aft and saddle angle adjustment, and rode well without slipping. All in all a decent package.
Suggested retail price: US$189 approx
Measured weight: 195g
Materials: Monocoque carbon fibre shaft and head, alloy rail clamp
Length: 350mm
Available diameters: 27.2mm, 31.6mm
Pros: Adjustability, ride quality, looks
Cons: Trial-and-error required to fine tune saddle angle (if no allen key access to front adjuster bolt)
More information: www.kuips.com; US importer: www.dpmsports.com
Cyclingnews Rating:

[1] For those unfamiliar with Australian coffee terminology, a 'long black' is an espresso topped up with hot water.