Book review: The Golden Age of Handbuilt Bicycles by Jan Heine and Jean-Pierre Pradères, November 30, 2005
Remembrance of bikes past
Fans of old bikes say they have a special beauty all their own. After absorbing this glorious coffee-table book, Elden Nelson agrees.
The Golden Age of Handbuilt Bicycles
Photo ©: vintagebicyclepress.com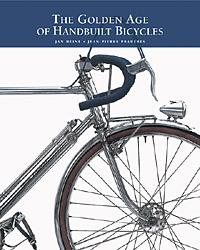 We cyclists are a forward-looking bunch, by and large. We're picking the right line as we ride, marking the competition as we race, thinking about the emerging technologies on the next bikes we'll buy.
But do you know what cyclists were riding fifty years ago, or eighty? I didn't - and to tell the truth I hadn't really thought about it - until I spotted a copy of The Golden Age of Handbuilt Bicycles in my local bike shop.
First impressions
This hardbound coffee table book pulls you in first and foremost with its beautiful photographs, taken primarily by Jean-Pierre Pradères. Thumbing through, you see full profiles, as well as close-ups, of dozens of bikes from the early to mid 1900's. You can turn to pretty much any page that captures your interest - reading from front to back is not at all essential to this book - and pore over the amazing differences between the handmade bikes from that period and what we're riding now.
Jan Heine, the author of this book, is also the editor of Vintage Bicycle Quarterly, and his knowledge of the bikes clearly runs deep. He does a great job of giving information on the historical context of each bike, its interesting mechanical innovations, and sometimes even information on the original owners and why they bought these bikes in the configurations they did. Heine notes about the owner of a 1948 Louis Pitard bicycle, for example, "To prevent it from being scratched or stolen in the communal bicycle garage, its owner carried it up seven flights of stairs every night to park it in his apartment."
Sound familiar?
Reading this book, you get a sense that cyclists eighty years ago loved their bikes every bit as much as we do now, and that they were going through a similar period of mechanical and material innovation.
The roots of what we're riding
The Hirondelle's unique drivetrain
Photo ©: vintagebicyclepress.com

The 1938-1939 Intégral
Photo ©: vintagebicyclepress.com

The handbuilt bikes
Photo ©: vintagebicyclepress.com

If you've ever wondered at the sophistication of a modern bike's drivetrain, you'll likely enjoy seeing the way these drivetrains evolve in The Golden Age of Handbuilt Bicycles. On a particularly fascinating bike - the Hirondelle Rétro-Directe - Heine describes how by using two freehubs, the bike gives you one gear when pedaling forward, and a different gear for climbing when you pedal backward. I have to admit, I stared at the labyrinthine path of the chain on this bike for several minutes before figuring out how it was possible that this bike could work. Since then, practically every time I have been climbing a steep hill, I have wondered, "What would it be like to be pedaling backward right now?"
It's also interesting to note that the phrase 'Everything old is new again' seems to be proved by this book. The 1938-1939 Intégral, for example, sports an oval-shaped chainring, for the same reason they seem to keep continuing to pop up every few years nowadays.
Similarly, the René Herse Concours de Machines 1947 shows that even then, cyclists were thought of weight as their foe; Heine notes that "The complete bike…weighed about 7.9 kg (17.4 lbs), including fenders, lights, rack and pump." That's a remarkable weight for a bike equipped like this, regardless of when it was built.
Handbuilt elegance
The stars of this book, of course, are the bikes themselves. Built by hand, these bikes have an aesthetic production bikes generally lack. The A. Faure (Ca. 1948), for example, shows what a bike looks like when envisioned by a watchmaker: no bolts, holes, or axle ends to be found. And the bike on the book's cover jacket - a 1952 René Herse, all in chrome - would still turn heads today.
What the book lacks, though, is a sense of what it feels like to ride these old works of art. The author clearly has experience riding these vintage bicycles, but doesn't share how the bikes feel different, or how they feel the same. Coupled with the pristine restoration of the bikes, the lack of ride description gives the book has a museum-like "look but don't touch" air.
Overall, though, this book is something any cyclist would enjoy, whether you already have a good sense of the evolution of bikes or have never given biking history much thought. The beauty of the bikes, along with the insights into the innovations of the day, make The Golden Age of Handbuilt Bicycles a pleasure to read and view.
Recommended retail price: US$ $60
Dimensions: 168 pages, 9.5" x 12", cloth hardcover
Pros: Exceptional photography, Expert description
Cons: Doesn't really get into the "soul" of the bikes
More information: www.vintagebicyclepress.com
Cyclingnews Rating:

Elden Nelson blogs as The Fat Cyclist. Read him daily at spaces.msn.com/members/fatcyclist