Recently on Cyclingnews.com
On test: FSA K-Force carbon crankset and Mega-Exo bottom bracket, August 5, 2005
May the K-Force be with you
Steve Beletich examines FSA's K-Force carbon crankset and Mega-Exo bottom bracket, which fit squarely in the 'why didn't we think of this before?' category.
FSA K-Force MegaExo cranks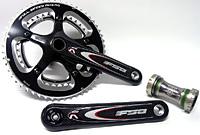 The widespread adoption of the two piece crankset with outboard bearings is probably the most significant advance in road bike drivetrains over the past few years. Its advantages are obvious. Fewer components, leading to reduced weight and increased reliability; a wider bearing platform with larger bearings, leading to increased rigidity and once again, increased reliability.
The FSA Mega Exo bottom bracket is available to suit English or Italian bottom bracket shells. Its outboard alloy bearings cups contain oversize sealed cartridge bearings which are further protected by an external plastic/rubber seal arrangement. The cranks themselves are made from carbon fibre, with the drive side crank incorporating the 130mm BCD chainring spider in monocoque fashion. The spider is bonded to a 24mm diameter hollow chromoly steel axle, the left hand side of which is splined to accept the opposing crankarm. Cranksets are available in lengths of 170, 172.5 and 175mm, and the chainrings are conventionally toothed 39/53 units, ramped and pinned for effective shifting. They're made of 7075 aluminium and fastened with hard-to-destroy Torx chainring bolts, also in 7075 aluminium.
Pick-up pins and shift teeth

Daylight!
Torx chainring bolts

Splined fitting

The pedal eye
One-key release

Installation
Installing the Mega-Exo bottom bracket and K-Force cranks did require some mucking about with O-rings, crush washers and weird-looking spanners that can't be bought in your local hardware store. The bottom bracket (BB) screws in easily, although remember that the drive side of an English BB has a left hand thread (the reasons for which are examined below). This minor detail is even more important when you come to unscrew the BB. Don't learn the hard way, as I did some years ago, by sliding four feet of pipe over a socket wrench, only to discover that I was actually tightening the bottom bracket.
Once the Mega-Exo BB is installed, the bearing cups must be tightened using a special spanner, which unfortunately you've got to buy. However, it's the same as the widely-available Shimano tool and not especially expensive. And what gearhead will turn down an excuse to buy new tools? Nevertheless, there are no shortcuts available here, so leave that Stilson wrench in your grandfather's toolbox where it belongs.
Once the BB is installed and tightened, the crank spindle then inserts into the BB from the drive side. Because it needs to sit tightly in the bearing race, this insertion is a very snug sliding fit. After some gentle persuasion, I got the crank inserted far enough until the left hand crank arm and bolt would go onto the splined crank spindle, to pull it the rest of the way through. The left hand crank arm boasts a self-extracting bolt, which is held in place by a threaded retainer. This retainer also requires a special pin spanner. I didn't bother buying one, opting instead to use a set of circlip pliers. The retainer only ever needs to be tightened once, then stays in place for life, without seeing any load.
Once all is in place, the BB and crankset look pretty neat. I took my time to get the installation right, but like most things, once you've done it once it's pretty straightforward the next time.
On the road
I must admit that discarding my old crankset and BB did not result in any tears being shed. They used to creak and groan incessantly, no matter how many times I pulled them apart, re-greased and re-tightened all their components. The crank arm retainer bolts also used to come loose on a regular basis, which is not a lot of fun when you're out riding. The beauty of a two-piece crankset, with its outboard bearings, is that there are fewer individual components to come loose, and that the stresses on various components are considerably reduced.
Consider this. Outboard BB bearings are closer to the pedals and chain, which is where significant loads are applied. Simple arithmetic shows that this closer proximity reduces the applied leverage, thus decreasing the forces on the bearings by more than 30 percent. For example, if you apply a 100kg load to the pedal, a conventional BB bearing will experience a load of around 300kg, whereas an outboard BB bearing will experience a load of only 200kg. Being external to the BB shell of the bike frame, the bearing can also be, and indeed is, much larger. This also reduces internal bearing stresses, resulting in a smoother ride and - hopefully - increased bearing life.
This theory appeared to translate wonderfully into practice. The K-Force definitely felt more rigid than my previous set-up. A good test of this was to stand with both feet on one pedal and apply my full weight. Sure, I could see the frame deform sideways, but there was no noticeable flexing of the crankset or BB. Under actual riding conditions, there was an appreciable improvement in drivetrain rigidity, and the pedaling action was unquestionably smoother. In a word, the entire BB / crankset system felt very 'solid' underfoot. Perhaps best of all, the whole setup has, to date, remained as quiet as a mouse.
The pinned and ramped FSA chainrings shifted faultlessly. I never missed a gear or dropped a chain. They look pretty sinister too - machined aluminium with matt black paint and black Torx bolts to hold them in place.
The clear coat on the carbon crank arms is immaculate, and has stayed looking good through several months of frequent use. I was initially worried that it would scratch easily as I expected the carbon arms to be softer than aluminium surfaces, but I've been pleased to find this wasn't the case.
In short, I found the Mega Exo / K-Force combination pretty difficult to fault, either in theory or practice. There was no sacrifice in gear shifting performance, and pedaling motion was stiffer and smoother, meaning more efficient and more reliable bicycling.
Typical retail price: US$499
Measured weight: 740g for 172.5mm set, including BB and all fasteners
Materials: Carbon fiber crank arms & spider, 7075 aluminium chain rings, chromoly steel axle
Pros: Rigidity, smoothness, aesthetics
Cons: It'd be nice if the BB tool was included
More information: www.fullspeedahead.com
Cyclingnews Rating: