On test: Fox F100 RLT, November 13, 2005
Bigger, better, more!
The F100 RLT
Photo ©: James Huang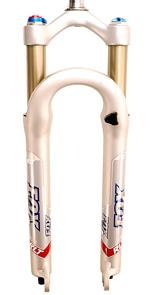 Fox's lightest fork in the general trail-riding, four-inch travel category provides smooth, controlled suspension and excellent construction, with a couple of minor niggles, says James Huang.
In many ways, Fox Racing Shox revolutionized the mountain bike front suspension market in the early 00's much in the same way Marzocchi did with its groundbreaking Bomber lineup in the late 90's. At their introduction, the then-massive 32mm stanchions and huge arch of Fox' ultra-stiff chassis raised the bar on its contemporaries, and the CNC machined aluminum internals projected a then-unmatched image of quality and durability on which Fox has largely made good. More importantly, Fox was able to draw on its extensive motorsports suspension experience to engineer suspension characteristics that actually felt good and worked even better.
The mountain bike market seems to have settled on four inches of travel as a sweet spot and there's an awful lot of choice in that arena these days. The F100 RLT is Fox's lightest 100mm travel fork and is aimed at the endurance or marathon racer or just for general purpose trail use. It uses the same basic 32mm chassis architecture as the original lineup but with more extensive machining on the magnesium lower legs to reduce the weight a bit.
You get what you pay for
The F100 RLT isn't exactly a bargain fork at US$650, but there's a lot of performance packed into its understated grey wrapper. 100mm of travel is supplied by a large, relatively low-pressure air chamber in the left leg that is backed with a long negative coil spring to provide a supple initial stroke. The right leg houses an intricate damper cartridge that comes equipped with externally adjustable rebound damping, low-speed compression damping with manual lockout, and an adjustable blow-off threshold to set how big of a hit will get the fork to move when you've got it locked out (or when you're heading downhill and realize a bit too late that you've forgotten to turn the fork back on! Not like I've ever done that or anything…). The RLT is not equipped with any sort of anti-bob 'platform' damping, but it isn't meant to be, either. Fox reserves platform features to its top-of-the-line FX series of forks which come equipped with its unique Terralogic auto-lockout feature.
Fox's trademark machines knobs
Photo ©: James Huang

Fox has milled
Photo ©: James Huang

Can you say, "beefy"?
Photo ©: James Huang

Fox includes a cleanly integrated guide
Photo ©: James Huang

The disc brake tabs
Photo ©: James Huang

As has been the case since day one, Fox is quite proud of the small army of CNC-milled parts in its forks and it's easy to see why. Precision machined knobs, caps, and fittings are everywhere you look on the outside of the fork, and the theme carries over to the internals which are noticeably devoid of plastic. Hopefully Fox's CNC mills receive a lot of love since they clearly get used a lot.
Our disc-only test fork with a full-length aluminum steerer tube weighed in at 1610 g (3.53 lbs). That's not a groundbreaking figure or anything, but it's damn respectable and certainly on the low end of the spectrum for comparable forks. It's possible to go a little lighter, but you could easily do much worse in the mass department.
Getting everything bolted up
For the most part, installation was just like any other fork with one notable exception. The International Standard disc tabs on our test fork had to be milled down just a hair in order to center a Magura Marta caliper on the rotor. Having run into this before on other Fox forks, this doesn't seem to be fluke, nor is it isolated to Magura as I've had to do the same with some Hope disc brakes as well. No milling was required for either a Hayes El Camino or Avid Juicy caliper, though. Regardless, milling and facing the disc tabs is a good idea to ensure perfect caliper alignment, but you shouldn't have to do it to eliminate brake rub and it's not likely that you have that tool sitting in your home toolbox.
On a more positive note, Fox includes a very welcome integrated disc hose guide on these disc-only lowers. With all of the disc-only forks out there, it's a wonder why everyone hasn't integrated some sort of real housing management into their design and it warms my anal-retentive mechanic heart to see this nicely-executed one here.
On the trail
A few rides on some familiar trails were required to dial in the air pressure and damper settings to my liking but setup was really quite quick and easy. Set the blue compression knob to tune out some brake dive and bob, adjust the rebound damping and threshold settings to your preference and then everything is set to go.
This fork won me over with its overall ability to swallow up most any typical trail imperfections and its almost impossibly buttery fork stroke. When it comes down to it, the primary purpose of suspension is to keep your tire contact patch on the ground in all conditions and the F100 RLT fulfills that role admirably. Since there is no platform feature, small bump sensitivity is nearly unsurpassed and the well-tuned damper internals are equally capable on large and/or square-edged hits without harsh spiking. Additionally, Fox's open-bath internal design constantly bathes the slotted bushings with lubricating oil to keep stiction at a minimum. As expected with the giant chassis, steering precision and fore-aft rigidity was outstanding.
Flies in the ointment
While the overall performance of the fork was exceptional, the durability needed a little more salt. After just a few months of testing, the damper-side wiper seal began to weep a little more oil than normal. It wasn't yet enough to cause any performance issues, but it was somewhat annoying given the high-end nature of this beast. As with the brake caliper fitment issues, this was, unfortunately, not the first time I've experienced premature oil weeping on a Fox fork. Come on, Fox, give us some seals that match the excellent quality and performance of the rest of the fork. Luckily, there are aftermarket seal kits from the folks at Enduro that offer greatly improved reliability, but something like that should be more of an option and less of a requirement.
More worrisome was the very slight clunk that developed on each compression stroke that was eventually traced to a slightly loose bit in the rebound damper piston head. This wasn't a performance issue, but the perma-loose-headset feel was a dark stain on an otherwise fluid feel. The multitude of intricate little CNC-machined aluminum bits definitely looks trick, but it does add up to a complex assembly with lots of joints. Overall, my previous experience with Fox's assembly quality (both from a personal and shop perspective) has been quite good, so this occurrence may have been a fluke. A quick teardown solved the issue permanently, but both the weeping seals and loose damper bit both would almost certainly have been covered under warranty so they would have been, at worst, a relatively minor inconvenience for the average consumer.
The final word
Despite some relatively minor issues, the Fox F100 RLT is a great general trail fork that offers outstanding chassis rigidity and impressive suspension feel. Add in the extremely competitive weight and the quality construction level overall (save for the two demerits noted above) and it adds up to an impressive package that should serve its user well in a wide range of situations. If Fox can fix the sealing issues, it'd be nearly perfect.
Price: US$650
Weight: 1610g (3.53 lbs, uncut steerer)
Pros: Exceptionally smooth, great chassis rigidity, wide range of adjustment, you can brag to all of your friends that you bought a Fox fork
Cons: Inadequate wiper seals for such a high-end fork, slight clunk on compression stroke on our test sample.
Cyclingnews rating:


More information: www.foxracingshox.com
James Huang is chief guru at mountain bike suspension site www.angryasian.com.