Right to reply, November 12, 2005
First Endurance responds
A couple of days ago, Pam Hinton, Cyclingnews fitness panel nutrition specialist and assistant professor of Nutritional Sciences at the University of Missouri-Columbia, reviewed First Endurance Multi-V, a vitamin supplement. While Dr Hinton's review was generally positive, she made some criticisms of the supplement. Robert Kunz, First Endurance's Sr. VP of Research responds here to those criticisms.
First Endurance Multi-V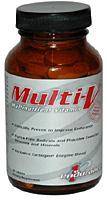 Multi-V was researched and designed by six different researchers and hundreds of elite endurance athletes (cyclists, triathletes, runners, XC skiers, etc..) over a 12 month period of time. The compilation and analytical review of the data was performed by a number of qualified experts. As the Sr. VP of Research for First Endurance, I oversaw all the research and managed all the data reviewed by the First Endurance Research Board and athletes. On a few points, we disagree with the interpretation by Dr. Pam Hinton.
1) The meal replacement bar used in the study did not contain 50% fiber, it contained 50% complex carbohydrates - a critical distinction. The data in the Carbogen clinical study clearly showed an increase in blood glucose, reduction in lactate and improved time to exhaustion. Insulin was measured throughout the study and was found to be significantly lower at 30 minutes and 60 minutes and following exhaustion when using Carbogen. A look at the data during exercise in the study clearly showed the following benefits, which were misrepresented by Dr. Hinton's review. This data is available at www.firstendurance.com/research
2) A generalization that this can be done by simply taking a bar or gel is not supported by any research data. It's merely Dr. Hinton's personal opinion. Her review also stated that our claims were overstated. The clinical study was done on elite cyclists using the exact same dose and ingredient as what is found in Multi-V. Our claims are the exact wording that is found in the clinical study. First Endurance takes the high-road on product claims and prides itself on basing claims on clinical trials. First Endurance then backs the product up with a 100% Performance Guarantee, allowing our consumers to test the product for themselves with no risk. If a consumer is not 100% satisfied with any First Endurance product, or does not feel the product performed as stated, they get their money back - no questions asked.
3) The vitamin and minerals in Multi-V were also critically reviewed over a twelve-month period of time in order to ensure: 1) Multi-V contains the amounts necessary to meet the needs of endurance athletes (these amounts differ from the standard RDA and 2) Complement the vitamins and minerals found in Ultragen, E3 and Optygen. First Endurance carefully reviewed the quantities of each vitamin and mineral in Multi-V in order to ensure there is not the slightest risk of mega-dosing with ingredients. We realize many athletes can, on a single day, consume ten servings of E3 and two servings of Ultragen. Because of this, it was important to look at the total vitamin content of all the products combined. Multi-V falls well within safe ranges of all the vitamins and minerals.
4) Dr. Hinton's review of iron amino acid chelate was also opinionated and not based on all the available data. Iron amino acid chelate has been clinically studied in over two-dozen studies. The safety data and superior absorption has been clearly referenced.
5) One of the most important differentiating points of Multi-V was completely left out of the review. Multi-V offers unparalleled antioxidant protection and is one of the first products on the market that quantifies how powerful the antioxidants in the formula are. A new FDA approved method called ORAC measures the Oxygen Radical Absorbancy Capacity of antioxidants and assigns a number which quantifies how good an antioxidant is. Due to the tremendous oxidative stress incurred by endurance athletes, this was a critical distinction in the Multi-V formula. Every Multi-V bottle comes with a very high 8,000 ORAC unit measure for its antioxidants. This level of protection is second to none.
6) The omission of calcium from the formula was done for two reasons which we clearly explained to Dr. Hinton. In order to receive an adequate (500mg) dose of elemental calcium, approximately 1,600mgs of total calcium carbonate must be added. With the Multi-V tablets weighing 1,200mgs each, this would require 1.25 more tablets. During the Multi-V product development, our athletes and customers clearly told us that they would not consume more than 3 tablets per day in a multi-vitamin. More than 3 tablets can become overwhelming. In addition, calcium is easy to come by a multitude of fortified foods. Furthermore a typical training day consisting of 2 servings E3 and 1 serving of Ultragen yields 700mgs (70% RDA) calcium.
Consumers should also realize that a complete research packet is available on our website www.firstendurance.com. This packet lists all references and clearly explains the rational and research behind each ingredient. We urge consumers to try Multi-V risk free.