Recently on Cyclingnews.com
On test: Endorfin Speed III Special, October 15, 2005
Addicted to speed
The name 'Endorfin' conjures up all sorts of positive vibes, and this latest offering from Germany captures those within an elegantly fast and super-stiff racing machine. Cyclingnews' Chief Online Editor Jeff Jones reports on the Speed III Special.
The Endorfin Speed III Special:
Photo ©: Jeff Jones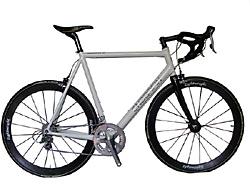 When the opportunity to test a rather special Endorfin Speed III machine from Germany came up earlier this year, my eyes opened wide and I said 'yes!'. This was despite the fact that I was already riding a very nice Canyon F10 - also from Germany (see separate review) - and had to find the time to write it up. All those years of starving myself from riding something half decent have caught up with me, and I'll generally do anything for an upgrade. But given the paltry offers on Mark Zalewski's kidney so he could buy a pair of Lightweights, I'll pass on selling my body parts.
This isn't going to be a review comparing two German bikes, but as soon as I got on the Endorfin, I noticed a big difference between it and the Canyon. Well OK, just a small comparison: Like Canyon, Endorfin is a small German company that specialises in mountain bike (mainly) and road frames. At the moment, it has distributors in Germany, Switzerland, and the Benelux.
Test bike
The Endorfin Speed III Special that Cyclingnews received was essentially a tricked up version of the Shimano Dura-Ace equipped Speed III Ultimate. By tricked up, I mean that the wheels were Lightweights instead of Sun-Venus on Endorfin hubs, the saddle/seatpost/brakes were AX Lightness instead of Fizik/Syntace/Dura-Ace, the handlebar was by Schmolke instead of Syntace, and Nokon cables were used in place of Dura-Ace. The rest of the gear remained Shimano Dura-Ace, with an Endorfin CF 350 carbon fork, Syntace F99 stem, and Schwalbe Stelvio tubulars to complete the spec. It's a very 'German' bike, and the net result was a hellishly light (6.6 kg without pedals) and hellishly expensive (€5600+) machine. By comparison, a 'normal' Endorfin Speed III Ultimate would retail for €3280 and weigh maybe an extra kilo.
The Speed III
Photo ©: Jeff Jones

Lightweight wheels
Photo ©: Jeff Jones

The front end
Photo ©: Jeff Jones

Power transfer
Photo ©: Jeff Jones
This bit
Photo ©: Jeff Jones

The rear brake
Photo ©: Jeff Jones

AX Lightness carbon saddle
Photo ©: Jeff Jones

Endorfin:
Photo ©: Endorfin

The drive train
Photo ©: Endorfin

Endorfin's Lutz Neumann realises this of course, and told us that it's the real connoisseurs of stiffness and lightness who would prefer this particular set-up. But given the importance of the frame, the standard Speed III should be stiff enough for many riders.
The frame
Focusing on the Speed III frame, it surprised me a little that such a light bike had a 7020 aluminium frame. At 1450 grams for an XL (58/57 cm) frame, it's by no means the lightest on the market, but I quickly noted that plenty of weight was pared from other parts of the bike. It's not too hard these days to reach the UCI limit of 6.8 kg with a judicious selection of bits. Once I put some Time Impact pedals on, the full bike tipped my scales at about 6.9 kg, or about 2.5 kg lighter than my normal rig. Yes, I noticed the difference.
Although the frame may not be super-light in itself, it makes up for that by being super-stiff and hopefully, super-strong, with "double welding" improving the strength of the joins. It comes with a 10 year guarantee, so Endorfin is obviously pretty confident in its standards of manufacturing. As far as stiffness is concerned, it's one aspect of a bike that seems to be preferred by professionals, who want as much of their power as possible transferred to the road.
A big, powerful rider, such as German track sprinter Stefan Nimke, who's around 190cm tall and weighs 95 kg, likes the Speed III. Nimke owns two of these frames to train and race on, because according to Neumann, "he says it's the best frame he has ever ridden."
Turning to other aspects of the frame, the geometry of my XL was 58cm (C-C) for the seat tube and 57cm for the top tube. Six sizes are available, from XS (50/52cm) through to XXL (60/59cm). The frame angles were 74° for the head tube and 73° for the seat tube. At first, due to the handling, I thought this was a little steep, but when comparing it to my other frames, I found that it was fairly standard.
Last but not least, there is the colour. Mine was a rather pleasing pearl white, perhaps not the best choice to hide the Belgian mud, but definitely easy on the eye. It also comes in grey, black, dark blue, and yellow as standard colours, but you can get any colour you want for an additional €60. And there's a limited edition Tour de France Speed III available as well, which features newspaper clippings from L'Equipe, La Gazzetta and others, printed on a white frame.
Components and finishing kit
As mentioned above, our 'Special' test rig was not a standard model, even though it is certainly available to the public. But Shimano Dura-Ace 10 speed is a feature of both the Endorfin Speed III Ultimate and the special, and this bike came with 175mm cranks, 53/39 tooth front chainrings, and a versatile 12-25 cluster. This being the second bike I've tested with Shimano Dura-Ace, there's not really much to say about it, other than I love it. It works brilliantly, and is light, both in weight and touch.
There were no Dura-Ace brakes on my Special though - these were substituted for AX Lightness carbon brakes. They are certainly incredibly light at 130g a pair and work well enough, and AX Lightness has recently introduced a new version of its brakes, which are meant to be even lighter and stiffer than these.
I'm a bit of a Luddite and I do admit to a certain superstition when it comes to carbon bits. Thus, I was curiously concerned about the 170 gram saddle and seatpost combo provided by AX Lightness. 50 grams for a saddle? Are you kidding me? But they are favoured by a few pros such as Jan Ullrich, and AX Lightness boss Axel Schnura makes saddles to fit the individual rider. Personally, while I didn't object to the Phoenix saddle at first and found it more comfortable than a Selle Italia SLR, after a few excursions across the cobbles, I realised I had to make a change to a more comfy Fi'zi:k Aliante. Saddles are one of the personal things on a bike, and one man's comfort zone can be another woman's saddle sore, so to speak.
I'm also not a huge fan of bits that require torque wrenches to get them to just the right degree of tightness. Nevertheless, if gravity busting is your thing and you don't mind taking a bit of care over your bike, then AX Lightness will suit.
Continuing on the theme of light carbon bits, the Speed III came equipped with a very fast and very desirable pair of Lightweight wheels from CarbonSports. These are the wheels of choice of a number of high profile pros, are again very stiff and light at 1130g a pair. I've reviewed the Lightweights separately, and Cyclingnews also has an interview with CarbonSports' Stefan Behrens about their new wheels. The wheels were fitted with Schwalbe Stelvios, some of the lightest tubulars available at 240g.
There was a little more of the German touch with the choice of handlebars, which were by Stefan Schmolke. These carbon bars, which weigh around 150g, are claimed to be "the world's lightest handlebars". Therefore, they deserved their spot on the bike. At 38cm (C-C), they were a little narrower than my usual 42's, but not to the extent that I really noticed, and they were comfortable enough. A Syntace F99 260 stem (110mm, 100g) attached the bars to the headset. This is one of the more standard components on the bike, and it does the job well.
On the road
After the usual "fiddle with stuff for a week before it's comfortable" period, I thought it was time to demonstrate the full power of this bike. As noted above, the frame plus the Lightweights yielded a very stiff, light combination - great for accelerating and climbing, but a little rigid for cornering. I did ride it with some normal spoked wheels later on, and that was a suitable compromise for cornering, but the Lightweights still provided a faster ride.
Once I tried winding it up on a 1.5 km climb that I'd normally do in the small chainring, with a 39x21 preferred near the top - and that's working hard. On this particular occasion, I started in a big gear, as normal because there's a downhill run into it, then kept it in the big ring all the way to the top, without mashing the gear. It was just as painful at the top as normal, but I'd completed it in a significantly faster time. I'm sure it was a combination of motivation, aerodynamics, lightness, and stiffness, probably in that order, but it sure felt good!
The acceleration was one of the Speed III's strong points too. You could give it a kick and it would respond very quickly. It helped me a lot in the first couple of races of the season, where my strategic position at the rear of the peloton was not compromised by my ability - or lack thereof - to hold wheels out of corners. I have to say that the bike didn't perform as well as I would have liked coming into the corners - I always felt as though I was going too fast and never going to get around them, but I never got dropped as a result. The 'accelerate up to 60 km/h very quickly' button came in handy.
In fact, it helped me win a race by first fooling everyone else in the break, including me, into thinking I was a hubbard, then attacking them with 15 km to go. 'Let him go, he'll die in the hills', I could imagine them saying as I faced the formidable prospect of eight overpass bridges over the E40 before the finish. But no, using the rather superior aerodynamics of the Speed III and a bit more confidence on the corners, I crossed the line with a fairly handy lead. That made up for finishing third in a two man sprint the week before (I won't go into details).
The bottom line is that it's hard to argue with a bike that gets you to the finish before everyone else. Sure, you need to have the engine and brains, but races are often decided by very small margins, and every little bit helps.
Conclusion
I found the Endorfin Speed III to be at home when the speed was high and the roads not too twisty. Equally, it was an excellent machine to climb hills on and it accelerated superbly when you stepped on the gas. There is something comforting about having the lightest bike you can possibly have (well, under UCI regulations), because then you've got nothing else to blame but your legs, heart and excess flab for going slow on the climbs. I found it to be a little too stiff at times for the types of races I was doing, but with a more forgiving set of wheels and saddle, it could handle anything.
I only wished I'd had it for longer!
Pro: Light, stiff, aero, fast
Con: Not perfect for rough, technical courses
Cyclingnews Rating:

Photography
For a thumbnail gallery of these images, click here
Images by Jeff Jones/Cyclingnews.com
Images by Endorfin/www.endorfinbikes.de
Full specification: Endorfin Speed III Special

Frame: Endorfin Speed III Aluminium
Fork: Endorfin CF 350 carbon
Colours: Any, but white grey, black, dark blue, and yellow are standard
Sizes: 50x52cm, 52x54, 54x55, 56x56, 58x57 (tested model), 60x59 cm
Head Angle: 74°
Seat Angle: 73°
Actual Weight: 6.6 kg (without pedals)


Cranks: Shimano Dura-Ace 175mm, 53/39
Bottom bracket: Shimano Dura-Ace
Front derailleur: Shimano Dura-Ace
Rear derailleur: Shimano Dura-Ace
Brakes and levers: Shimano Dura-Ace
Rear cassette: Shimano Dura-Ace 10 speed, 12-25

More information: Endorfin's website

RRP (complete bike, as tested): €5600 (€3280 for the Ultimate version)

Wheels: Lightweight
Tyres: Schwalbe Stelvio


Stem: Syntace F99 110mm
Bars: Stefan Schmolke TLO carbon (38 cm C-C)
Head set: FSA
Cables: Nokon

Pedals: Not included
Seat post: AX Lightness Europa 31.6/290 mm
Saddle: AX Lightness Phoenix