Tech review - January 18, 2005
On test: Descente Genesis short sleeve women's jersey
Stylish summer
Cyclingnews diarist Rochelle Gilmore took home a sample of Descente's Spring line to test out. After riding in the summer heat and humidity of Sydney and Adelaide she became a fan.
Descente Genesis women's jersey.
Photo ©: Cyclingnews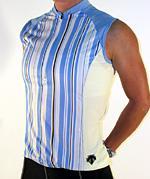 Riding during the heat of the Australian Summer can be challenging at the best of times, but this year it has been made more comfortable thanks to the stylish sleeveless Descente jersey that I have been wearing while training. The colour pattern of the jersey is really nice with the attractive blue stripes running vertically down the chest and back. It's always nice to feel fashionable and trendy when pedaling through the streets. A girl has got to look good.
What I love most about the Descente jersey is the feel of the material. It is made from H2Zero fabric with vapour-channel technology. That probably doesn't mean a lot to most, especially to me, but the feel is ever so soft and breathable. The jersey was certainly cut with women in mind.
Front view
Photo ©: Cyclingnews

From the back
Photo ©: Cyclingnews

Pockets
Photo ©: Cyclingnews

One of my favourite features is the way the armholes are perfectly shaped, just large enough for a female's arm - not cut for the arms of Hulk Hogan allowing the wind to fill up the jersey like a balloon! Also it helps you to work on those horrible tan lines that sleeved jerseys give you.
There are a couple of downsides to the jersey, but they all result from personal preference. Ideally, it would have been nice to have a full zip as they make toilet stops much easier and faster when wearing bib-n-brace knicks. However, a short zip definitely makes the fit much more attractive as a full zip sometimes makes it look like you have fat rolls around your tummy.
Unfortunately, the Descente jersey has only two pockets on the lower back. You need to be careful about the way that you pack your pockets. Make sure to do them evenly. If not, you often find that your jersey twists and sags to one side, especially when sprinting and climbing. This can be extremely frustrating. A middle or third pocket could only be an improvement.
With Adelaide renowned for its humid weather my Descente jersey will get a good workout over the course of the Tour Down Under. I only wish that I had more than one so that I didn't have to wait for it to be washed all the time.
Just about to jump on the rollers wearing the jersey now. Will I put my Mp3 player in the right or the left pocket? It's at times like these that you really wish you had a middle pocket!
Price: $US 60
Colour: Blue/white, red/cream (ash blue/white, red/cream and brown/cream in the floral design).
Pro: Nice cut for women, especially around the arms, stylish, nice feel.
Con: It should have more than two pockets, and a full-length zip may be more convenient to some wearers.
Available: Mid February 2005
More information: Descente's website
Cyclingnews Rating: