Recently on Cyclingnews.com
On test - April XX, 2005
Crank Bothers Mallet M pedals
Crank Brothers Mallet M pedals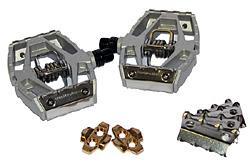 Filling but not fattening
Crank Brothers Mallet M pedals are the lightest big-platform mountain bike pedals around - and one of the best, John Stevenson found.
Crank Brothers Mallet M pedals could just be the ultimate do-everything off-road pedal - for me, at least. Most of the riding I do is very much at the cross-country end of the mountain bike spectrum - it's what we old farts call 'Going Riding'. Hucking, freeriding, high-speed downhilling and anything else 'gnarly dude' - well, they're off the menu. I like to climb hills (though I'm unfit enough that I'm not claiming to be very good at it) and I'm a wuss. Big rocks scare me, not least because I have a very well-developed imagination. I can clearly visualise, not nailing some awesome manouver, but putting myself in plaster for a couple of months and wondering who the hell is going to pay the mortgage.
The cleats

The Eggbeater mechanism

The platform provides plenty of support

The Eggbeater mechanism

Also in orange

However, I've a big fondness for some of the gear that's spun out of the downhill/freeride craze, and that includes non-racing mountain bike shoes and big, platform pedals. In the former I can walk around on dodgy surfaces without risking trashing my wobbly ankles (I've severely sprained both of them in the last few years and the resulting couple of months off the bike were not good for my fitness or my mental health). Big pedals are just comfortable and practical. There's more pedal to plonk your foot on and if you're using non-racing shoes there's more support for what tend to be less-stiff soles.
But even though I could do with to lose some mass from my midriff I have the weight-awareness that comes from way too many years of writing product reviews in the bike world, where weight is still a major parameter, and typical platform MTB pedals are heavy. Shimano's top-model M647 platforms weigh 568g per pair, compared to 350g for the compact, cross-country equivalent M959 model. If you want to keep your bike reasonably light, that's a wince-making chunk of extra mass. And this is where the mallet Ms come in. At just 460g per pair, they're the lightest platform pedals we're aware of, and only Shimano's resin-bodied M424s run them close at 472g.
The Mallet Ms get their low weight from the material making up the platform, which surrounds the now-familiar Crank Brothers Eggbeater mechanism (see previous reviews here and here). Instead of the usual aluminium, it's magnesium, a metal that is substantially less dense than aluminium (1.7g/cm3 compared to 2.7g/cm3). Now, you can't always just replace one metal with a less-dense one to save weight, as the rash of broken titanium square-taper bottom bracket axles a few years ago proved. Manufacturers tried to replace steel with titanium without doing any redesign work to accommodate titanium's inferior strength and fatigue life. The result was some embarrassing breakages and quite a lot of arse-covering 'not for use by riders over XXkg' disclaimers. The problem there was that the steel used in good quality bottom bracket and hub axles is actually pretty amazing stuff, with tensile and fatigue strengths substantially higher than 6Al/4V titanium, especially when you look at the numbers per unit of volume. You can't replace Metal A with less-strong but lighter Metal B when the part you're making has to be exactly the same shape. The substitution only works when you can use more of the lighter metal and trade off the properties, as in aluminium versus steel frames; or if you have so much of Metal A that it doesn't matter.
That's the case here. The platform of an aluminium-bodied pedal is a big lump of metal that has to support your foot, and ends up large to provide surface area, not strength. Replacing it with magnesium is a no-brainer: it'll be lighter, and it'll almost certainly still be plenty strong enough.
What we end up with is a broad pedal, with lots of support for walkable mountain bike shoes and Crank Bros' easy-to-engage, mud-clearing mechanism. Clicking in is stomp-and-go simple, and release is a low-resistance twist, and in between they're damn comfortable because there's just so much pedal under your foot. Perfect!
Recommended retail price: US$140
Weight: 460g/pr
Colours: Silver-grey, orange
Pro: Light for their size, comfortable, easy entry and exit
Con: Not for total weight weenies
More information: www.crankbros.com
Cyclingnews Rating: