Recently on Cyclingnews.com
Book review: The Complete Bike Book by Chris Sidwells, December 6, 2005
Complete, but not deep
The problem with covering all of cycling in one book is that there's just so much of it. This well-presented work by Chris Sidwells covers the basics well for beginners, but experienced riders will find it a bit lacking, says Jeff Jones.
The Complete Bike Book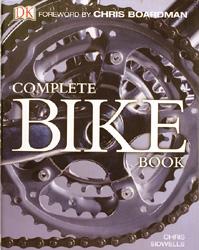 In The Complete Bike Book, British journalist and author Chris Sidwells has compiled an "all you need to know about cycling" into one 240 page hardback volume. Sidwells, also well known as the nephew of Tom Simpson, tries to cover every aspect of this complex sport in a book that appeals more to the cycling newbie, although the more seasoned rider will still get something out of it.
With an introduction by Chris Boardman (MBE), The Complete Bike Book, launches into a six page history of cycling, starting with the invention of the "dandy horse" in 1817 by Karl Friedrich Drais van Sauerbronn, going on to describe the growth of cycle racing, and making mention of the more enlightened cities that are continuing to integrate bicycles into their transportation infrastructure. The history includes a time line that covers notable racing moments as well as technological advancements and general bicycling stats.
The next part of TCBB is a 24 page section devoted to getting started, which explains the benefits of cycling and gives some guidelines about choosing a bike, depending on the individual's needs. The main accessories and clothing (apart from shoes) are also covered here, followed by a section on road skills and touring.
In the "Anatomy of a (type of) bike" section, almost 40 pages are devoted to the various types of bikes available and the various bits that go into their construction. It's complete, but generic at the same time. For example, the "road bike" page lists almost every component that you can find in a bicycle, but carries with it only a 100 word description. That's fine, and I understand who the book is targeted at, but it was still only a taste. The page on the "race level road bike" has some of the differences that mark a standard compared to a pro level machine, focusing mainly on weight saving and comfort. It also repeats a common misconception about having light wheels:
"Nowhere is this [reducing weight] more important than in the wheels - light wheels are easier to accelerate and fast acceleration is key to successful road racing."
This is a correct, but misleading statement. Providing the weight of the bike remains constant, the energy saved by having a light set of wheels compared to having (say) a light frame makes an insignificant difference (of the order of 0.02%) to the total power required to accelerate the bike and rider. Sorry, I just had to get that off my chest again.
Moving along, the next 50-odd pages is a more detailed look at riding skills and technique, split between on- and off-road cycling, and a short section on positioning. For a beginner, this will be quite useful, as it goes through gear shifting, cornering (flat, downhill and various types of off-road), climbing, descending, riding in traffic, riding on rough roads, singletrack, and bunnyhopping/jumping. It's a 'how to' with plenty of pics as usual, and some informative tips from various professional riders. But to really learn all these techniques, you've still got to ride and practice them lots. It's like the difference between looking at a course profile and actually riding it.
The next 16 pages are geared towards 'health and fitness', and here we are introduced to some basic training principles and programs, measuring heart rate, stretching, eating and gym work. The programs include starter, intermediate, and advanced plans, with the latter topping out at around 10 hours a week. It all depends on your point of view, but for me, 'advanced' implies something a bit more involved than that. That's not to say you won't achieve a decent level of fitness with a 10 hour/week program, but will it be enough to make you into a good A grade/Cat. 1 racer?
Competitive cycling is addressed in 20 pages, covering road racing, triathlon, cross country and downhill mountain biking, track, endurance and extreme riding. It's a bit too brief, even in the context of this book, but perhaps that doesn't matter so much, because nothing beats getting out there and actually competing to gain experience. I'd like to see a bit more devoted to tactics though, as cycling is one of the more subtle and involved sports when it comes to that.
All active riders - no matter what level - are going to have to know how to maintain their bikes at some stage. Even if it's just repairing a flat tyre in the middle of nowhere. The final section of TCBB has 45 pages devoted to maintenance and repair, and I found it to be one of the most useful parts of the book. It starts with a list of tools that you need, explains how to clean your bike, basic adjustments, removing/maintaining chains, cassettes, chainwheels, bottom brackets, brakes (various sorts), hubs, stems, headsets, pedals, and forks. It doesn't cover all the different types of parts available nowadays, but most of the major bits are there.
The final section of the book includes a four page glossary of cycling terms, a directory of organisations and websites, and a list of usful books, magazines and videos/DVDs.
Conclusion
Although I may have sounded a little harsh above, I do feel that The Complete Bike Book would make a good Christmas present for someone who is just getting into cycling. It covers an awful lot of ground in 240 pages, and it's very nicely presented. But anyone with a few years of experience behind them will probably want more depth in any of the areas that are touched upon by TCBB.
Suggested retail price: UKP16.99
Pro: Covers the whole sport in one book
Con: A bit shallow; some myths repeated
More info: Amazon UK, Amazon worldwide
Cyclingnews rating: